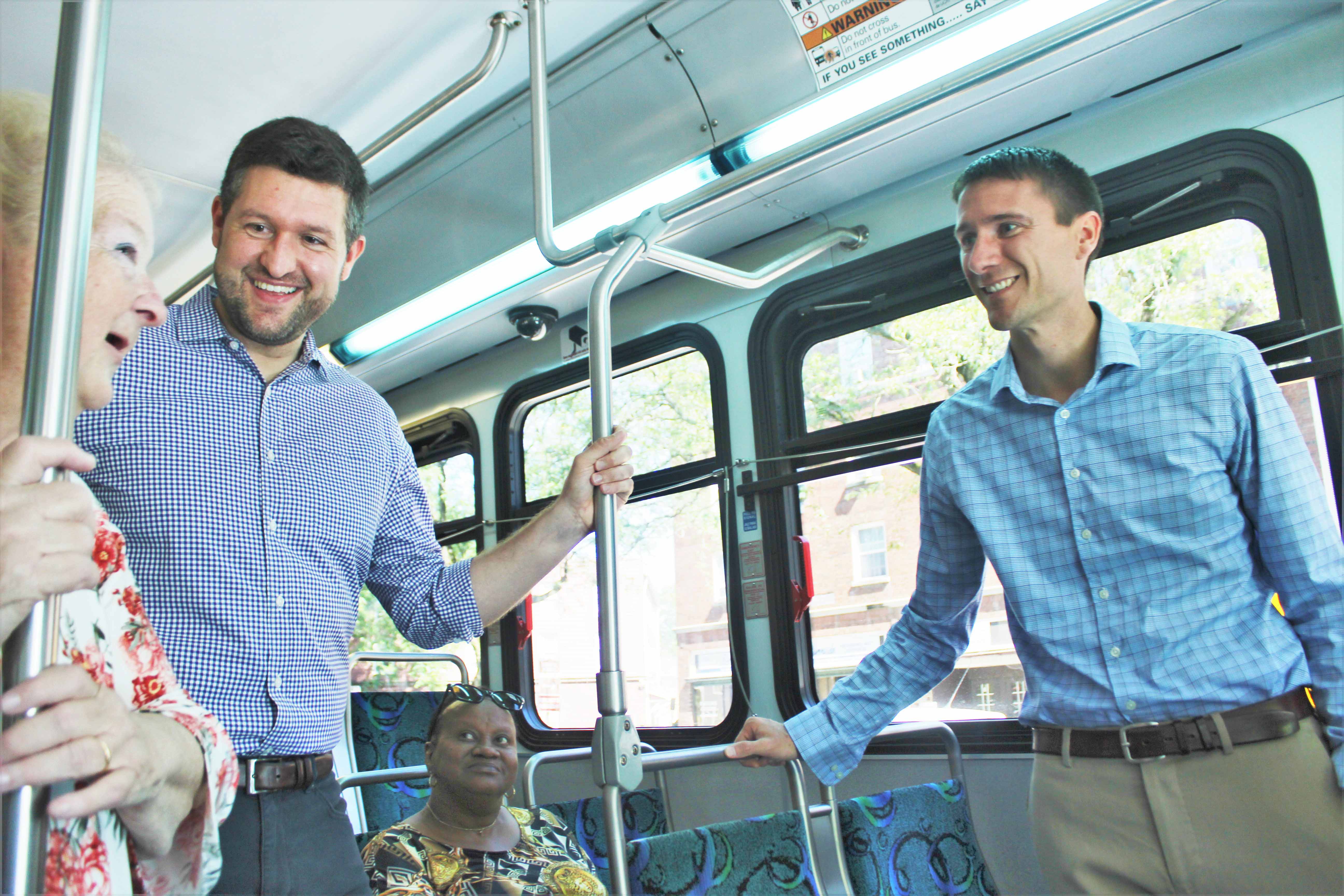 Posted July 1, 2019
County Executive Pat Ryan and Mayor Steve Noble Kickoff UCAT Expansion
KINGSTON, N.Y. - Ulster County Executive Pat Ryan and City of Kingston Mayor Steve Noble kicked off the new Ulster County Area Transit (UCAT) expansion by taking the bus and listening to riders. Starting today, all routes within the City of Kingston are free through 2019 and riders will now have access to free Wi-Fi. 
Through the expansion, new routes have been developed based on ridership data along with survey responses. In addition, Demand Response zones have been created to service riders outside the immediate transit coverage area to a transfer hub in order to connect with regular bus routes.
Riders can download the UCAT app (available at Google Play and Apple iTunes) which provides real-time location of the buses, estimated arrival times, arrival notifications, route maps and schedules. In addition, the new weekday and Saturday routes and schedules for buses in Kingston can be viewed online at http: ulstercountyny.gov/ucat/bus-schedules
For a video of today's event, please click below:
Ulster County Executive Pat Ryan
"This partnership between Ulster County and the City of Kingston is good for bus riders and good for taxpayers, said Ryan." "These new routes will cut time and better serve all residents. In addition, I am proud that we are able to offer free rides this year in the City of Kingston, free Wi-Fi services, and on-demand response services."
Route Details 
The weekday red route will go from Kingston Plaza to the Golden Hill complex, then to the Ulster County Law Enforcement Center before returning to the plaza via Wall Street, North Front Street, Frog Alley and Schwenk Drive.
The weekday blue route will start at Kingston Plaza and provide service along Broadway and nearby streets. Stops will include the HealthAlliance's Mary's Avenue Campus, SUNY Ulster's Kingston Center, Yosman Tower, Wurts and Spring streets, Garraghan Drive and Rondout Gardens. On the way back to the plaza, stops will include the YMCA and Gov. Clinton Apartments.
The weekday yellow route will start and end at the Ulster County Department of Social Services in the town of Ulster. It will serve the Colonial Gardens and Stuyvesant Charter apartments, HealthAlliance's Broadway Campus and the hamlet of Port Ewen, turning around at the Birches Senior Center.
The yellow route will offer a connection to the blue route on Jansen Avenue in Kingston.
All three routes within the city are expected to take 30 minutes round-trip.
###