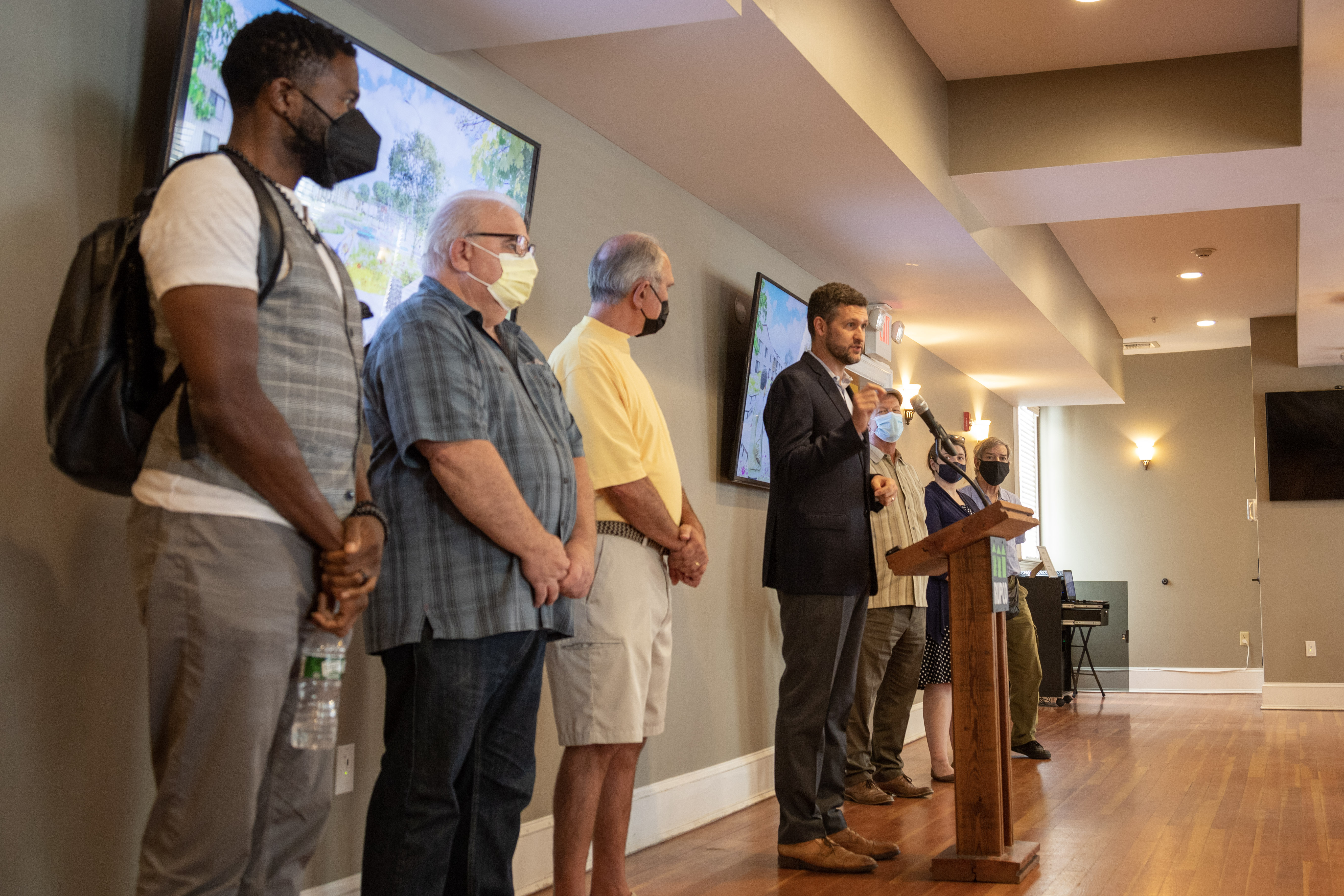 Posted August 19, 2021
In response to Ulster County's urgent housing crisis, the new facility located at the Quality Inn on Route 28 in the Town of Ulster, will provide approximately one hundred apartments for those most in need 
Those in need of housing will also be provided with on-site mental health care, career counseling and job training, childcare, and support for finding permanent housing
Today's announcement directly answers one of the key recommendations from the Ulster County Housing Action Plan released earlier this year 
KINGSTON, N.Y. – Ulster County Executive Pat Ryan today announced that through a partnership with RUPCO, Family of Woodstock and Catholic Charities of Ulster, Sullivan, and Orange, the Quality Inn on Route 28 in the Town of Ulster, will be renovated to provide supportive housing for families and individuals. 
"Coming out of the pandemic, Ulster County will continue to do everything that we can to assist those most vulnerable among us,"  Ulster County Executive Pat Ryan said. "No one in our community should go homeless, ever. These new apartments, along with all the supportive services, will allow our residents to live with dignity and pride while accessing critical services and support during a difficult time." 
"New Yorkers experiencing housing insecurity and homelessness deserve supportive housing with robust services and a pathway to permanent housing," NYC Public Advocate Jumaane Williams said. "This project is an essential lifeline and an effective solution that will greatly improve the lives of so many in Ulster County, so I commend the work of County Executive Pat Ryan and all the organizations and advocates who came together to make this a reality."
The hotel's 145 rooms would be converted to approximately one hundred apartments with kitchen and other amenities to help address the critical need to provide housing to those most vulnerable. In addition, wrap-around services including health and mental health care, career counseling and job training, childcare, and support for finding permanent housing will be provided at the site. The ability to provide all of these services onsite will greatly accelerate residents' ability to secure sustainable, permanent housing. The hotel restaurant will be renovated to serve both residents and the community and may be used for job training opportunities.
"Housing is a priority issue for the Legislature and will continue to be," Ulster County Legislator Brian Cahill said. "We will work in partnership with Executive Ryan, RUPCO and any other partner that is working towards helping fill the need for housing wherever it exists. This project will fill a dire need for those who need transitional housing and are currently living in sub-standard, temporary solutions."
"Catholic Charities is grateful for the opportunity to partner with the County, Town of Ulster, RUPCO, and Family of Woodstock to address critical housing issues in our community," CEO of Catholic Charities of Orange, Sullivan, and Ulster Shannon Kelly said. "Operating the County's Warming Center has allowed us to learn first-hand about the challenges faced by those who visited the Center. For many, housing insecurity is just one aspect of their struggles. In addition to providing safe, secure housing, the hotel conversion will offer increased access to services so that those in need are able to care for their health and well-being and improve their quality of life. We're very excited to be a part of this forward-thinking project."
"Family is very excited to collaborate with the County, RUPCO, and Catholic Charities on such a major initiative to respond to the huge numbers of homeless families and individuals who have been living in area motels," Executive Director of Family of Woodstock Michael Berg said. "The project will not only provide apartments with cooking facilities but will co-locate extensive services needed to help address the other issues holding the residents back."
MASS Design Group, a Poughkeepsie-based award-winning architecture firm named the 2020 Architecture Innovator of the Year by the Wall Street Journal, will be tapped to do the renovations at the site and currently, they are exploring ways to incorporate solar and other green design features. 
In March, Ulster County Executive Pat Ryan released the Ulster County Housing Action Plan. Through a partnership with the Ulster County Legislature, the plan called for an increase in the supply of supported and transitional housing; today's announcement directly addresses one of the key housing needs highlighted in the report.  
Last week, the "Housing Our Neighbors with Dignity Act" was signed into law. The new legislation calls for the creation of a fund to be used by the state to buy financially distressed hotels and commercial properties and convert them into permanent housing for vulnerable New Yorkers.
The first housing units at the new facility are expected to be available to begin meeting these needs by the Spring of 2022. 
Photo Left to Right: NYC Public Advocate Jumaane Williams, Ulster County Legislator Brian Cahill, Ulster County Legislative Chairman Dave Donaldson, Ulster County Executive Pat Ryan