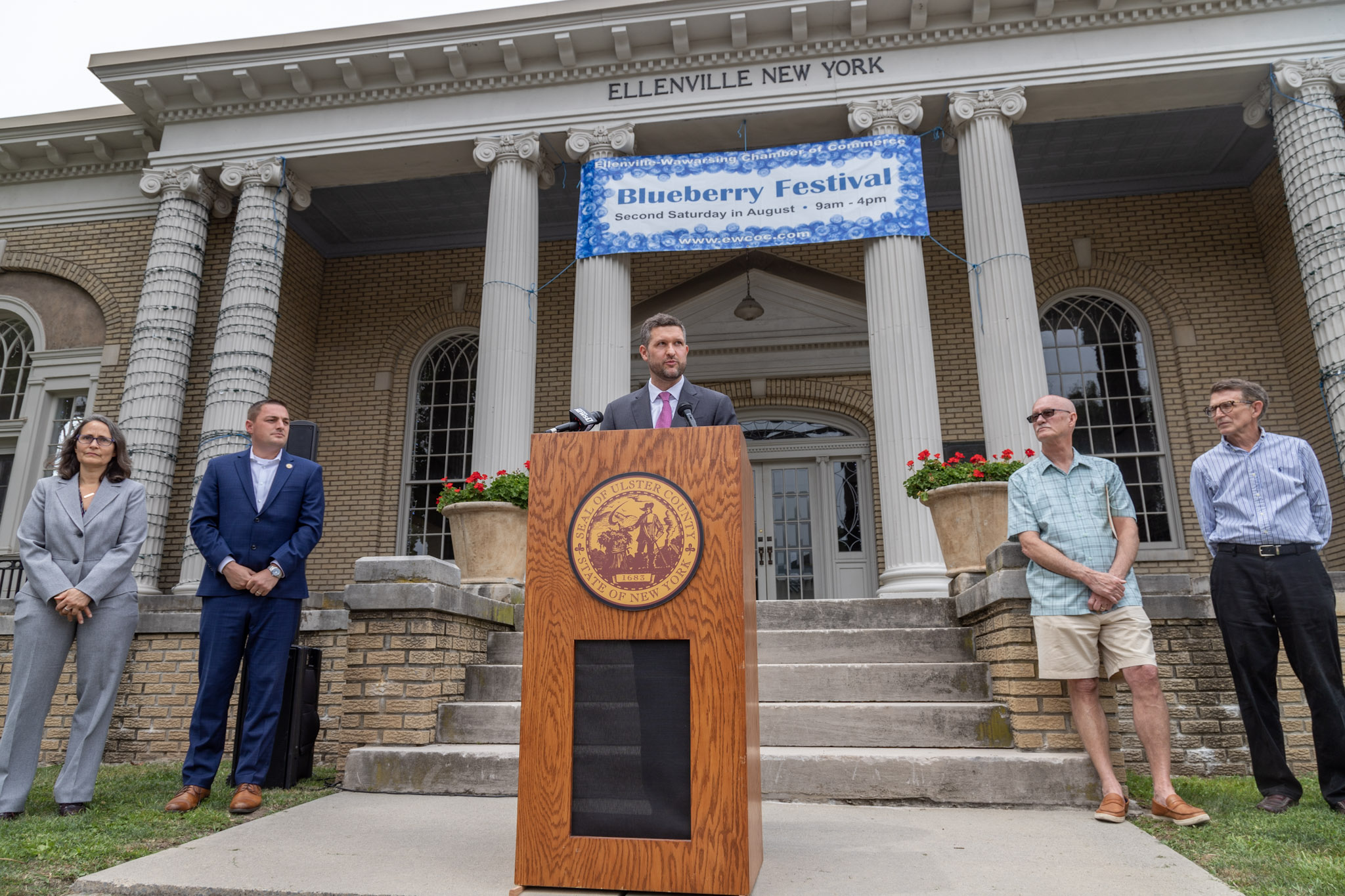 Posted August 4, 2021
The new location would create 300 to 400 hundred new jobs, position Ulster County as a leader in NYS in the emerging cannabis industry, and see over $50 million dollars invested in the now dormant Schrade facility 
The revitalization of the Wawarsing area with Cresco Labs, mirrors that of the transformation of the former IBM site just thirty miles north outside of Kingston bringing Ulster County closer to achieving a "People-Centered Economy" outlined in Ulster's 2040 Plan 
Ellenville, NY -- Ulster County Executive Pat Ryan announced today that Cresco Labs, a vertically integrated cannabis and medical marijuana company, is moving forward with the planning process to develop a major cannabis cultivation, processing, packaging and distribution facility in the Ellenville, NY area on a former manufacturing site that was once home to Channel Master and the Schrade knife company. The County and representatives from Cresco Labs have met with local and state officials to begin reviewing designs for the proposed facility, which would employ 300 to 400 hundred residents once fully operational. 
"This is one of the biggest economic opportunities we have had in Ellenville in decades," Ulster County Executive Pat Ryan said. "Cresco will turn a site that once represented the beating heart of this economy back into the economic engine that it can and should be — providing good-paying jobs for local residents and putting Ulster County at the leading edge of the rapidly-growing cannabis industry. As we also continue to make real progress to revitalize TechCity, this facility is yet another sign that Ulster County is open for businesses and investing to re-energize our economy."   
Cresco Labs is one of the fastest growing cannabis companies in the US, and currently operates 18 production facilities in ten states. If approved for construction, the Ellenville facility would create a state-of-the art campus on the property of the former Schrade knife factory, which shut its doors seventeen years ago. The exact size of the facility is still being determined, but is expected to be at least 360,000 SF and would involve an investment of over $50 million by Cresco. The 71-acre parcel, located on Route 209 in the Town of Wawarsing, left behind a vacant building that was demolished in 2015. 
"Local industry once thrived here, with good-paying jobs close to home, the hallmark of companies like Schrade Knife and Channel Master. So, after decades of shuttered doors and empty lots, it is exciting to have an investment of this magnitude formally under consideration—and at this very site," State Senator Mike Martucci (R,C,I-Hudson Valley and Catskills) said. "This opportunity is much-needed and presents major potential for this rural, economically distressed area to be at the forefront of our State's burgeoning cannabis industry. I welcome Cresco Labs to Ulster County, and I look forward to working with County Executive Ryan to help them forge strong bonds with the community and see this project through to completion."
Town of Wawarsing Supervisor Terry Houck said, "the Schrade site was once the economic engine for our community, and I am eager to see it brought back to life. I look forward to working with Cresco and the County to finalize the plans for this site, and to ensure that this project fulfills its potential to re-establish a manufacturing base for the region."
"This project is further evidence that the Ellenville area is poised for a renaissance, as we see signs of substantial investment in housing, tourism, and now manufacturing on the horizon,"  Ellenville Mayor Jeff Kaplan said. "I applaud County Executive Ryan and his team for their help in nurturing this opportunity."
"We are pleased to have Cresco Labs cite their facility in Ellenville and we are excited about the many opportunities that this presents to our community, " President and CEO of Ellenville Hospital Steve Kelley said. 
On the site would be Cresco's newest production, processing, and distribution facility, bringing new economic opportunity to the Town of Wawarsing and the surrounding region. The redevelopment would involve the construction of a new building dedicated to growing and cultivation in addition to space for processing, production, packaging, distribution and administrative offices. 
With the recent legalization of marijuana in New York State, Ulster County is positioning itself to be a leader in this new booming market as one of the first communities in the State to house a major marijuana distribution facility. Ulster County boasts over 400 farms and approximately 58,932 acres of farmland. Additionally, the County has several existing companies at the forefront of the emerging cannabis industry who have helped pave the way for the sector's rapid growth.
The revitalization of the Wawarsing area with Cresco Labs, mirrors that of the transformation of the former IBM site just thirty miles north outside of Kingston. In March, Ulster County Executive Pat Ryan announced that the County received twenty-two responses to its request for ideas to redevelop two parcels on the west side of the former IBM campus. The expressions of interest represent a broad range of proposed uses for the former office building and surrounding property and demonstrate immediate opportunity to put the long-dormant site back to productive use, creating jobs and providing local tax revenues to the County, the Town of Ulster, and the Kingston City School district.
Last month, Ulster County Executive Pat Ryan announced that the County filed to foreclose on 18 parcels at the former IBM site due to owner Alan Ginsberg's failure to pay over $12 million in back taxes. Additionally, United States Senate Majority Leader Chuck Schumer visited TechCity to announce that he is seeking additional funds in President Biden's American Jobs Plan to clean up the asbestos piles located on-site that are currently the subject of a federal Superfund action managed by the United States Environmental Protection Agency. 
In the coming months, as the state regulatory framework for adult use cannabis is rolled out, the Cresco team will ramp up its efforts to engage with a variety of local stakeholders in solidifying their facility and operations plans. Public input meetings and community "meet-and-greets" will help ensure that residents and other local businesses have a chance to learn more about the project and provide input and feedback. Pending local and state approvals, construction of Cresco's facility at the former Schrade site could begin in early 2022.
###