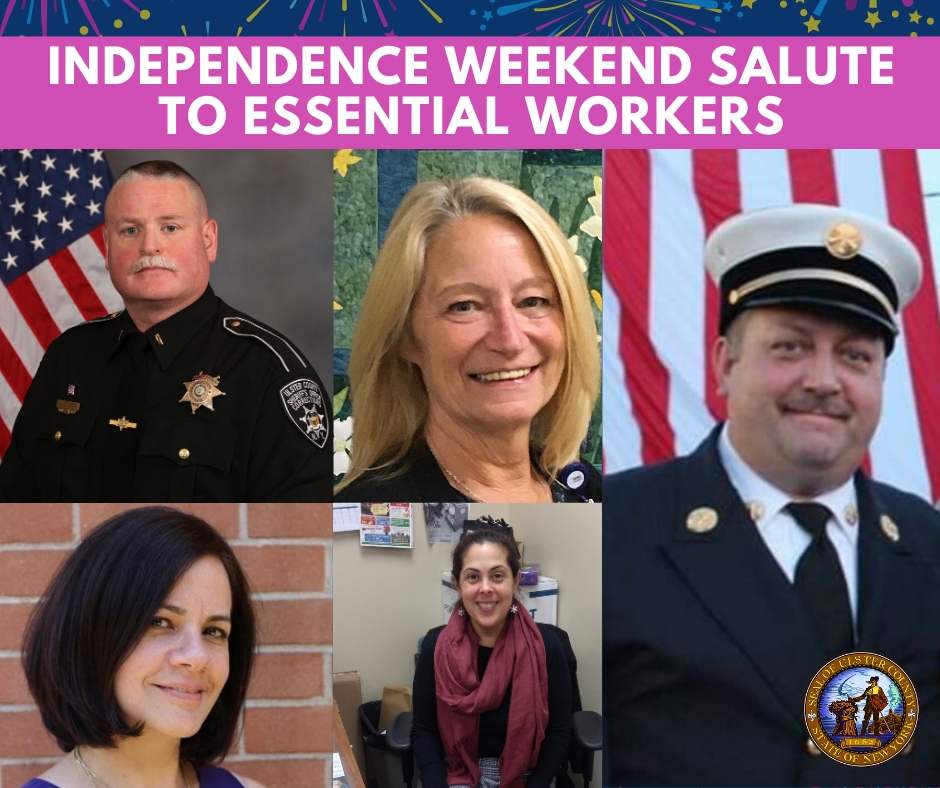 Posted July 3, 2020
July 5th Motorcade Will Honor Frontline Workers 
County Executive Patrick Ryan Announces That Police Agencies Across Ulster County Will Step Up DWI Enforcement Efforts During The Fourth of July Holiday  
KINGSTON, N.Y. - Ulster County Executive Pat Ryan announced today the individuals that will be honored as a part of Ulster County's Independence Weekend Salute to frontline workers. On July 5th, communities throughout Ulster County will recognize essential workers at a motorcade starting at Dietz Stadium at 4:00 p.m. in Kingston.  
County Executive Ryan also announced that Ulster County police agencies will participate in a special enforcement effort to crackdown on impaired driving. The statewide STOP-DWI Crackdown efforts start on July 3rd and will end on July 6th. Law enforcement agencies throughout New York State will collaborate and will be out in force in this coordinated effort to reduce the number of impaired driving-related injuries and deaths. The July Fourth Holiday Crackdown is one of many statewide enforcement initiatives promoted by the New York State STOP-DWI Association.
"I am so proud that we are able to not only provide a safe way for our residents to celebrate our nation's independence, but to also recognize the hard work and heroic sacrifices of our frontline workers who have stepped up over the last few months," County Executive Pat Ryan said. "I would like to thank the law firm of Mainetti & Mainetti for sponsoring our fireworks celebration, and I hope that residents will join us this weekend to recognize the works of those who selflessly put their own health and safety on the line for our community."
The motorcade will feature and recognize the following individuals who have gone above and beyond during the pandemic:
Jennifer Braun
Jennifer grew up in Boiceville and resides in Stone Ridge. She has worked at Adams Fairacre Farms, Inc. for almost 18 years starting as a cashier, then working in various departments, and now she is the office manager. Jennifer was selected by her leadership because of her outstanding work ethic and constant positive attitude. She is a great representative of the thousands of Ulster County retail professionals.
Lt. Joseph Decker
Lt. Decker began employment with the Ulster County Sheriff's Office on August 21, 1995. In addition to his duties, Lt. Decker is the Assistant Chief of the Hurley Volunteer Fire Co where he has served for over 25 years.  Since the COVID-19 pandemic caused the Pause NY shut down of nonessential functions in NY State, Lt. Decker was tasked with the startup and oversight of the Town of Ulster and City of Kingston Drive and walk through Covid-19 test sites. He has also supervised and coordinated the point of distribution for PPE which has serviced well over 600 area agencies.  He also coordinates with the county Emergency Management Office for ordering covid-19 resources for the county.  Lt. Decker has taken a leadership role in this pandemic and has assured the safety of the county residents and first responders on the front line of this pandemic. He is a consummate professional and a well-respected leader in all tasks assigned. He is to be commended for his tireless commitment to the safety of Ulster County Sheriff's Office staff, inmates, and residents of Ulster County.  
Carol Redmond
Carol Redmond began working as a staff nurse at Kingston Hospital in 1997. She has since held positions as charge nurse, clinical coordinator, staff educator and is currently serving as a nurse manager on a very busy medical- surgical unit. As the hospital surged to meet the demands of COVID-19, Carol led our efforts to consolidate care for these patients on 3Broadway and standardized nursing care and infection control practices. She instilled confidence and courage in her staff, who through her leadership and by her leading from the front, ensured we had no hospital-acquired COVID infections in staff or patients on her unit and contributed to our safe discharge of over 70 members of our community hospitalized for COVID. Her passion for nursing and for caring has not diminished during these past 23 years. She has a strong dedication to our institution and a goal to provide the highest level of care for patients, ultimately improving the healthcare for this community.
George Banks Sr. 
George was born and raised in Kingston. George is currently 2nd Assistant Chief for Port Ewen Fire Department where he has served for 14 years. He has also worked for the New York State Department of Corrections for over 23 years. He is a former longtime member of Eastern C.E.R.T. team. In February 2020, he was promoted to Sergeant at Great Meadow Correctional Facility in Washington County. George contracted COVID 19 on April 5, 2020 and was hospitalized on April 12th. George spent 61 days hospitalized, where he required a ventilator, ECMO machine, and tracheotomy. George beat the odds and returned home on June 12, 2020.
Wanda LoBianco
Ms. LoBianco, Principal of George Washington Elementary School in Kingston exhibited her usual passion, commitment and caring during the COVID-19 crisis.  In addition to her day to day responsibilities, Ms. LoBianco went "over and above" visiting the homes of her students, delivering Chromebooks and in many cases giving technology lessons to students and parents on front porches and backyards throughout the George Washington attendance zone!
Sponsored by the law firm of Mainetti & Mainetti, the County will also be hosting a July 4th Community Fireworks Show located at the TechCity parking lot at 300 Enterprise Drive, Kingston. The lots will open at 7:30 p.m. and the fireworks presentation will begin at dusk. To abide by social distancing precautions, all attendees will be required to stay in or near their vehicles and no alcohol will be allowed on the site. This event is free for all residents. Residents can also tune into 92.9 FM during the fireworks presentation for a musical soundtrack which will go with the fireworks thanks to 92.9 WBPM. 
This Independence Day Weekend, you can help to make a difference by Having a Sober Plan! Download our mobile app – "Have a Plan" and you will always be able to find a safe ride home www.stopdwi.org/mobileapp. Impaired driving is completely preventable.  
###