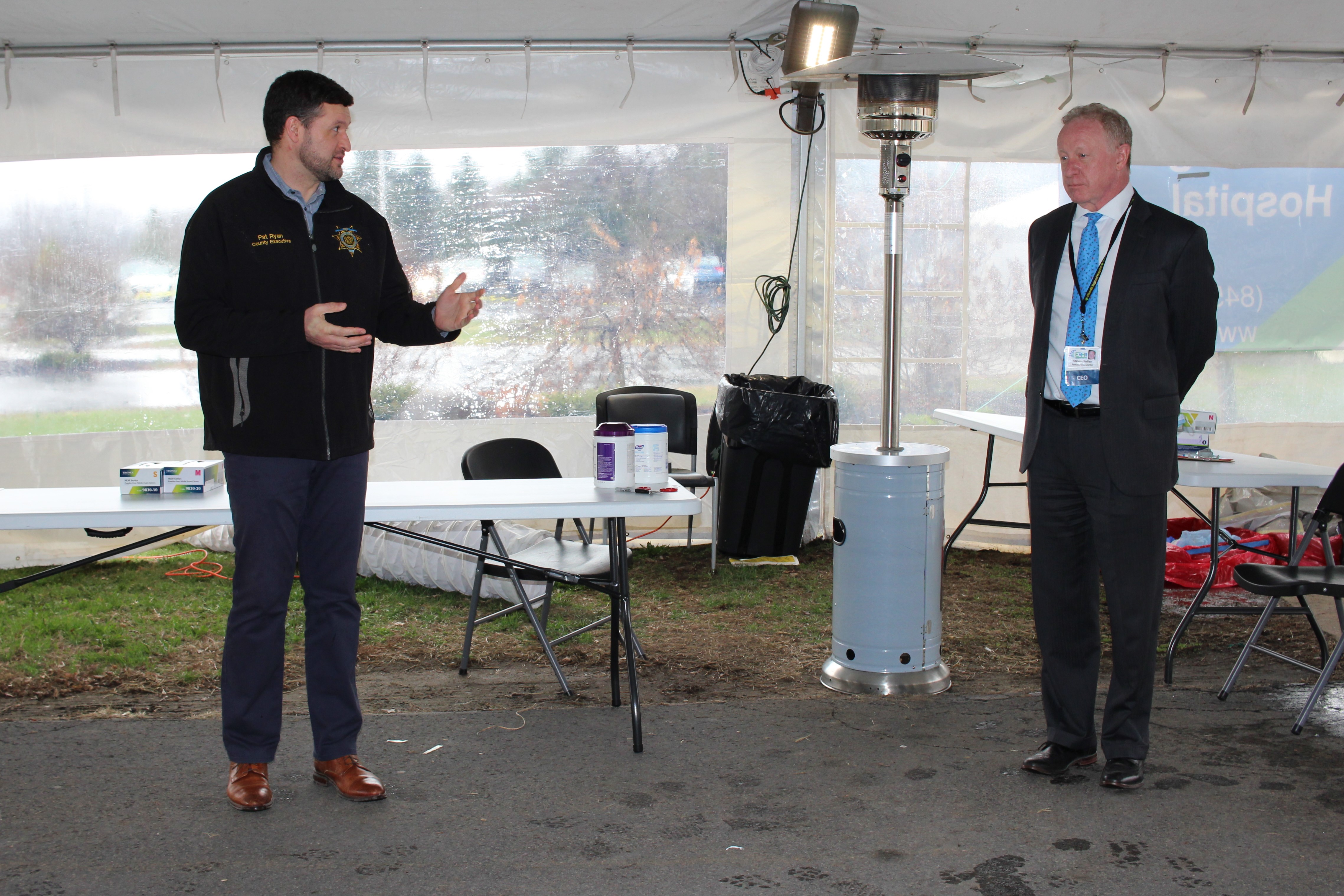 Posted March 30, 2020
County Executive Ryan tours new testing facility at Ellenville Regional Hospital 
KINGSTON, N.Y. - County Executive Pat Ryan today announced information about Ulster County's second drive-through mobile COVID-19 testing site located at Ellenville Regional Hospital. The new location will be open five days a week and will continue to increase testing capacity in Ulster County. Last week, County Executive Ryan announced the opening of a drive-through test site located at TechCity which tested over 600 people in its first week of operation.
"This additional mobile testing site will save lives. We are continuing to provide a significant surge in testing capacity, which will enable us to better treat those affected and slow the spread of COVID-19," Ulster County Executive Pat Ryan said. "I want to thank Ellenville Regional Hospital for stepping up during this critical moment for our community. Our entire team will continue to work around the clock to keep every Ulster County resident safe and healthy."
"We greatly value our ongoing partnership with Ulster County. But we really appreciate it the most during this time of crisis," President & CEO of Ellenville Regional Hospital Steve Kelley said. "The County Executive was instrumental in assisting Ellenville Regional Hospital in bringing COVID-19 testing locally right here in Ellenville."
Individuals seeking a COVID-19 test at the testing site must meet all of the following criteria: 
- You called your primary care physician's office and had a phone consultation
- Based on your symptoms and other information you provided, your physician determined that you meet criteria for COVID-19 testing, and ordered a test for you
- You have a scheduled appointment at the collection site. 
Any individual who does not have a primary care physician, should contact the Ulster County COVID-19 Hotline at 845-443-8888.
To contact Ellenville Hospital regarding a COVID-19 test, call 845-647-6400 ex. 269. 
Residents permitted by their physician to enter the site will be met by a trained provider who will collect a sample for lab testing. After leaving the test site, residents should drive home and limit interactions with others during this time. Those who are tested should plan to self-quarantine for up to 14 days and will receive self-quarantine guidelines at the collection site. It may take up to six days to receive test results back and individuals who receive tests will be notified by their doctor with the results. Both healthcare providers and law enforcement will be on site along with three clinicians from Ellenville Hospital.
Ellenville Regional Hospital is located at 10 Healthy Way, Ellenville, NY 12428. The testing site is currently slated to be open Monday through Friday, 9:00 AM to 2:00 PM by appointment only. 
Earlier this week, it was announced that Ulster County will add 235 beds at the Mary's Avenue campus of HealthAlliance to treat COVID-19 patients. Additionally, County Executive Ryan is working to develop detailed plans for further hospital and treatment capacity.
There are currently 207 confirmed cases of COVID-19 in Ulster County. 
For additional information about COVID-19 and the mobile testing process, please visit: https://ulstercountyny.gov/coronavirus
Ulster County COVID-19 Hotline: 845-443-8888
NYS Coronavirus Information Hotline: 888-364-3065
###