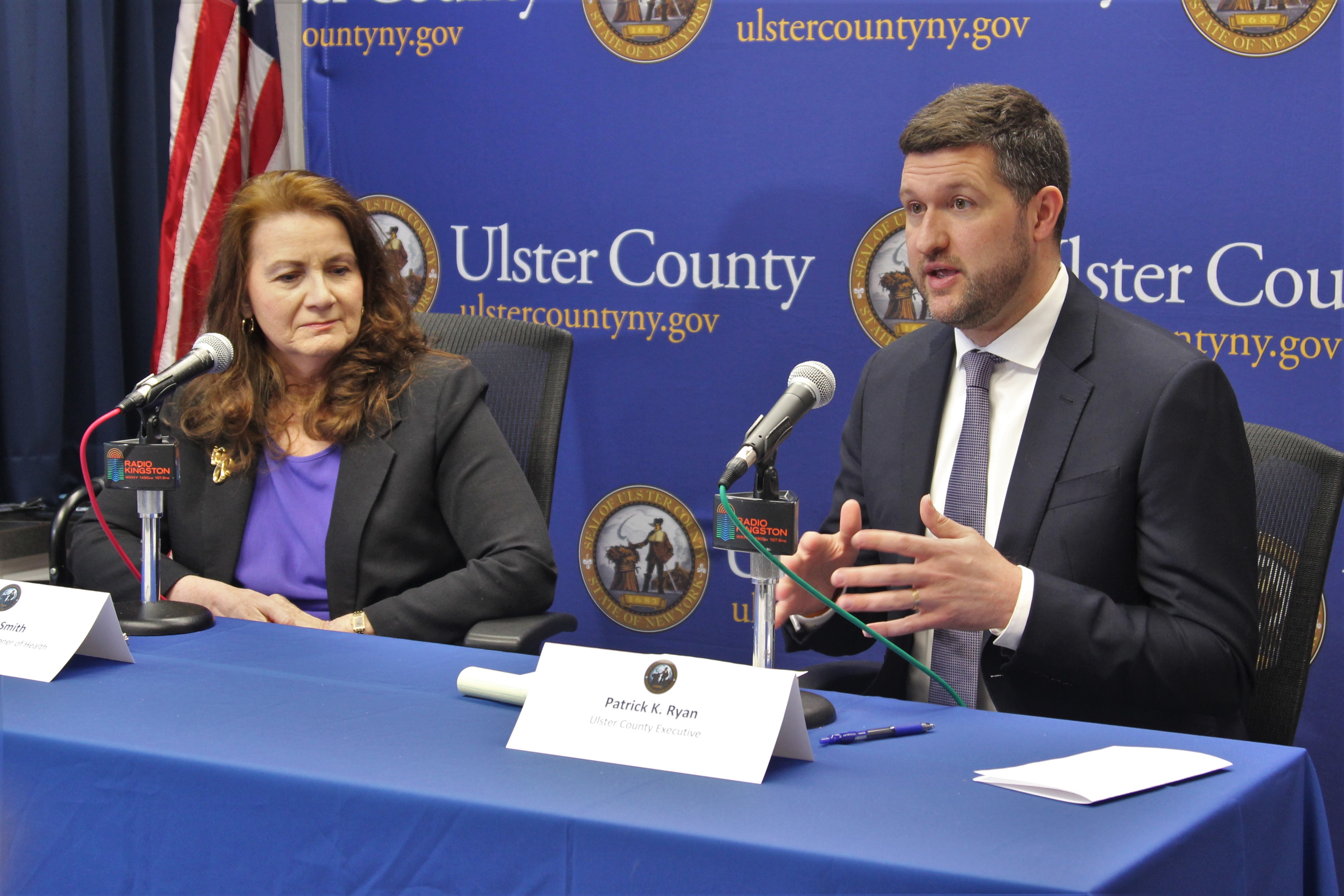 Posted March 17, 2020
County Executive Ryan has secured over $2 million in funding in 24 hours
County Executive Ryan will utilize UCAT and partner with non-profits and municipalities to deliver meals
New initiative will help residents in need and provide support to small businesses 
KINGSTON, N.Y. - Since the outbreak of COVID-19, there has been a groundswell of support and outreach from residents looking to find out how they can help vulnerable members of our community. In response, Ulster County Executive Pat Ryan announced today the formation of a new countywide effort — Project Resilience — to help direct this surge of support and goodwill towards those in need throughout the county. The effort will include: a community fund, in partnership with the United Way; an online portal for anyone in need to ask for help; a robust food distribution network; and a partnership program for businesses and community groups to provide food and other critical services. 
Residents in need can apply online to receive meals and other support from participating local restaurants and community groups. UCAT (Ulster County Area Transit) will be partially repurposed to work with municipalities and community organizations to deliver meals to residents in need. County Executive Ryan has secured over $2 million dollars in funding in under 24 hours along with announcing partnerships with municipal governments, local businesses, and not-for-profits. 
"Project Resilience is an unprecedented initiative that will allow us to channel the wave of goodwill from across Ulster County to better serve our residents in need. I want to thank the individuals and organizations who have generously stepped up to contribute to this effort, and I want to assure our residents that we are here for you," County Executive Pat Ryan said. "I continue to be tremendously impressed by the resiliency and generosity of Ulster County. We are showing our state and our nation what it looks like when a community comes together to take care of each other."
"Ulster County has always come together in times of crisis and this is no exception," Executive Director of Ulster County United Way Stacey Rein said. "We will do everything in our power to meet the immediate and emerging needs of our residents."
"Santa Fe restaurants are happy to help out during this crisis in any way we can," Co-Owner Annie Demosthenes said. "We are blessed to be part of an incredible community and now is the time for us to come together by helping our neighbors." 
"It will be an honor and a privilege for all three of our restaurants to participate in Project Resilience. Providing meals for those in need is extremely important to us and our community," Eric Cafaro of Palizzata in Kingston and Tony and Nick's Italian Kitchen in Ellenville said. "Also trying to keep some of  our staff on board so they can provide for their families is important to us as well. This is an incredible program provided by the county and we look forward to helping in any way that we can."
"As the community has supported Frida's Bakery & Cafe throughout the years, we are grateful to be able to pay-it forward," Owners of Frida's in Milton said. "Frida's has partnered with other local restaurants to provide prepared meals for those individuals and families in need. Let's all join together to make sure everyone is taken care of during this difficult time." 
"The importance of community is indisputable for those of us who own and operate small businesses," Owner of Rosendale Cafe Mark Morganstern said. "The Rosendale cafe is thrilled to be part of any effort to support and give back to the community that we are so thankful for during this difficult time."
Initial Participating Restaurants include: 
Santa Fe Restaurants in Kingston and Woodstock
Tony & Nicks Italian Kitchen in Ellenville
Country Club Grill in Ellenville
Palizzata in Kingston
Sue's Restaurant in Saugerties
Frida's Bakery & Café in Milton
Main Street Bistro in New Paltz
Rosendale Café in Rosendale
Hudson Valley Dessert Company in Saugerties
Dallas Hot Wieners in Kingston, Lake Katrine and Saugerties
Savona's Plaza Pizza in Kingston
Provisions in Woodstock
United Way is currently accepting donations and setting a goal of raising $5 million dollars. To donate, request meal delivery, assistance, or to sign up as a participating business or service provider visit: https://ulstercountyny.gov/coronavirus 
County government, meanwhile, is continuing to ramp up response efforts. County Executive Ryan last week declared a State of Emergency. He also directed the closure of all County schools and that the County suspend in-person County services for a two-week period. As of today, the total number of cases in which an individual tested positive for COVID-19 in Ulster County is 8.
For additional information about COVID-19 visit: https://ulstercountyny.gov/coronavirus
Ulster County COVID-19 Hotline: 845-443-8888
NYS Coronavirus Information Hotline: 888-364-3065
###