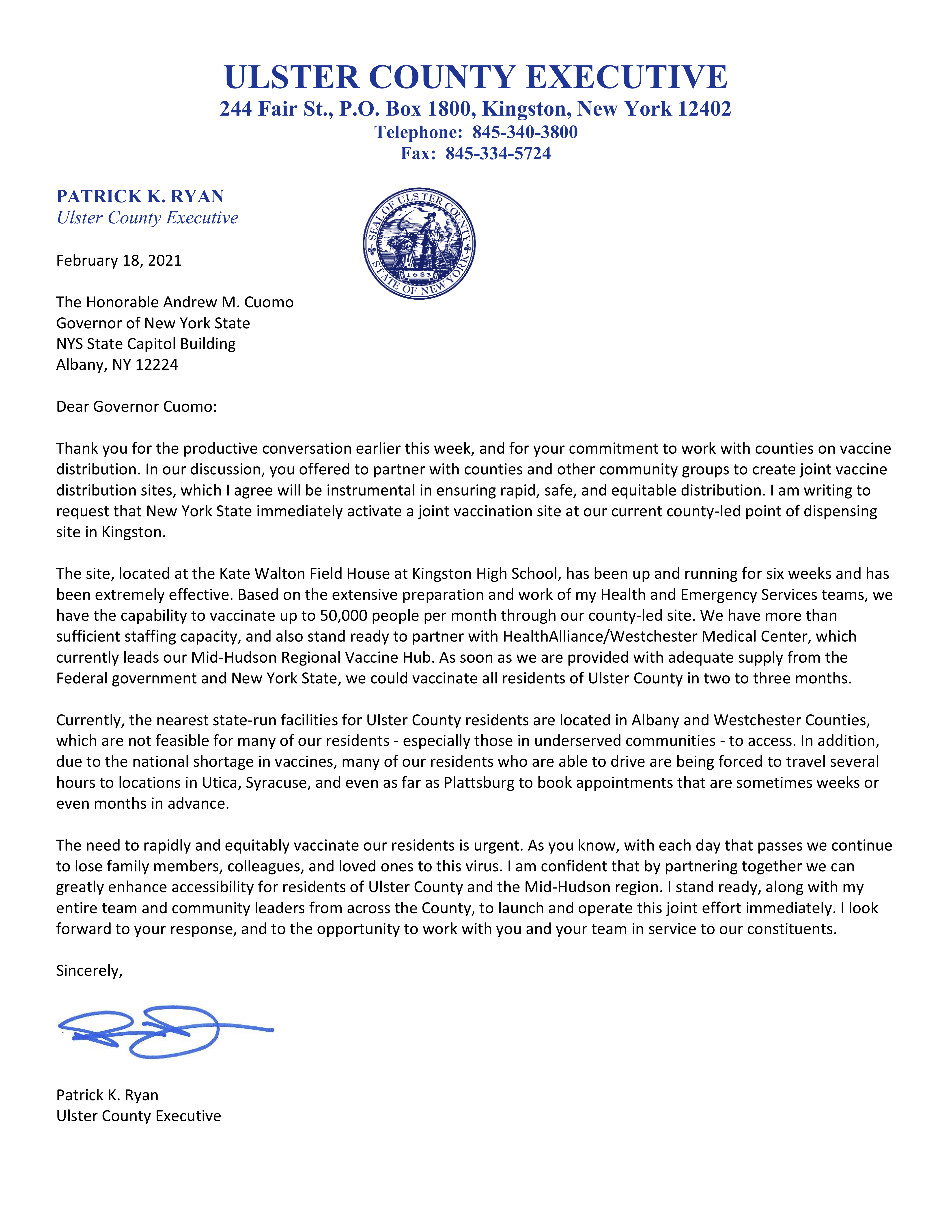 Posted February 18, 2021
In a letter to Governor Andrew Cuomo, County Executive Ryan requests that New York State immediately activate a joint vaccination site at the current county-led point of dispensing site in Kingston 
Through this proposed partnership, Ulster County would have the capacity to vaccinate 50,000 people per month and could vaccinate all residents of Ulster County in two to three months once adequate supply is available
County Executive Ryan outlined concerns that nearest state-run facilities are not feasible for many of Ulster County residents - especially those in underserved communities - to access
KINGSTON, N.Y. - County Executive Pat Ryan today announced that following a productive conversation with Governor Andrew Cuomo earlier this week, Ulster County is requesting that the County-led vaccination site, located at the Kate Walton Field House at Kingston High School, be converted into a joint County and State point of dispensing (POD) site. 
"It is critical that here in Ulster County we have a joint site that is more accessible for our residents," County Executive Pat Ryan said. "We have done the work - our site is effective - if we have the supply we could have 50,000 people vaccinated per month which means we could get every resident vaccinated in a two to three month time. As County Executive, I will continue to advocate at every level for our residents to ensure more equitable access to vaccines."
The County's main vaccination site, located at the Kate Walton Field House at Kingston High School, has now been operational for six weeks and has the capability to vaccinate up to 50,000 residents per month but has greatly lacked supplies due to a vaccine shortage at the Federal and State level. County Executive Ryan believes that a partnership with New York State would allow for all residents of Ulster County in two to three months once adequate vaccine supply is available. 
Presently, the nearest state-run facilities for Ulster County residents are located in Albany and Westchester Counties. Citing residents traveling several hours to locations in Utica, Syracuse, and even as far as Plattsburg, County Executive Ryan stated that the present configuration is, "...not feasible for many of our residents - especially those in underserved communities - to access." 
This week, Governor Cuomo announced additional vaccination sites will be operational in March in Buffalo, Rochester, Albany and Yonkers and that they will each vaccinate 1,000 New Yorkers per day. 
###