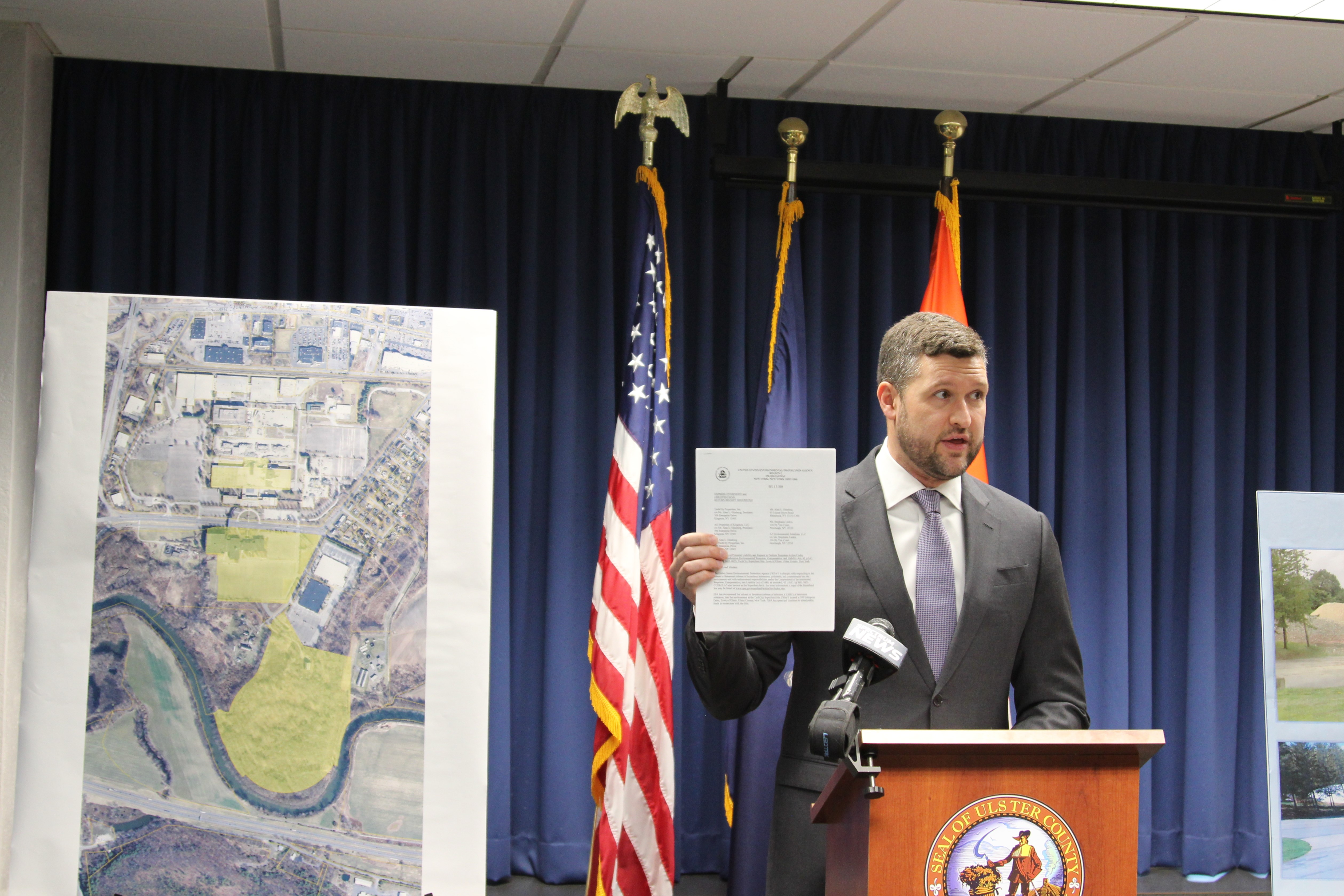 Posted December 18, 2019
Ginsberg And His Affiliated Companies Have Until the End of this Year to Provide EPA With a Plan for the Cleanup
KINGSTON, N.Y. – Ulster County Executive Pat Ryan announced today that the United States Environmental Protection Agency ("EPA") has served Tech City owner Alan Ginsberg formal notice he is personally responsible, under federal Superfund law, for the proper removal and cleanup of asbestos laden demolition debris piles throughout the former IBM complex in the Town of Ulster.
The EPA's "Notice of Potential Liability and Request to Perform Response Action" is a first formal step in federal enforcement actions against Ginsberg, his affiliated companies, and Newburgh's A2 Environmental Solutions, which Ginsberg contracted with in 2015 to perform asbestos demolition and cleanup work. It gives Ginsberg and all other parties until December 30 to provide notice whether they will "voluntarily finance and/or perform the work necessary to both temporarily and permanently address the release or threat of release of asbestos" in Tech City buildings one and two, as well as the large rubble piles left behind from the demolition of building 25. The notice also demands the regulated removal of the large demolition debris piles, work cumulatively estimated to be in the millions of dollars.
Ginsberg's companies, meanwhile, also owe more than $12 million in back school and property taxes on the entire Tech City complex.
"Ginsberg has taken what used to be the crown jewel of our County's economy and turned it into a festering wound. He is worse than a slumlord and I am thrilled the EPA has taken this extraordinary step holding him personally accountable for his history of bad actions," said County Executive Ryan. "The EPA's new action and our County's successful foreclosure on the former Bank of America parcels on the western side of tech city are pivotal steps towards unlocking the potential of the former IBM complex for Ulster County's future. Ginsberg, through his actions, has essentially held the County's full economic development prospects hostage for years, and that ends now. We remain committed to working with our Town of Ulster, State and EPA partners, economic development professionals, and the County Legislature to turn around this situation."
"The ongoing delay in properly addressing remediation at the site has led to years of lost potential economic growth for the Town of Ulster," Town of Ulster Supervisor James Quigley said. "Designating the property as a Superfund site is a clear step forward and brings to bear the full legal and technical resources of the EPA.  Much remains to be done, however, I look forward to continuing our work with County, state, and federal leaders to restore the former IBM site as a resource that will drive economic activity, job creation, and revenue for the people of the Town of Ulster."
"For two decades, Ginsberg's irresponsible actions and neglect of the former IBM site broke my late husband's heart as he represented and cared deeply about this community, as I do now in his footsteps," said Ulster County Legislator Brenda Maloney. "I am so proud – as I know he is gleaming while looking down on us now – to be part of a government partnership taking that man to task for what he has done. I thank County Executive Ryan and Supervisor Quigley for their hard work helping lead to this turning point that will ultimately provide far better prospects for the taxpayers and our County."
Under the Superfund Law, formally known as the Comprehensive Environmental Response, Compensation and Liability Act of 1980 (or "CERCLA"), the EPA has the power to force the cleanup of contaminated sites and/or perform the cleanup work itself while holding responsible parties liable for the full costs incurred by the government. Additionally, in enforcement actions, the EPA can seek penalties of as much as three times the total cleanup and administrative costs of a Superfund site cleanup.
###
Attachments: 
EPA letter