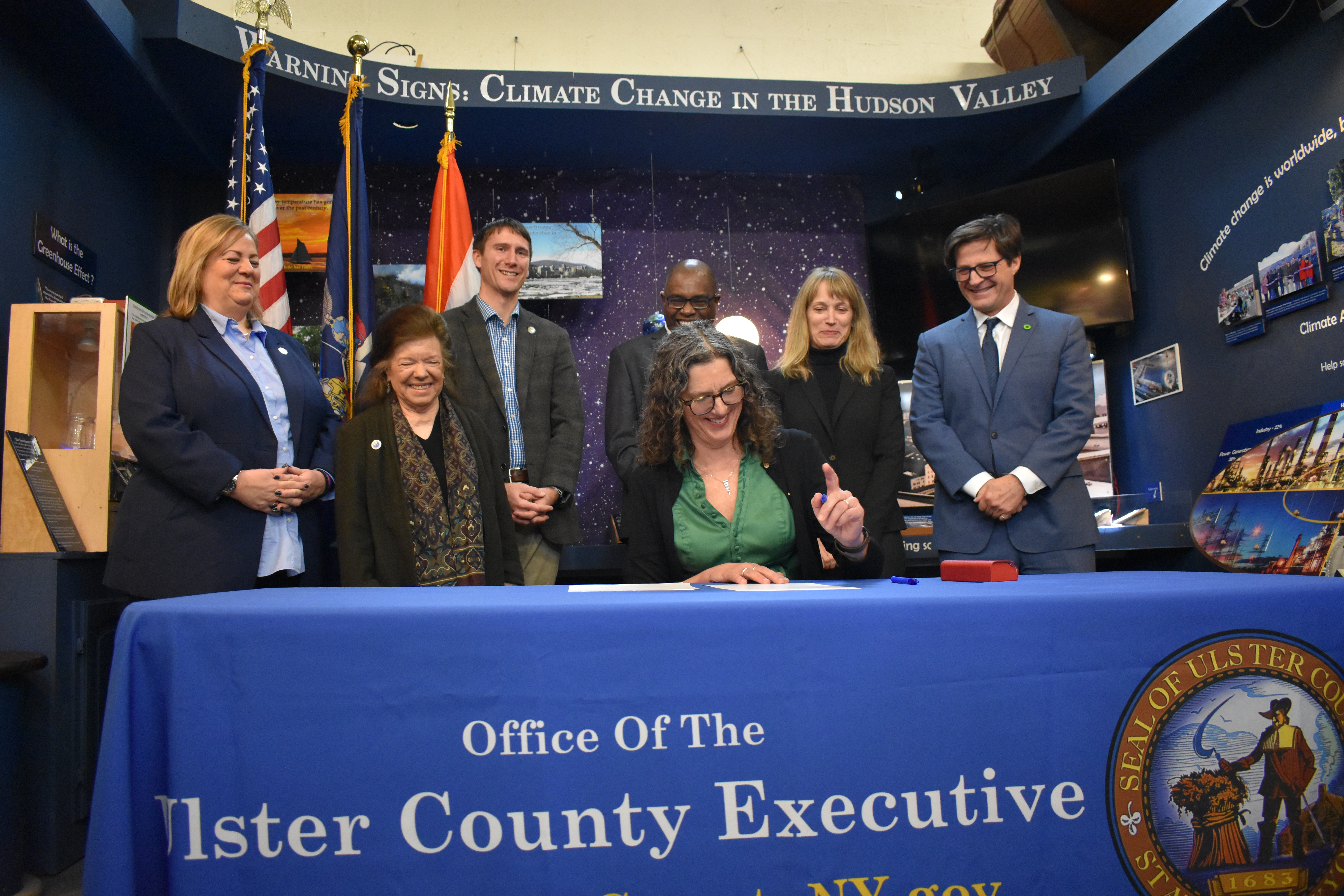 Posted February 1, 2023
****For Immediate Release****
Date: Monday January 30, 2023
Ulster County Executive Jen Metzger Issues Executive Order Creating Boldest Climate Agenda in New York State
KINGSTON, NY - Ulster County Executive Jen Metzger signed an Executive Order today creating the boldest Climate Agenda for any County Government in New York State. The fourteen directives in the Order will align Ulster County Government with the targets of New York State's Climate Leadership and Community Protection Act at an accelerated pace, all while doing so in a way that is fair and equitable with a focus on Environmental and Economic Justice.  
Ulster County Executive Jen Metzger said, "My office is committed to building a sustainable, resilient, thriving Ulster County that leaves no one behind. With this Executive Order, we are charting a path forward that makes our communities healthier, creates family-supporting middle class jobs, and does our part to help slow climate change to a more manageable rate. We don't need the science to tell us--we can see the impacts of climate change right here in Ulster County. That is why when I served in the State Senate I helped pass the most aggressive Climate Law in the nation, and why as Ulster County Executive I will continue to lead the fight against this  existential threat."
Standing in the Hudson River Maritime Museum where just a month prior flood waters inundated the facility, County Executive Metzger was joined by County Legislature Chairwoman Tracey Bartels, Actor & Activist Tim Guinee, Rev. Dr. Gregory Simpson, and dozens of local elected officials and climate activists to sign the Executive Order. 
The Executive Order includes 13 different directives ranging from energy use in buildings to electrifying county buses to conducting public outreach to community members so they can take advantage of the myriad tax credits and programs available to decarbonize their homes, cars, and businesses. The Executive Order calls for the following:
Assessing all County Government buildings for implementation of on-site solar and storage to meet the goal of meeting 100% of government needs from renewable sources by 2030–ten years ahead of what's required in the state's climate law.  

Setting a goal of achieving reductions of community-wide GHG emissions of 40% by 2030 and 85% by 2050.

Promoting a fair, equitable, and environmentally just clean energy transition, by creating diverse and inclusive opportunities in the green economy, and addressing the legacy pollution that has burdened tribal communities, communities of color, and low-income communities. 

Setting a goal of diverting 100% of organic waste from landfills and incinerators by 2030, starting with the government's own operations, putting an organic waste recycling program in place for county buildings and facilities this calendar year. 

Undertaking an assessment of the Ulster County Area Transit service, with the goal of expanding routes and scheduling and continuing to fully electrify the fleet.

Directing Ulster County's new Chief Diversity Officer and all relevant departments, from Planning to the Department of Social Services to Economic Development to Office of the Aging,  to develop a plan to help residents and small businesses take advantage of state and federal assistance and incentives.
Actor & Activist Tim Guinee said, "Executive Metzger demonstrated what real leadership looks like today with the release of an executive order that will serve as an engine for job creation and an invigorated local economy, all while addressing the climate-crisis! Thank you Executive Metzger!"
Reverend Dr. Gregory Simpson said, "Our new County Executive, Jen Metzger, is addressing the climate crisis head-on! The extraordinary work she began as a New York State Senator to catalyze the passage of the New York State Climate Act is now aligning with the County's sustainability agenda. Now she is taking the bold step to center an equitable and environmentally just clean energy transition. This executive order demonstrates her consistency and her commitment to protecting our planet, our children and the future of Ulster County. I look forward to working with her and her team in the days ahead as the implementation steps begin to take shape."
Mayor Steve Noble, City of Kingston, said "I congratulate County Executive Metzger on her ambitious environmental plans. We've seen firsthand here in Kingston how important this work is, and I look forward to partnering with the County Executive and her team to move these crucial initiatives forward."
Jeremy Cherson, Senior Manager of Government Affairs for Riverkeeper, said "Riverkeeper is grateful to Ulster County Executive Jen Metzger for placing the fight against climate change at the top of her agenda. As recent flooding at the tidal Rondout in Kingston demonstrated, there is absolutely no time to waste. The actions outlined in Executive Order 1 propel Ulster County to the forefront of local leadership in tackling the climate crisis."
###