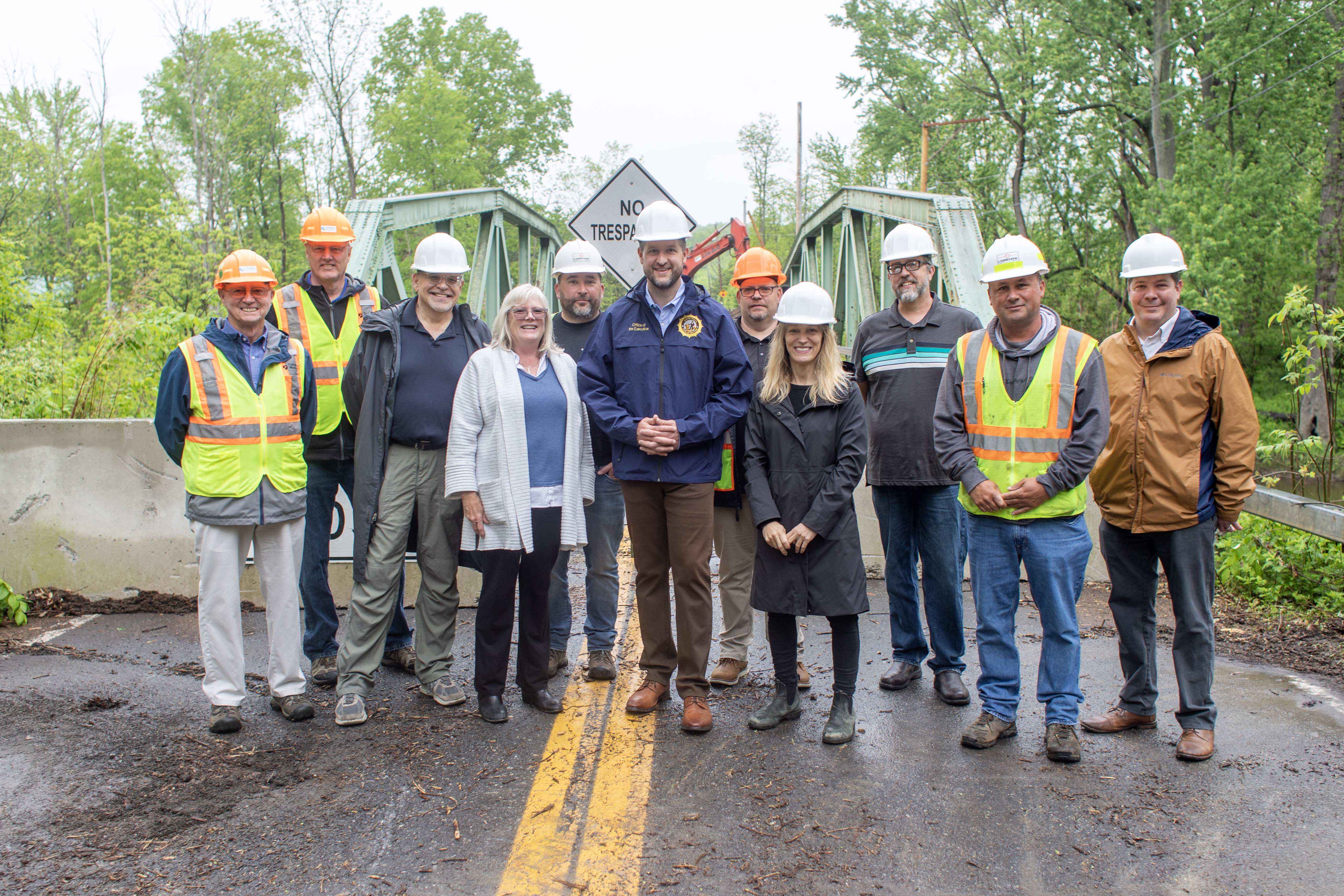 Posted May 23, 2022
Ulster County Executive Pat Ryan, Legislature Chair Tracey Bartels, and Town Supervisor Marybeth Majestic announce the beginning of work on the McKinstry Bridge in Gardiner
The 2022 Executive Budget made major investments in maintaining and enhancing infrastructure, including a $2.8 million investment to address instabilities and reopen the McKinstry Bridge
KINGSTON, N.Y. - Ulster County Executive Pat Ryan, Legislature Chair Tracey Bartels and Town Supervisor Marybeth Majestic announced today the beginning of work on the McKinstry Bridge in Gardiner that has been closed since 2020. The 2022 Executive Budget made major investments in maintaining and enhancing infrastructure, including a $2.8 million investment to address instabilities and reopen the McKinstry Bridge.
"The McKinstry Bridge is a vital roadway in Ulster County, and returning it to its former glory as an access and alternative route and viewing spot for the Wallkill river, with improvements, has been a priority of my 2022 Executive Budget," Ulster County Executive Pat Ryan said. "This is part of a broader plan to make major investments in maintaining and enhancing our infrastructure - dedicating $18.2 million to improve county roads and bridges, with $2.8 million to address instabilities and reopen the McKinstry Bridge."
"When the McKinstry Bridge was abruptly closed in 2020, it was devastating for the community and local businesses. I am grateful to Ulster County's Department of Public Works led by Commissioner Brendan Masterson for making the difficult but necessary decision to prioritize public safety," Ulster County Legislature Chair Tracey Bartels said. "Since that time I have advocated for an expedited process, even as we were dealing with a global pandemic. I'm thrilled that soon Gardiner residents and visitors will have a new, safe bridge. I'm grateful to Executive Ryan, the County Legislature and the Department of Public Works for investing in Ulster County infrastructure."
"I am pleased to finally see work beginning on the McKinstry Road bridge replacement after being closed for over a year," Town of Gardiner Supervisor Marybeth Majestic said. "I look forward to the new bridge opening by the end of 2022."  
The McKinstry Bridge in Gardiner has been under observation for some time. Cracks in the asphalt had etched tectonic plates that had sunken in some areas and crumbled in others, and rust had eaten through parts of the steel beams. Hurricane Irene also inflicted damage, causing a temporary closure in 2011. Since then, the weight limit on the bridge progressively decreased in tonnage until it was officially closed to foot traffic to ensure the safety of Ulster County residents. Work on the McKinstry Bridge has already commenced and the bridge is anticipated to re-open at the end of 2022.
Other major bridge projects identified in the 2022 Executive Budget are the Lyonsville Bridge in Marbletown, the Broadstreet Hollow Bridge in Shandaken and more. Ulster County anticipates reconstructing approximately 30 miles of roads using New York State CHIPS funding, including Springtown in New Paltz, Ulster Heights in Warwarsing, Hurley Mountain Road in Marbletown, Samsonville Road in Rochester, Union Center Road in Esopus, Blue Mountain Road in Saugerties and Wittenburg Road in Shandaken. Additionally, pavement preservation methods, including chip seal and crack seal, will extend the service life of approximately 65 miles of roadway.
###