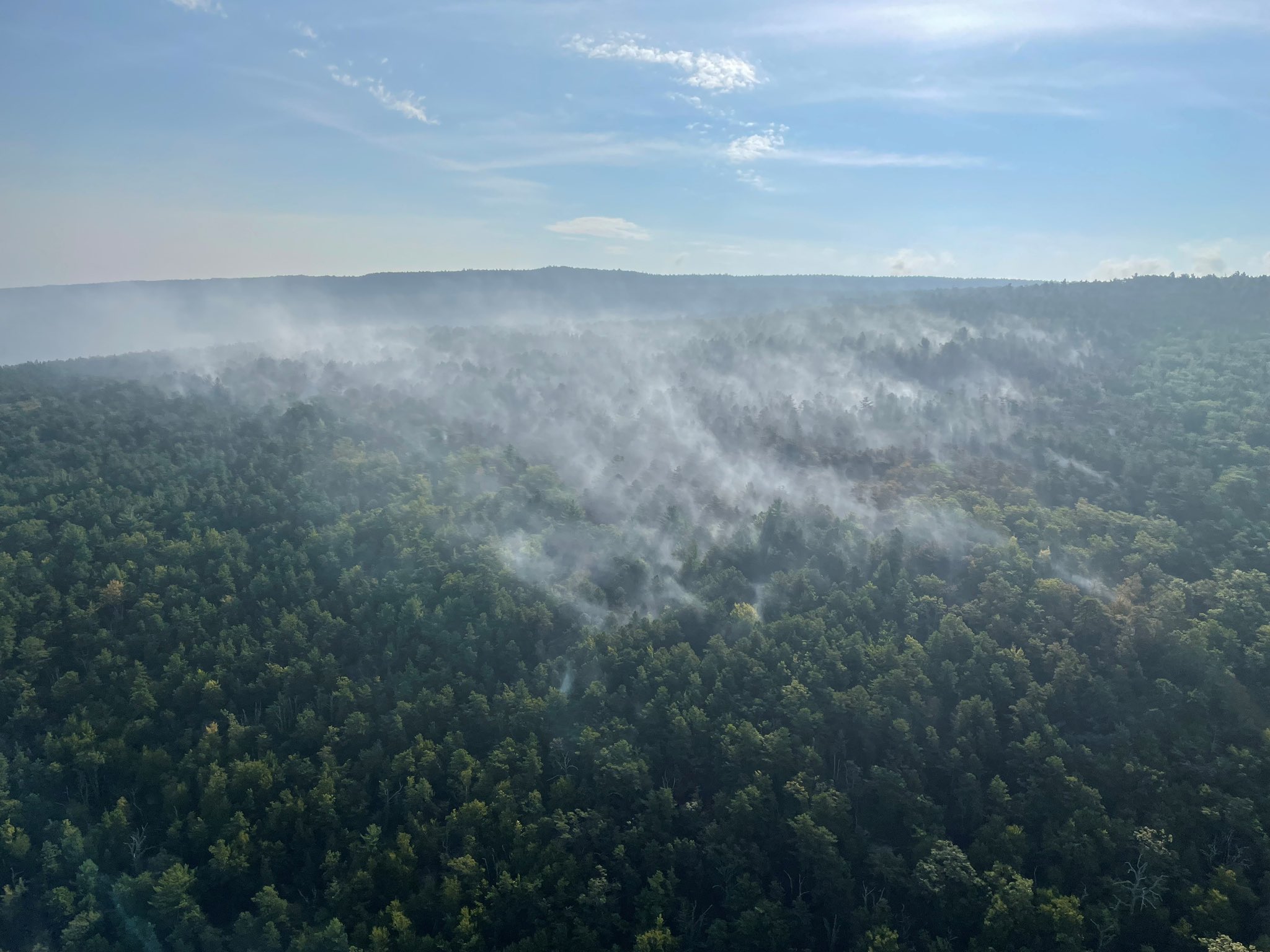 Posted August 29, 2022
Ulster County Executive Pat Ryan announces continuing suppression efforts to fight wildfires at Napanoch Point area of Minnewaska State Park, which is currently estimated at 30 acres
ELLENVILLE, N.Y. - Ulster County Executive Pat Ryan announced today continuing suppression efforts to fight wildfires in the Napanoch Point area of Minnewaska State Park through a unified command between New York State Department of Environmental Conservation (DEC) Forest Rangers and staff volunteers, Office of Parks, Recreation and Historic Preservation (OPRHP) staff and Ulster County Department of Emergency Services with support form New York State Police (NYSP) Aviation and the State Division of Homeland Security and Emergency Services (DHSES). 
"I want to thank all the agencies, staff and volunteers who have coordinated on the response and assure residents that we are doing everything we can to keep people safe," Ulster County Executive Pat Ryan said. "Conditions right now are very dry, and we must remain vigilant and careful about fires."
"We want to assure the local community that we are doing everything we can to keep the fire well within the park and DEC and away from residential areas," DEC Forest Ranger Robbi Mecus said.
"Our local first responders from all over Ulster County are working alongside our extremely skilled State partners to contain this fire. We urge our residents to use caution during this time of extremely dry weather and follow the local regulations," Director of Ulster County Emergency Services Everett Erichsen said.
The Napanoch Fire in Ulster County is believed to have been started by a lightning strike on August 27th. Due to remote and rugged terrain, NYSP Aviation was called in to assist with scouting the fire and providing bucket drops. On August 28th, nearly one hundred State and local firefighters, working in a joint unified command led by DEC Forest Rangers, engaged in a suppression effort. Two NYSP helicopters have conducted over a hundred bucket drops. 
Assisting on-scene are firefighters from Accord, Kerhonkson, Ellenville, Cragsmoor, Napanoch, Walker Valley, Marlboro, Olive, Wallkill, New Paltz Rescue, DEC, OPRHP and Mohonk Preserve. Additional agencies assisting the effort are the Ulster County Sheriff's Office, Ulster County Department of Emergency Services and DHSES.  
Over the next 24 hours, the fire is expected to spread and crews will continue to work on suppression efforts. There's one seasonal hunting cabin within the vicinity of the Napanoch Fire, and no immediate threat to residents. If conditions change, notifications will be made. Extremely dry conditions and difficult terrain are increasing the challenges in containing the fire. DEC is working with local fire departments to coordinate a water supply to reach the fire. 
To view an up-to-date list of trail closures due to forest fire, visit the Minnewaska State Park Preserve website. 
New York's Hudson Valley and Catskill regions remain at high fire danger risk (find the current Fire Danger Map here: https://www.dec.ny.gov/lands/68329.html), meaning outdoor fires have the potential to spread quickly, especially if the wind picks up. Fires may become serious and difficult to control unless successfully contained while small. DEC continues to encourage New Yorkers and visitors to follow the recommendations below to reduce the risk of wildfires.  
While camping in the backcountry, New Yorkers are advised to:  
Use existing campfire rings where possible;  
Build campfires away from overhanging branches, steep slopes, rotten stumps, logs, dry grass and leaves. Pile extra wood away from the fire;  
Clear the area around the ring of leaves, twigs and other flammable materials; and 
Never leave a campfire unattended. Even a small breeze could cause the fire to spread quickly.
For information on open burning and campfire safety in New York, go to DEC's Open Burning in New York and Fire Safety When Camping webpages. For further questions about wildfires, call 1-833-NYS-RANGERS and call 911 to report a wildfire. 
Regular updates on the status of the fire response will be posted on Facebook, Instagram and Twitter @UlsterNY. For general questions or concerns, call the Ulster County Service Center (845) 443-8888.
###