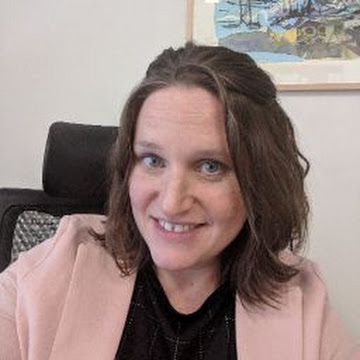 Posted November 6, 2023
KINGSTON, NY - Ulster County Executive Jen Metzger has appointed Jamie Capuano as Deputy County Executive to replace departing Deputy County Executive and Chief of Staff Christopher Kelly, who will leave County service on November 17 for an executive position in the non-profit sector. Capuano brings a wealth of experience to this important position and deep familiarity with County government, having served as Vice President for Administrative Services at SUNY Ulster and, before that, as Ulster County's Deputy Budget Director.  Deputy County Executive Johanna Contreras will take over as Chief of Staff, a second role served by Kelly.
In her position as SUNY Ulster's Vice President of Administrative Services since 2019, Capuano held the title of Chief Financial Officer, overseeing all financial operations of the college and playing a central role in the development and implementation of the college budget. Her responsibilities have included presenting monthly financial statements to the SUNY Ulster Board of Trustees, overseeing labor relations and contract negotiations, and managing operations for eleven college departments. Her departmental portfolio at the college has broad similarities to the portfolio she will take over from Kelly. Capuano also served as the college's Title IX Coordinator and Affirmative Action Officer.
Prior to her tenure at SUNY Ulster, Capuano served as the Deputy Budget Director for the Ulster County Department of Finance from 2014 to 2018. In this position, she reviewed, analyzed, and made recommendations regarding departmental budget requests, developed budget projections, monitored departmental spending, and oversaw the Ulster County Capital Improvement Program. Capuano also chaired the County's Raise the Age Committee, monitored and tracked State legislative actions, and reviewed and submitted all County Department resolution requests for consideration by the County Legislature.  
In addition to her county government experience, Capuano also brings years of experience in State government, having served for eight years in the NYS Division of Budget as Associate Budget Examiner and Budget Examiner/Senior Budget Examiner in the Education Unit. In this role, she supervised staff and managed a significant annual budget, overseeing various education programs and leading budget negotiations in education program areas. 
"Jamie's extensive executive, managerial, and budget experience and deep familiarity with Ulster County government make her the perfect choice for Deputy County Executive, and I have no doubt her transition to the new position will be seamless," said Ulster County Executive Jen Metzger. "I am also thrilled that Deputy Executive Johanna Contreras has agreed to serve as Chief of Staff, bringing her exceptional managerial and organizational skills to this important position. It has been a great pleasure to work with Chris Kelly, and I greatly appreciate his years of service to the County. I wish him all the best in his new position."  
"I am excited to join County Executive Metzger's team as Deputy County Executive for Operations and Public Safety," said Jamie Capuano. "Building upon my prior experience as the Vice President for Administrative Services at SUNY Ulster and my previous role as a Deputy Budget Director for Ulster County, I look forward to continuing to serve the County in this new leadership role. The professionalism, expertise, and commitment of County employees are paramount to the success of Ulster County and I am humbled by the opportunity to work with such dedicated professionals." 
Capuano holds a Master of Public Administration from the Nelson A. Rockefeller College of Public Affairs and Policy at SUNY Albany, where she concentrated in State and Local Government and Public Security. She also holds a Bachelor of Arts in Political Science and a Bachelor of Arts in English from SUNY Albany.
In her new responsibilities as Chief of Staff, Deputy County Executive Johanna Contreras will continue to manage and oversee her current portfolio of County departments while taking over the day-to-day operational supervision of staff in the County Executive's office. Deputy County Executive Contreras is a natural fit for this role with her previous experience as Acting County Executive prior to County Executive Metzger taking office. Contreras is a trusted advisor with extensive experience overseeing projects, managing staff, and acting as an intergovernmental liaison while ensuring efficient decision implementation and organization-wide coordination.
###
Ulstercountyny.gov
Ulster Essential Category: