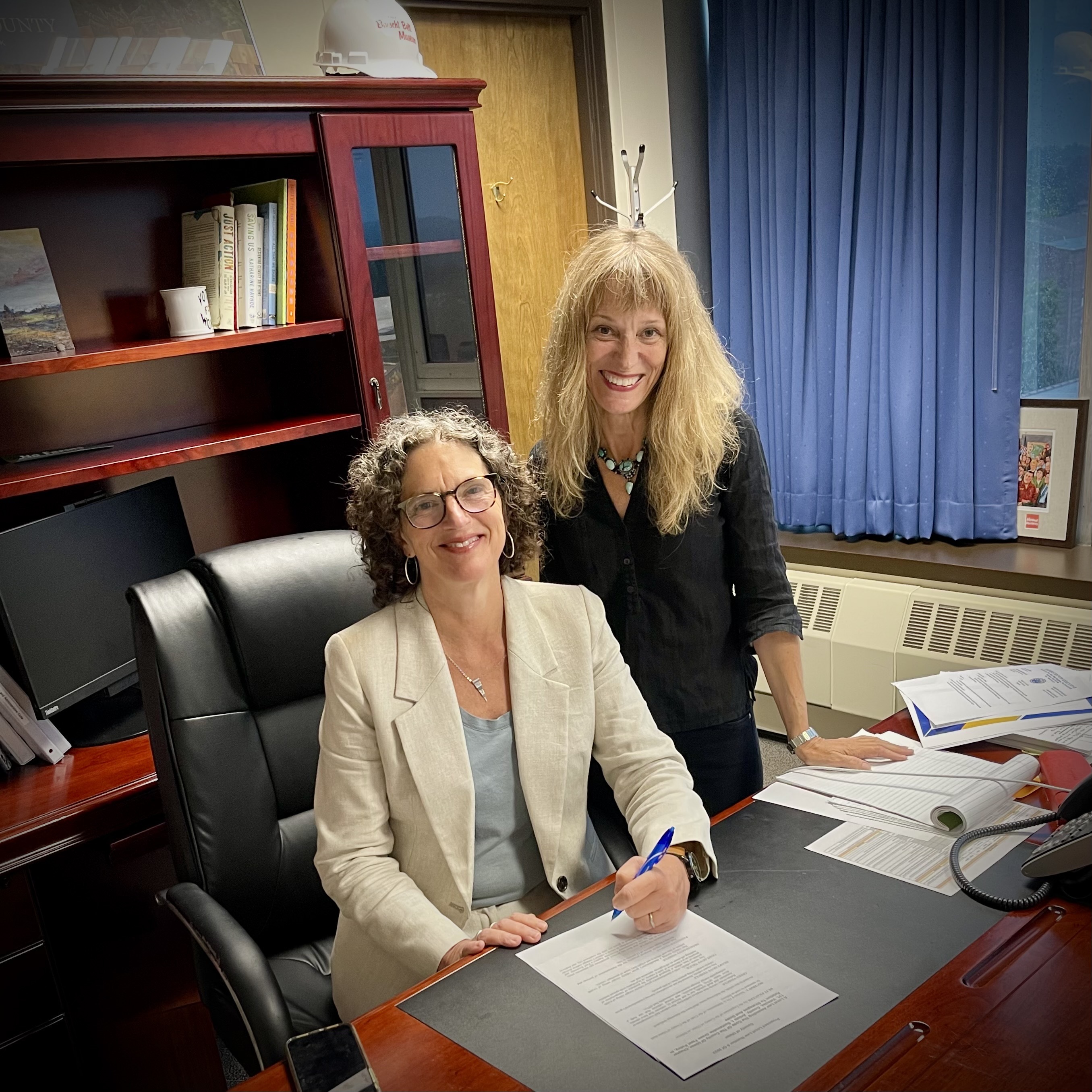 Posted August 11, 2023
Law Implements a Directive of County Executive Metzger's Executive Order on Climate
KINGSTON, NY - Ulster County Executive Jen Metzger has taken a significant step in advancing the County's commitment to combat climate change by signing into law major changes to the County's vehicle purchasing policy that commits the County to accelerate the transition to a zero-emissions fleet. The new local law, which amends the County's 2015 Green Fleet Policy, was proposed by County Executive Metzger to the Legislature and follows from an Executive Order she issued in January to more aggressively tackle climate change. Chair of the Legislature Tracey Bartels carried the local law, which passed unanimously.
The local law makes zero-emissions vehicles the default purchase where possible and requires that 100% of all passenger vehicles and light-duty trucks be zero-emissions by 2035. The legislation also requires that other vehicle classes shift to zero-emissions; including the transit fleet and non-road equipment by 2035 and medium- and heavy-duty vehicles by 2040, where feasible.
"With the signing of this legislation, we are taking an important and necessary step to accelerate reductions of climate-damaging emissions from County operations," County Executive Metzger stated. "I want to thank Chair Bartels and the Legislature for passing this Local Law, which sets an example that I hope other municipalities and counties will follow." 
"Since 2015, Ulster County has been a trailblazer in the realm of sustainable green fleet policies, and transitioning to a zero-emissions fleet underscores our continued commitment to reducing our impact on the environment and fighting climate change,"  said
Tracey Bartels, Chairwoman of the Ulster County Legislature
. "I am thrilled to support the County Executive's ambitious climate agenda and partner to do our part to preserve a healthy planet for future generations." 
The Ulster County fleet consists of over 477 vehicles in 27 different departments and divisions, used for a diverse range of County services including transit, Sheriff's road patrol, road maintenance and snow removal, and social services, among others. Nearly 100 of these vehicles are passenger cars and light-duty trucks. Operation of the entire County fleet requires over 600,000 gallons of fuel each year and generates over 5,000 metric tons of climate-damaging emissions annually. Beyond shifting to zero-emissions vehicles, the County's green fleet policy also emphasizes the importance of reducing motor vehicle use by encouraging alternatives such as transit, cycling, walking, ride-sharing, and telecommuting.
The newly signed law amends Section § 131-5 of the Code of the County of Ulster to establish a comprehensive green fleet policy. Ulster County is committed to continuously improving the efficiency of its fleet and embracing advancements in green vehicle technology. By transitioning its fleet to zero-emission vehicles, the county paves the way for a cleaner, greener, and healthier future.
###
Ulstercountyny.gov
Ulster Essential Category: