Posted November 13, 2013
Unique App Designed To Help Users Recognize Warning Signs And Quickly Get Help
Download Ulster County SPEAK at Apple App Store
Kingston, NY – Today, Ulster County Executive Mike Hein was at Kingston High School's Parent Center to unveil a unique smartphone app which gives users an easily accessible resource designed to help recognize the warning signs of suicide, as well as the ability to immediately connect to expert assistance if needed.  The app is the result of a collaboration by members of the County Executive's Suicide Prevention, Education and Awareness Committee and is yet another tool targeted to provide solutions for "at risk" groups: young adults/teens, Veterans and adults.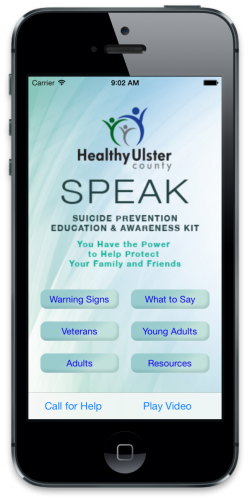 The free app is an easy to use guide which provides the user with warning signs that correspond with levels of risk and also helps guide the user through what to say to someone who may be experiencing suicidal thoughts and helpful videos.  Additionally, it supplies the user with comprehensive resources which contain local, state and national contacts, and most importantly, instant call buttons for immediate help that link to local, national and Veteran hotlines. This smartphone app is designed in conjunction with mental health professionals to be a powerful tool in the hands of anyone who may be in a position to prevent tragedy. 
"Suicide can devastate families and is an extremely serious concern all across our nation.    Many of us have been, or know someone who has been affected by suicide," said County Executive Mike Hein.  "Now there is an easily accessible resource to help; and if this app can help just one person make it through a difficult time or save even one life, then its success is immeasurable.  I believe that this resource is so valuable that I have tasked my Administration with being ready, willing and able to assist any other municipality or group that wants to develop their own similar prevention app, and I will bring our app forward to the National Association of Counties and the New York State Association of Counties immediately." 
"I want to thank all the members of the Suicide Prevention, Education and Awareness Committee for their hard work in developing this resource," continued County Executive Hein.  "From its inception, my Administration has worked to de-stigmatize mental health issues and provide real world answers to serious challenges, which is why I also want to thank Governor Cuomo for bringing focus to the issue of suicide prevention, and for providing Ulster County a grant that covered the development costs for this app, which complements the New York State Office of Mental Health's suicide prevention initiative.  I also would like to offer my thanks to Cheryl Schneider of The Mac Works, Inc. for helping Ulster County become the only county in New York State that has created its own suicide prevention app." 
"Suicide is a tragedy that impacts families and entire communities.  Suicide prevention, including related violence that harms others, is a priority for the Department of Health and Mental Health and for the agencies we support," said Dr. Carol Smith, Ulster County Commissioner of Health and Mental Health.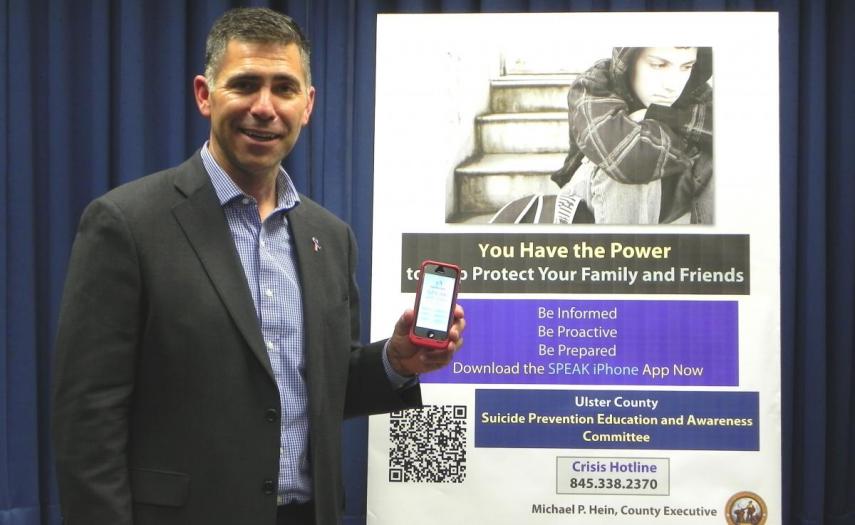 "Our Suicide Prevention, Education and Awareness Committee is a top-notch, collaborative partnership that offers training, resources and counseling for all those who work to prevent and cope with suicide. This app is a prevention tool that we are very proud of.  It can help save lives." 
"Mental Health Association in Ulster County has been a proud member of the Suicide Prevention, Education and Awareness Committee since its inception and I have personally conducted many of the suicide prevention trainings in the County," said Ellen Pendegar, CEO of Mental Health Association in Ulster County.  "We know that recognizing the signs of suicide early and getting someone the help they need quickly can buy enough time to help them reconsider the value of life and avoid irreversible harm.  This app is a prevention tool that we can get into many hands, and that is a huge advantage." 
The statistics regarding suicide are sobering.  It is the 11th leading cause of death for all Americans and approximately 1,300 New Yorkers take their lives each year.  Deaths by suicide now outnumber homicide deaths.  Approximately 150,000 New York teenagers will attempt suicide each year, and 70 will die as a result.  The national rate of teen suicide has tripled since the 1950's and it is now the 3rd leading cause of death for New Yorkers 15-24 years of age.  The number of Veterans who committed suicide in 2012 reached record levels with 18 Veterans dying each day, or one every 65 minutes. 
The app was developed under the direction of Ulster County Executive Mike Hein by the Health Education Unit of the County Department of Health and Mental Health and The Mac Works, Inc., and in partnership with Mental Health Association in Ulster County, Family of Woodstock's Crisis Hotline and other Suicide Prevention, Education and Awareness Committee members.  A special thanks is extended to HELPGUIDE.org, a non-profit organization in Santa Monica, California for its assistance and generosity. 
Link to app: https://itunes.apple.com/us/app/ulster-county-speak/id736773884?mt=8&ign-mpt=uo%3D4%2522%2520target%253D%2522itunes_store or available in the Apple App Store under Ulster County SPEAK. 
Crisis Hotline: 845-338-2370.