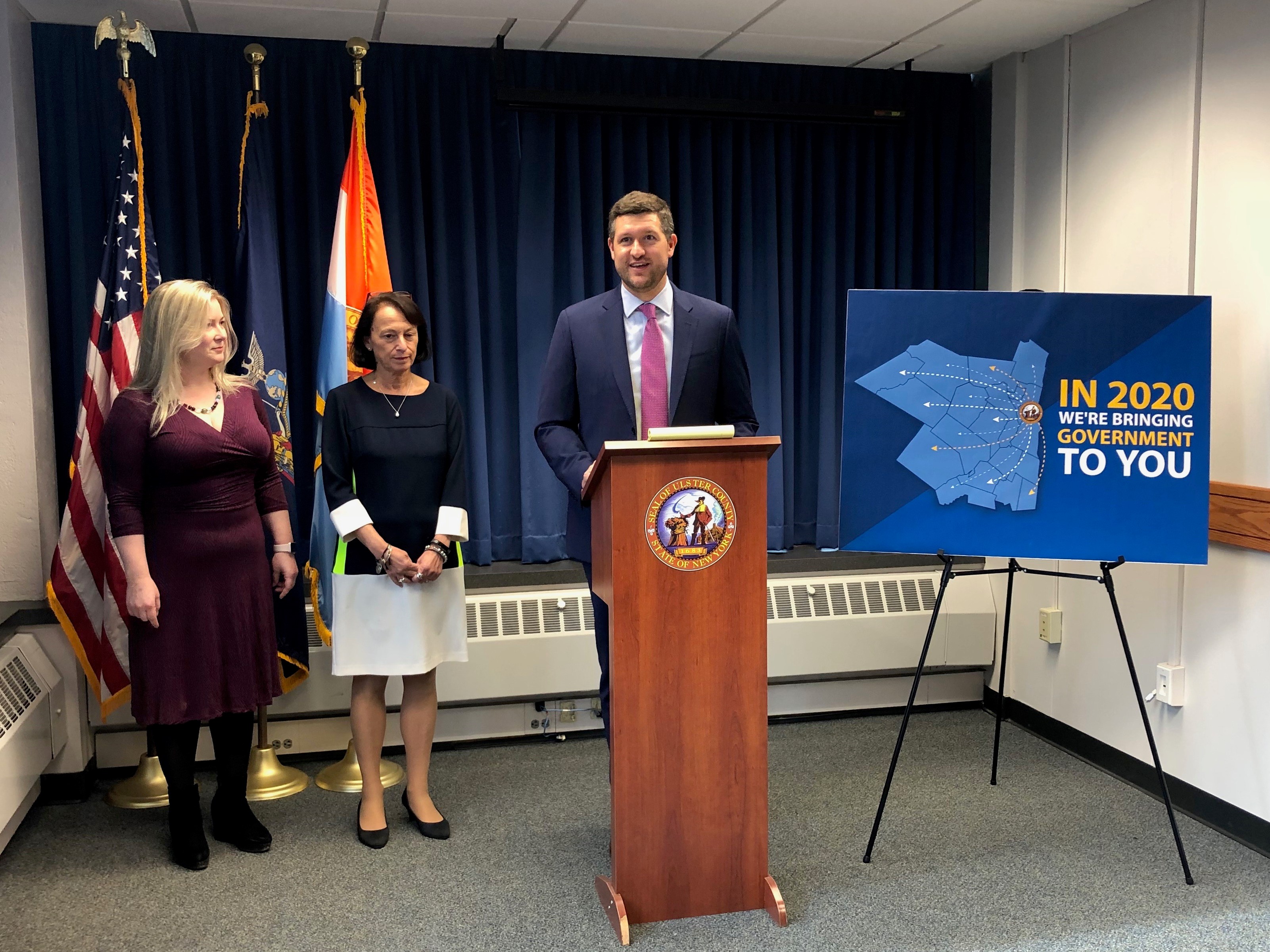 Posted October 29, 2019
With his final town hall to be completed this evening, County Executive Ryan and County Clerk Postupack announce that County Government will go on the road to bring services to residents in every corner of the County  
KINSTON, N.Y. - Ulster County Executive Pat Ryan and County Clerk Nina Postupack announced today a new program that will take County Government on the road to directly bring resources to residents across the County. Expanding upon County Executive Ryan's promise to hold a town hall in every municipality in Ulster County, the mobile government initiative is a first of its kind program that will allow residents to receive essential services at scheduled locations all across Ulster County. 
The Mobile County Government unit will go to every region of Ulster County quarterly and will provide services from the County Clerk's Department of Motor Vehicle (DMV) van, which can be used  for vehicle registration, licenses, and passport renewal to representatives from other Ulster County Governmental departments such as Veteran Services Agency who will be available to provide support to County veterans and their families.
"One of the main themes that I have heard from my Town Hall meetings throughout Ulster County, is that people want a direct personal relationship with their government." said County Executive Ryan."You will no longer need to go to Kingston for services, we will come to you so we can ensure that people are receiving what they need with the convenience of doing it in their own community."
"I am thrilled to be part of County Executive Pat Ryan's initiative to bring County services to the people of Ulster County," said Ulster County Clerk Nina Postupack. "His vision of a 'Responsible and Responsive Government' is truly a government for the people. Working together, we will have the opportunity to offer government resources that are accessible to all residents of this county."   
Expanding upon his 'Responsive and Responsible Government' initiative as one of his Big Five priorities, County Executive Ryan will take County government on the road to continue to listen to the concerns of residents while also bringing services directly to municipalities across the County. During these sessions, County Executive Ryan will bring with him other departmental employees, including Department Heads, who will work out of town offices with him to meet residents where they are and provide resources. 
"I am ecstatic that County Executive Ryan will be bringing County Government directly to residents in areas like Ellenville," Jeff Kaplan, Mayor of the Village of Ellenville said.   "Especially considering the distance between communities such as Ellenville and Kingston, this program will make a positive difference in allowing more people the convenience of being able to access essential resources and services right here at home."
"Government is designed to serve the people. As Town Supervisor of Esopus, I am excited to join other towns in supporting the County Executive's Mobile County Government initiative so residents can receive services easier by bringing them right into their home communities," said Shannon Harris, Town Supervisor of Esopus. 
"After years of our agency providing remote services for Veteran Services, I am excited to further expand upon our resources and bring more County services directly to our residents and our veterans," Frank Reggero, Interim Director of the Ulster County Veteran Services Agency said. "This Mobile County Government program will allow us to provide the best possible services directly to our veterans and their family members. Our office looks forward to this exciting new initiative to reach community members in new, more accessible ways."
"The Office for the Aging has had many requests for an expansion of services in unserved areas," Susan Koppenhaver, Director of the Ulster County Office for the Aging said. "We are looking forward to working with County Executive Ryan to offer mobile services to these remoter areas of the County to allow our seniors to hear firsthand what County Government can do to help them both locally and from our office." 
Services which will be provided for residents by departments include: 
The County Clerk's Office will bring the Department of Motor Vehicle (DMV) van to select locations to provide resources including vehicle registration, licenses, and passport renewals and applications.  
The Department of Social Services will bring staff to locations throughout Ulster County to assist families and individuals interested in starting the application process for Economic Support Programs, Health Insurance Programs, and to establish Child Support Orders. 
The Office for the Aging will provide information on their services including nutrition, legal, transportation, Medicare programs and enrollment, volunteer opportunities such as driving and respite programs, SNAP benefit enrollment and winter heating program enrollment. A representative will be available to answer any questions. 
A representative from the Ulster County Veteran Services Agency (UCVSA) will be available to provide support to County veterans and their families in obtaining medical, disability, pension and education benefits from the U.S. Department of Veterans Affairs (VA) and the NYS Department of Veteran Affairs. They will also be on hand to help veterans with issues such as homelessness, burials, tax exemptions, employment, transportation, FAVOR discount card program, as well as provide information about local programs and events for veterans.
Ulster County Area Transit (UCAT) will be there to provide bus schedule information and discuss what day the shopping bus comes to the area. Discounted bus passes and ADA forms will also be available. Seniors will also be able to register for the free ride program entitling them for two medical and one shopping trip per week. 
The Department of Health and Mental Health will provide resources regarding treatment and prevention for many health and mental health concerns, how to prepare for natural disasters and emergencies, and other information related to the health and well-being of our constituents. 
Ulster County Career Center will be there to discuss employment services offered in conjunction with the NYS Department of Labor and designed to assist individuals in their work search efforts.  
SUNY Ulster will bring an Enrollment and Success Counselor to share and discuss all of the educational opportunities offered at SUNY Ulster along with the many resources there to assist students including scholarships, financial aid, and the admissions process.
A schedule including the dates and times of these Mobile County Government sessions will be forthcoming. 
### 
Picture (from left to right): Town Supervisor of Esopus Shannon Harris, Ulster County Clerk Nina Postupack, Ulster County Executive Pat Ryan