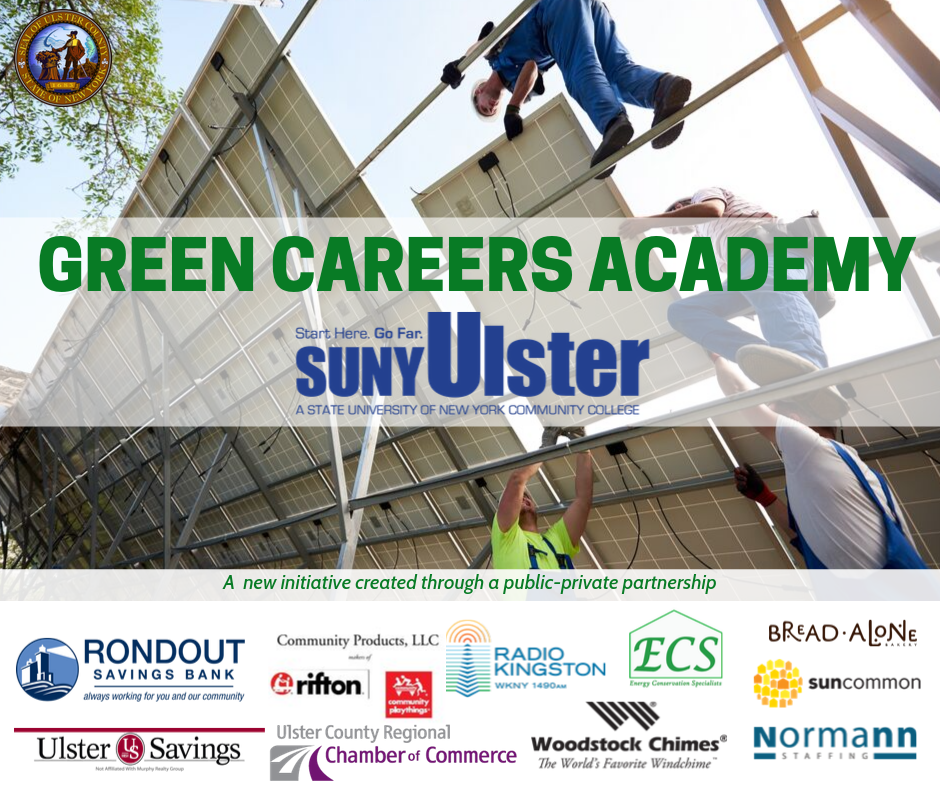 Posted October 2, 2019
The Ulster County Green Careers Academy at SUNY Ulster in Kingston and Stone Ridge will offer free and reduced tuition and provide an opportunity for residents to train and prepare for green career opportunities
KINGSTON, N.Y. – Ulster County Executive Ryan will unveil the Ulster County Green Careers Academy, a new eight-week training program, in partnership with SUNY Ulster, that will deliver the skills and expertise necessary to begin careers in the expanding clean technology industry. The new Academy is included in County Executive Ryan's 2020 budget proposal as one of his "Big Five" priorities to implement a Green New Deal for Ulster County.  
This unique program, created through a public-private partnership, will offer free or reduced tuition to certify Ulster County's youth, active volunteer firefighters, veterans, and low-income and long-term unemployed people in entry-level clean technology courses enabling them to apply for work in one of the many clean technology companies in Ulster County. Through private support, tuition assistance will also be made available for members of the LGBTQ community, women and others who have found placement in these industries difficult. 
"Defending and protecting our environment and introducing innovative ways to address the climate crisis is one of my top priorities," said County Executive Ryan. "The Green Career Academy is a significant step forward in solidifying Ulster County as the epicenter of an emerging green economy as we fight for a more sustainable future here in Ulster County and beyond." 
The curriculum will prepare students for green careers that are found across all levels of building design, maintenance, and construction. The Green Careers Academy will offer courses providing a solid foundation in clean technology, from basic energy-efficient building design principles to solar panel installations. Instructors are local, experienced professionals in the field of clean technology and are involved in growing the local clean technology community. Students can enroll in the entry-level energy-efficient building sciences course, earning a certificate of knowledge, or complete the full eight-week program and earn three clean-tech industry certifications. 
"The Climate Reality Project would like to thank Ulster County Executive Pat Ryan for his commitment to climate action, and we congratulate Ulster County on this forward-thinking initiative to bring inclusive climate action to the forefront of the climate fight," said Ken Berlin, President and CEO of the Climate Reality Project, the international organization founded by Nobel Laureate and former US Vice President Al Gore to help end the worldwide climate crisis. "To solve the climate crisis, we need leadership at every level of society. Ulster County's Green Careers Academy program is an example of how counties around the United States are demonstrating their commitment to innovative, impactful climate action that improves the lives of all residents, especially young people, low-income individuals and families, and other historically marginalized groups. The Green Careers Academy program's vital training represents a forward-thinking approach to climate action – one that benefits both the environmental and economic health of communities – and will certainly serve as a model to other counties around the nation." 
"In putting this project together, County Executive Ryan and his fellow county officials are not only providing career training in the vital green economy jobs sector, they are also helping provide a pathway for economic development," said Paul Gallay, President of Riverkeeper. "We at Riverkeeper applaud this far-sighted step towards protecting our environment and, simultaneously, bettering the economic health of Ulster County's citizenry."
"Catskill Mountainkeeper strongly supports County Executive Pat Ryan's new Green Careers Academy as an important tool for the implementation of our climate protection goals," said Ramsay Adams, the Executive Director of Mountainkeeper. "The photovoltaic installation and home energy retrofits job sector is rapidly expanding and this scholarship provides access to those that have historically been at a disadvantage entering the sector, including women, people of color, members of the LGBTQ community and those formerly incarcerated. It will help us reach our climate goals and diversify our workforce."
Classes will occur at SUNY Ulster's Stone Ridge and Kingston campuses. Courses provided at the Academy will focus on equipping students with skills that will prepare them for employment in the industry such as Photovoltaics Systems and other skills that will prepare students to perform "whole-house" energy assessments. Clean technology and energy efficiency companies, with the assistance of SUNY Ulster, may also apply for funding for internships in partnership with the academy. The program will culminate in a job fair where employers will be invited to meet and interview those completing the program to discuss green career opportunities. 
Partial support for the program comes from private partners including:
Radio Kingston
Bread Alone
Energy Conservation Specialists LLC
SunCommon
Ulster County Regional Chamber of Commerce
Community Products LLC
Normann Staffing
Woodstock Chimes
Ulster Savings Bank
Rondout Savings Bank
###