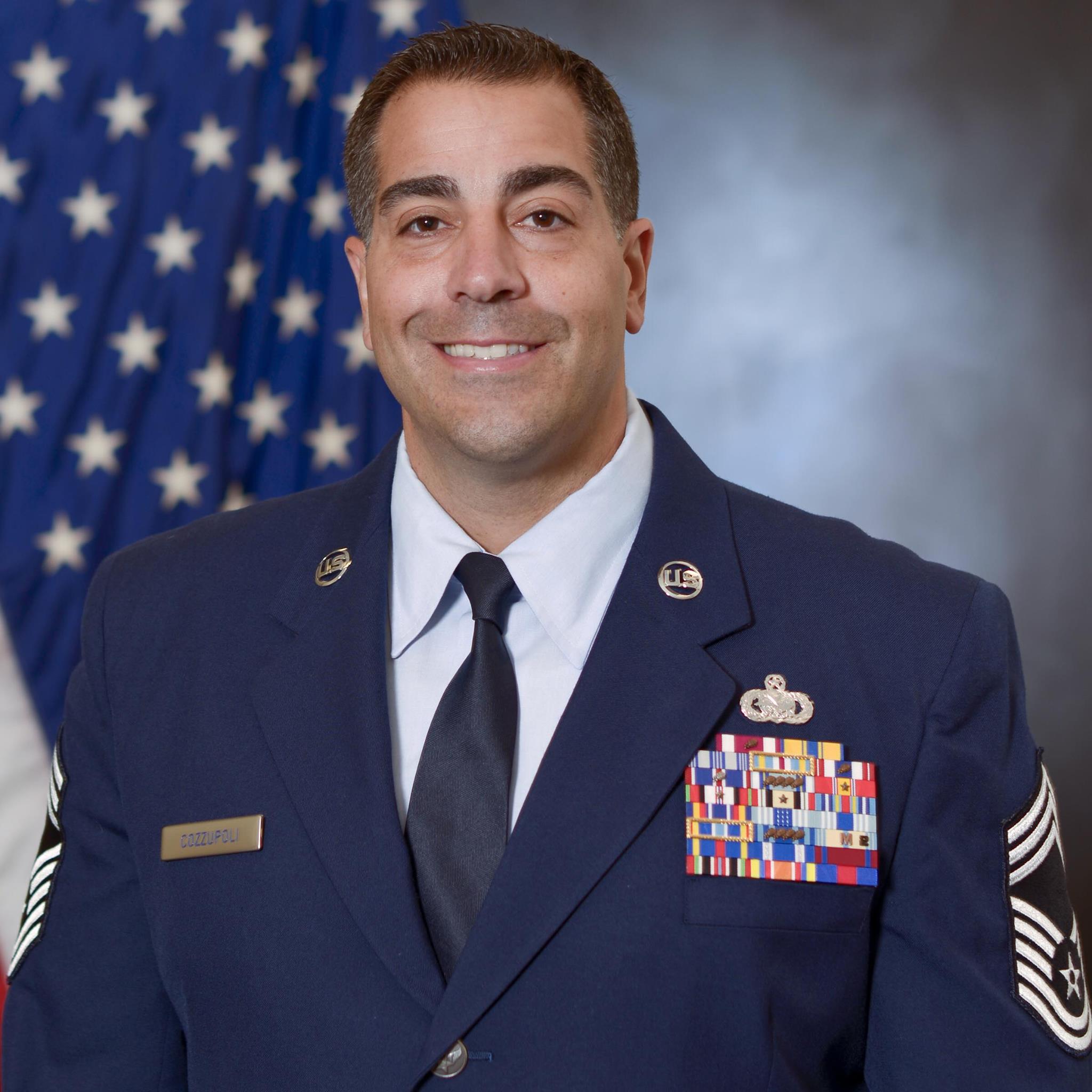 Posted November 14, 2019
KINGSTON, N.Y. - County Executive Pat Ryan announced today the appointment of retired Command Chief Mark Cozzupoli to be the new Director of the Ulster County Veterans Services Agency. After over two decades of service, Cozzupoli recently retired as the highest-ranking enlisted person in the 105th Airlift Wing, Stewart Air National Guard Base in Newburgh, N.Y. 
As the Command Chief, Cozzupoli reported directly to the Wing Commander on enlisted personnel issues, to include professional military education, enlisted promotions, mentorship, morale, family readiness, community relations, and esprit de corps. Cozzupoli has deployed on five occasions, which includes tours to Balad Air Base, Iraq in 2005 and Bagram Air Base, Afghanistan in 2011. Prior to his current assignment, he was the 105th Logistics Readiness Squadron Superintendent at Stewart Air National Guard Base in Newburgh, N.Y.
"Mark Cozzupoli possesses both the experience and passion needed to successfully lead our Ulster County Veteran Services Agency," County Executive Ryan said. "As the County Executive and as a combat veteran, I have complete faith that we will not only continue to meet the needs of our veteran communities but expand our reach to ensure that that we recognize the selfless service of the thousands of veterans and their families here in our County."
"It's truly an honor and a privilege to be appointed to this position by County Executive Ryan," Mark Cozzupoli said. "I've served my country and my community for the last 26 years at Stewart Air National Guard Base, and I am looking forward to continued service in this new capacity. I will do my best to improve the lives of all of our veterans."
"Command Chief Master Sergeant Mark Cozzupoli performed his job as the 105th AW Command Chief, the highest enlisted rank at the 105th Airlift Wing, with aplomb and distinction," Major General Tim LaBarge, Commander of the New York Air National Guard said. "In an era of extraordinary turbulence and change, Chief Cozzupoli provided leadership on a level that was commensurate with the trying times. Graced with an amazing educational credentials, experience, job skills, communication skills and work ethic, Mark is an incredible leader who is certain to provide visionary direction and guidance to the Ulster County Director of Veterans Services Agency."
Cozzupoli enlisted into the United States Air Force in October of 1993. After serving more than four years on Active Duty, he transferred into the New York Air National Guard with the 105th Airlift Wing, February of 1998. Chief Cozzupoli graduated from Manhattan College in 2002, with a Bachelor of Science in Organizational Leadership and later graduated from Mount Saint Mary College in 2007 with a Master of Business Administration. He currently resides in Ulster County in the town of Lloyd. 
The Ulster County Veteran Services Agency (UCVSA) provides support to County veterans and their families in obtaining medical, disability, pension, and education benefits from the United States Department of Veterans Affairs (VA) and the New York State Department of Veteran Affairs. The UCVSA also helps veterans with issues such as homelessness, burials, tax exemptions, employment, transportation, and the FAVOR discount card program, and performs outreach to local communities and service organizations. 
This appointment is subject to confirmation by the Ulster County Legislature.
###