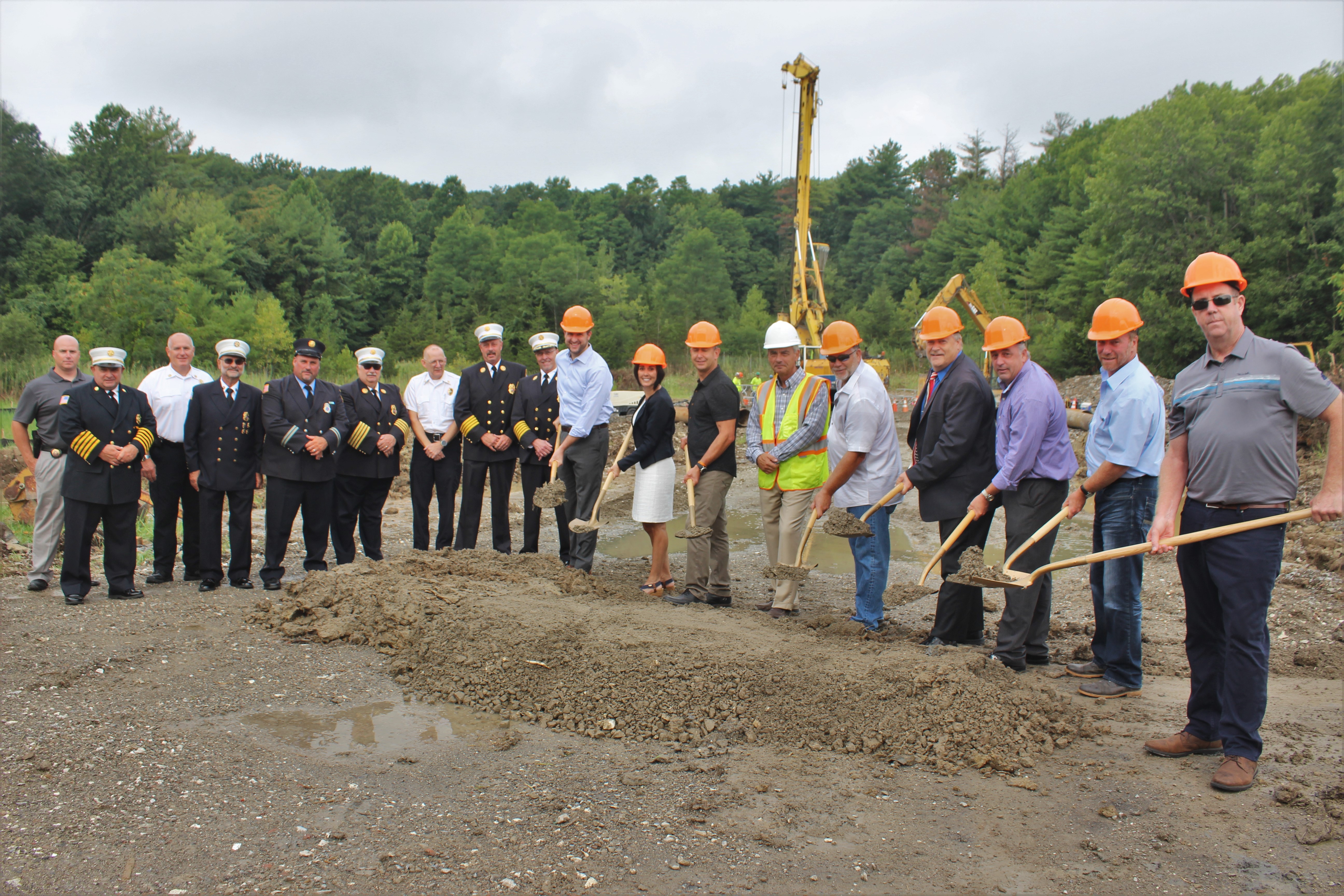 Posted August 21, 2019
TOWN OF ULSTER, N.Y. –  Ulster County Executive Pat Ryan, members of the Ulster County Legislature, members of organized labor, and representatives of the volunteer firefighter community today broke ground on the new Public Safety Training Center on Ulster Landing Road in the Town of Ulster. This ground breaking signifies the start of construction of the new three-story concrete building that will house the state-of-the-art burn facility. The Public Safety Training Center will also provide additional hands-on training equipment that has previously been unavailable within Ulster County which have led to local volunteers having to travel to other facilities throughout New York State. It will also be available to other first responders and law enforcement personnel for training on a growing range of emergency scenarios that they confront in the line of duty. 
Building contractors from Profex and members of several unions involved with the facilitation of the project were in attendance, including Carpenters Local 279, Hudson Valley Building Trades Council, and Laborers' Local 17. Ulster County Director of Emergency Services, Steve Peterson, Fire Coordinators, members of the Ulster County Fire Advisory Board and Ulster County Fire Chiefs Association were also in attendance.
"Ulster County's firefighters and first responders risk their lives to protect the lives of others," said County Executive Ryan. "Thanks to the hard work of our partners in organized labor, I am proud that we have taken that next step towards providing our courageous local firefighters with essential services and resources that will help them get the proper training to perform their duties safely and better serve all of Ulster County residents."
"I am thrilled that we are one step closer to The Public Safety Training Center becoming a reality. This project has been a long time coming and is critically important. Every day across Ulster County volunteer firefighters and first responders respond to calls of need and put themselves in harm's way to assist their neighbors," said Ulster County Legislative Chairwoman Tracey Bartels. "This center will provide access to crucial training right here in Ulster County and that, most certainly, will mean lives saved."
"Ulster County firefighters put their lives on the line to keep our community safe and are owed the best training facilities needed to perform their duties as safely as possible," said Ulster County Majority Leader Jonathan Heppner. "I'm proud that we were finally able to get this project across the finish line this year. As a member of the Law Enforcement and Public Safety Committee, I want to thank the local fire services for actively participating in this process and helping us get it done right."
"As the Legislative Liaison to the Ulster County Fire Advisory Board and strong supporter of our fire service, I am thrilled to witness the groundbreaking for the much needed and long anticipated Ulster County Fire Training Center," said Legislator Heidi Haynes (Marbletown/Hurley)."The facility will provide an environment to better prepare firefighters and first responders as they continue to protect and serve the residents of Ulster County."
"Firefighters put their lives on the line to save the life and property of others," said Everett Erichsen, Ulster County Fire Coordinator. "It is vital that we provide them with the best possible tools and programs in order to grow with changes in the fire service. The Public Safety Training Center will equip our local service members with the highest quality of training, which will enhance performance and save lives."
"We commend Ulster County Executive Pat Ryan for his support of good labor standards and apprentice requirements on this County project," said Todd Diorio, President, Hudson Valley Building Trades Council, Business Manager, Laborers' Local 17. "The construction of this project generates new labor jobs in our community and we are thankful for his leadership on this important project."
"This necessary project will provide for growth in Ulster County. Thank you to County Executive Pat Ryan for his support of unions and for bringing the Public Safety Training Center closer to a reality," said James Malcolm, President, Carpenters Local 279. "We are looking forward to continuing working with the County as we begin the construction of the Public Safety Training Center."
Once completed, the County will enter into a use agreement for the Public Safety Training Facility with SUNY Ulster. All of the County's 49 independent fire districts and departments, in addition to other emergency service and law enforcement agencies will have access to this facility. The new training facility will complement the educational component/classroom training opportunities currently housed in the Captain Jack Rose Memorial Lecture Hall at SUNY Ulster. 
###