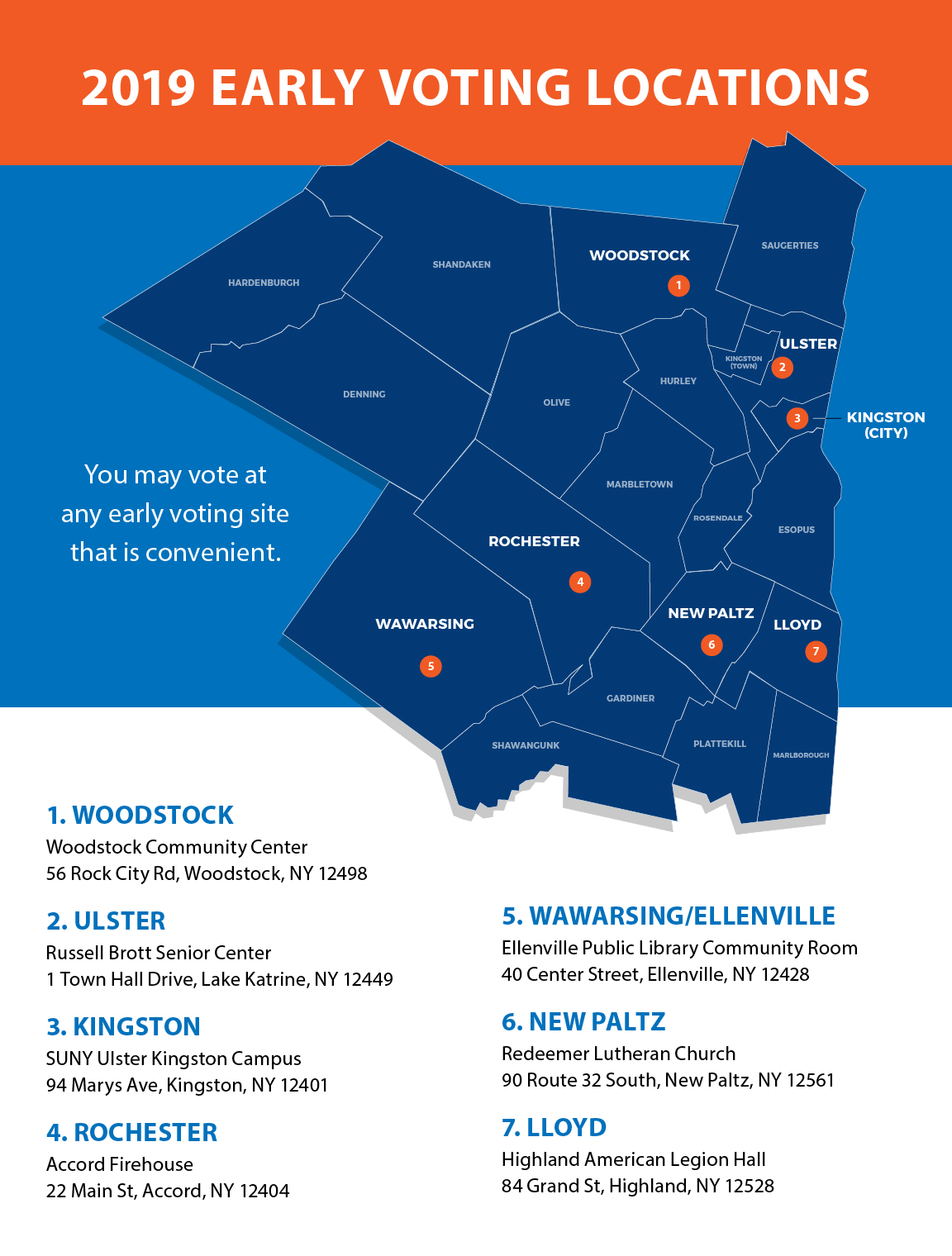 Posted September 11, 2019
County Executive Ryan establishes a new voter registration form distribution policy and reminds residents of new early voting law
KINGSTON, N.Y. – Ulster County Executive Pat Ryan today unveiled a new voter registration directive and public awareness campaign aimed at reminding residents of the changes in law that allow for early voting. For the first time, Ulster County voters will now be able to vote before Election Day at any of seven specific early voting sites throughout the county.
County Executive Ryan has directed that all County departments that interface with the public have voter registration cards available upon request. Additionally, the County has taken steps to remind residents of the new law allowing for early voting in Ulster County through a digital campaign, radio public service announcements, information sessions, and with posters and pamphlets that have been created to educate the public of the new changes.  
Early voting sites in Ulster County are not district specific, meaning that any registered voter in the county may cast their ballot at any of the seven early polling sites. The Ulster County Board of Elections has arranged the technology and resources so specific localized ballots will be made available as needed to any voter at any site. Also, the voter registration deadline for any new registrants to be eligible to vote in the upcoming General Election is October 11th, 2019. 
"Voting is an inviolable right and we must ensure that all eligible residents have the ability to let their voices be heard," said County Executive Pat Ryan. "Making sure that residents are able to register to vote and have easy access to their polling location is essential for our democracy." 
"I want to thank Ulster County for making voting and educating the public on voting issues a priority," said Cindy Bell, President of The League of Women Voters of the Mid-Hudson Region. "The League of Women Voters has been a longtime advocate on this issue and Ulster County has consistently been at the forefront. I am happy to see that County Executive Ryan believes in this and is working to increase the civic engagement of our citizens." 
"Access to the ballot box is an essential right for all Ulster County residents and our new early voting operations will expand accessibility and a provide another option for residents to have an easy voting experience," said Ulster County Legislature Chair Tracey Bartels. "I am excited to continue working with our County and community leaders to do everything possible to provide residents with any tools they need to exercise this fundamental right of our democracy."
"Free and open elections are are hallmark of our democracy, and I have been proud along with all members of all members of the Republican Caucus to support all ways to increase voter participation and make it easier to vote in Ulster County," said Ulster County Legislature Minority Leader Ken Ronk. 
For nine days – October 26th – November 3rd Ulster County voters will be able to cast their ballot at one of seven polling sites throughout Ulster County. Hours of operation vary but include a mix of day, evening and weekend hours which can be found here. 
Thanks to new technology investments, early voting allows voters to visit the polling site that fits voter's needs – Early Voting sites will be open in Woodstock, Kingston, Town of Ulster, New Paltz, Ellenville, Accord, and Highland. 
Under the new state law, all counties must provide early voting locations for residents. The seven sites in Ulster County matches the number provided in Richmond County (Staten Island) and New York County (Manhattan), making Ulster County one of the most voter friendly counties in the State. 
Ulster County Board of Elections representatives will explain the early voting process during information sessions hosted by the League of Women Voters of the Mid-Hudson Region.
Each of the information sessions begins at 7:00 p.m. and are free and open to the public.
Wednesday, Sept. 11, at Ulster BOCES, 175 North Chestnut St., New Paltz. 
Thursday, Sept. 12, at the Saugerties Senior Center, 207 Market St., Saugerties. 
###