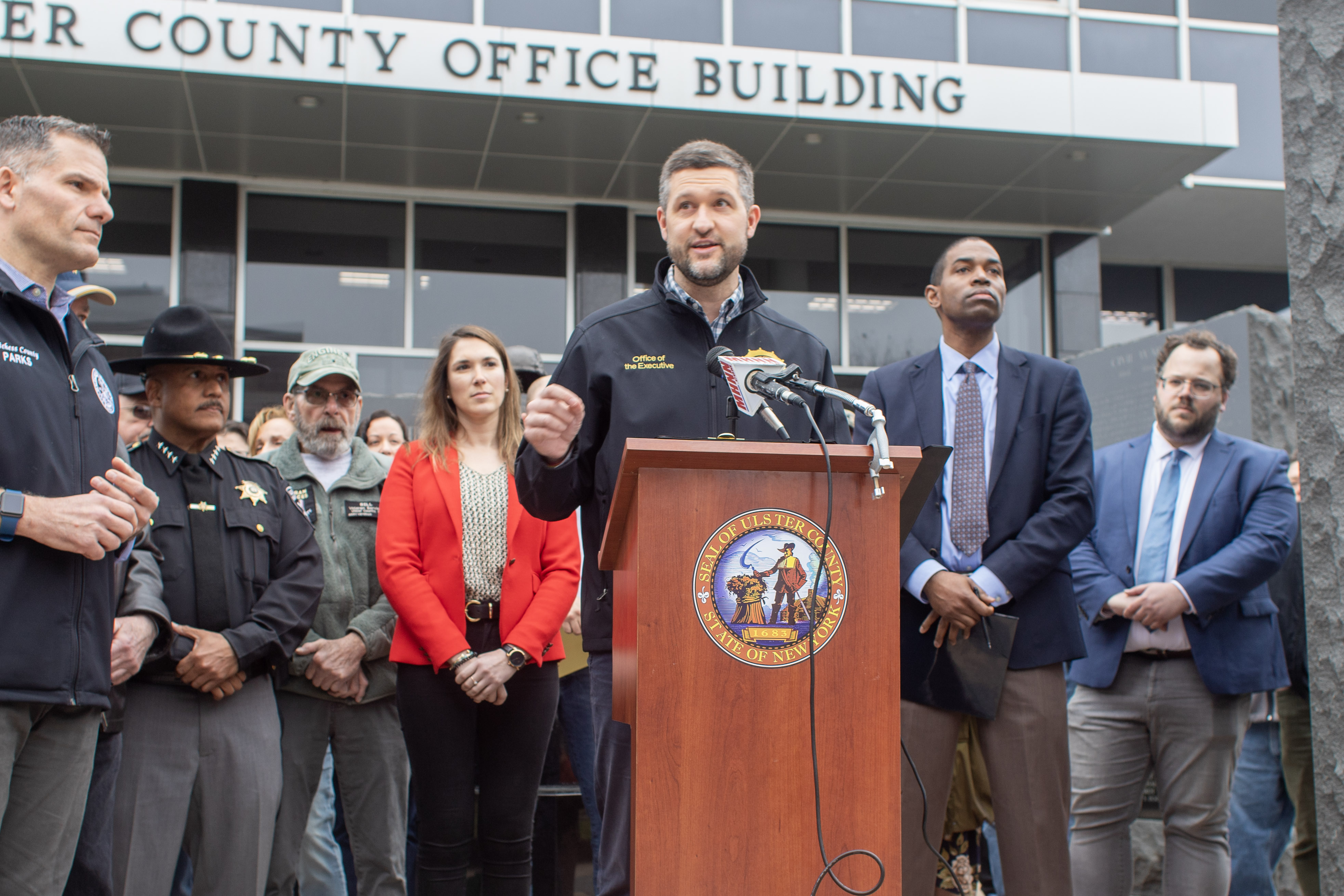 Posted March 19, 2022
Earlier this week, the U.S. Department of Veterans Affairs recommended closing the Castle Point VA Medical Center and proposed other reductions in local healthcare services for veterans in the Hudson Valley region.
Ulster County Veterans already travel up to an hour for VA services, the closure will significantly increase travel time and eliminate essential services for seniors, addiction recovery, mental health, womens' health, and more 
KINGSTON, N.Y. - Ulster County Executive Pat Ryan, Congressman Antonio Delgado, Senator Michelle Hinchey, and local Veterans today held a rally in response to the recent report by the U.S. Department of Veterans Affairs that recommended the closing of the Castle Point VA Medical Center (VAMC) and a series of other reductions in local and regional healthcare services for veterans. The event was organized and led by County Executive Pat Ryan, a West Point graduate and combat veteran, and called for the preservation of a VA medical center level facility in the Hudson Valley along with adding essential services related to mental health, substance abuse recovery, burn pit and other toxic exposures, and more.
"Earlier this week, the VA recommended drastic cuts to critically-needed Veteran health services in the Hudson Valley, including closing the Castle Point VA Medical Center, which tens of thousands of veterans and military families rely on." Ulster County Executive Pat Ryan said. "This is unacceptable and we are rallying to push back on these recommendations and push for real investment in strengthening our regional VA services."
Ulster County has over 11,000 veterans who currently access VA services at Albany Stratton Veteran Affairs Medical Center (VAMC) and Castle Point VAMC. Currently the Ulster County Veteran Services Agency transports thousands of veterans annually to both of these locations. Veterans in Ulster County, depending on where they live, already travel up to an hour for these essential services.
"Closing the Castle Point VAMC without first clearly establishing a replacement facility that provides equally accessible services of the same or higher quality is unacceptable," Rep. Delgado said. "I was glad to join Ulster Executive Ryan, Senator Hinchey, and the local veteran community today in expressing our deep concerns with the VA's recently proposed recommendation. I will keep fighting for the health care needs of the nearly 40,000 veterans in our district and do all I can to support them."  
"Our upstate communities suffer disproportionately from limited access to healthcare, and this federal proposal to remove the Hudson Valley's closest in-patient VA facility would drive us further into a healthcare desert," Senator Michelle Hinchey said. "Castle Point serves thousands of veterans and military families across the Hudson Valley, and it is unacceptable that our federal government would consider a plan to drastically reduce the critically-needed in-patient care they rely on close to home. I'm proud to stand with our veteran community and my colleagues in government to push back against this flawed proposal and fight for real investment that strengthens healthcare access and regional VA services for Hudson Valley veterans.
The Veterans Administration realignment report calls for the closure of Castle Point VAMC and proposes downgrading to an outpatient clinic (CBOC) to serve the region, which would remove all inpatient services and close an existing fully-occupied senior living center (CLC). In addition, the VA's report recommends that other local and regional hospitals could "absorb" the growing demand for inpatient and urgent care services in the Hudson Valley, which is concerning given recent divestments by WMC in mental health and addiction recovery services in Ulster County and compounding layoffs of over 40 senior staff members at end of 2021. The report will now undergo a one-year committee review with recommendations on the future of Castle Point and other VA hospitals and facilities ultimately being sent to the President and Congress. 
###