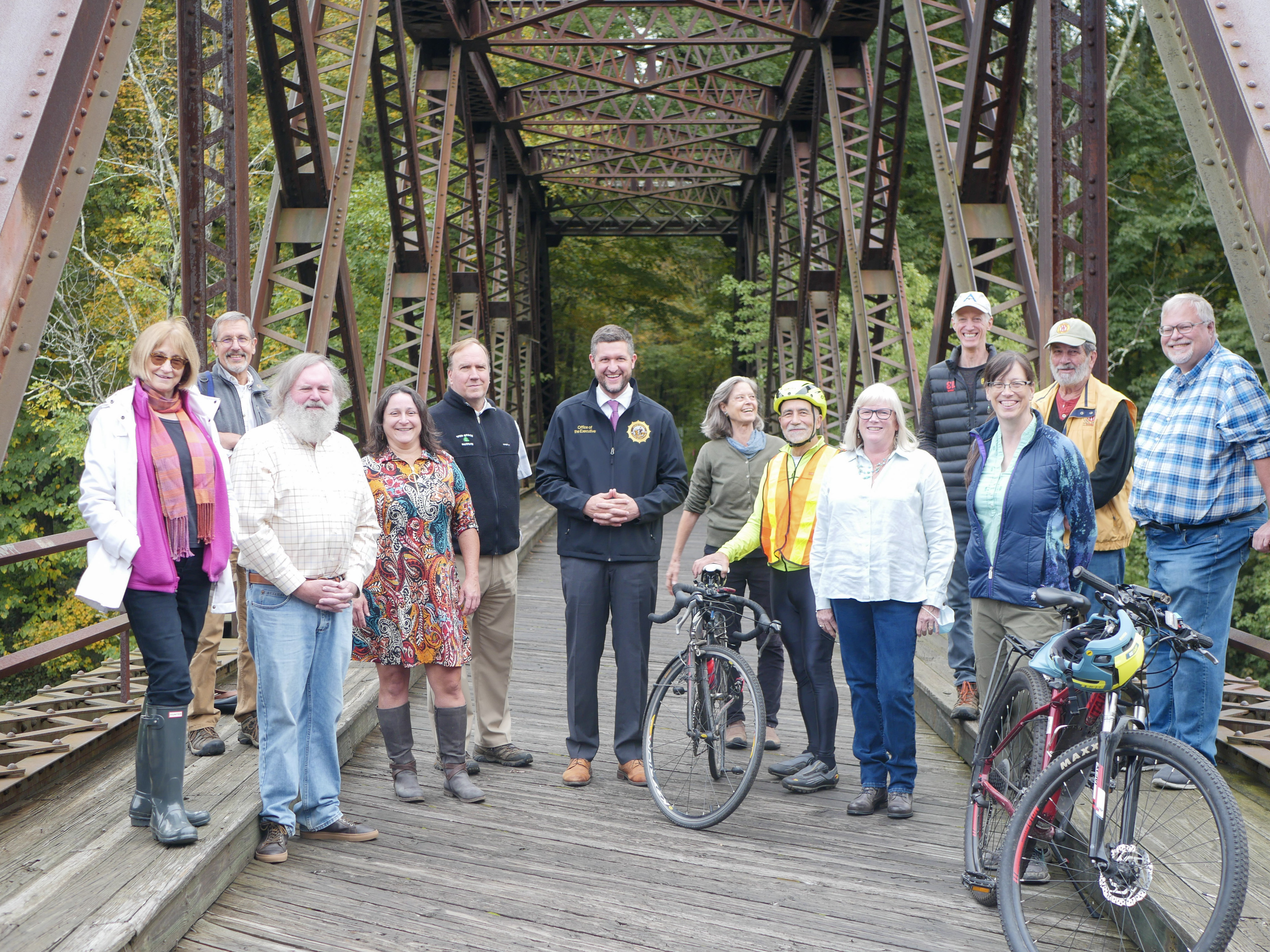 Posted October 7, 2021
The 2022 Executive Budget proposes to invest over $32 million in trails and infrastructure throughout Ulster County
Ulster County anticipates reconstructing approximately 30 miles of roads in 2022, including Springtown in New Paltz, Ulster Heights in Warwarsing, Hurley Mountain Road in Marbletown, Samsonville Road in Rochester, Union Center Road in Esopus, Blue Mountain Road in Saugerties, and Wittenburg Road in Shandaken
Kingston, NY - Ulster County Executive Pat Ryan announced details of the 2022 Executive Budget proposal to invest over $32 million in trails and infrastructure, first outlined Thursday, September 30th, during his annual Budget Address at the Field of Dreams pavilion in New Paltz.
In the 2022 Executive Budget, Ulster County will continue to make major investments in maintaining and enhancing infrastructure, including $18.2 million to maintain and improve county roads and bridges, and $3.9 million to help spur and accelerate much-needed municipal water and sewer projects. Major bridge projects include the McKinstry Bridge in Gardiner, the Lyonsville Bridge in Marbletown, the Broadstreet Hollow Bridge in Shandaken, and more.
"I grew up in Kingston and remember the time, as a high school cross country runner, of ad-hoc-at-best rail trails, and how we'd have to go all over tarnation and navigate all kinds of things just to do even a few miles of safe running. To see how far we've come in building a world-class, countywide trail network is so incredible and, when you look around at other communities and how we've really leap-frogged a lot of other places, I know that's not by accident. Thinking about the number of people, particularly, to me, young people who get to experience what we have here is really special, and it's also helping to bolster our economy," County Executive Pat Ryan said. "These investments will help to draw tens of thousands of visitors who support our local businesses and also provide much-needed recreation and peace for our residents at a time of great uncertainty."
"This expansion of the Ulster County trail system has to be one of, if not the most, ambitious in the Hudson Valley," Ulster County Legislator Jim Delaune said. "This initiative will provide opportunities to connect existing trails with commercial and retail centers, as well as our natural landscape. In addition to enhancing opportunities for tourism and economic development, these trails will support healthy lifestyles, expand access to open space and renew the connections between our communities."
"On behalf of the Wallkill Valley Land Trust (WVLT), I want to thank County Executive Pat Ryan for investing in our trail infrastructure here in Ulster County and continuing the important work of connecting our trail networks," WVLT Executive Director Christie DeBoer said. "Investment in trail infrastructure couldn't have come at a more important time. The pandemic has put a spotlight on the benefits of outdoor activities. As a result, we've seen significantly higher use of the Rail Trail and other conserved lands. These improvements will enhance the user experience of the Rail Trail while providing essential habitat and natural resource protection for future generations – which is WVLT's continued mission – to protect our open spaces, trails and farms in Ulster County."
"Our members and fellow trail advocates and stakeholders throughout the County are deeply gratified by County Executive Ryan's leadership in his 2022 Executive Budget – renewing the County's commitment to improve and connect our extraordinary shared-use trail system," Chair of Ulster County Trails Advisory Committee, Ashokan Rail Trail Stewards Program member and Board Chair of Woodstock Land Conservancy Kevin Smith said. "The County Exec and Legislature recognize the vital role our shared-use trails have played throughout the pandemic as critical public health infrastructure and recreational refuge for our residents and visitors, and in providing support for so many of our local businesses including in our vital tourism sector just when they have needed it most."
The 2022 Executive Budget proposes to build on the growing trails infrastructure across the county, dedicating $1.9 million dollars to substantially improve two of the major recreational rail trails in Ulster County and complete ongoing work that has spanned over a decade. Major improvements will be made to the 27-mile-long O&W Rail Trail, which runs from Kingston south to the Village of Ellenville, and to the 22-mile-long Wallkill Valley Rail Trail, which runs from Kingston to the southern border of the Town of Gardiner. An additional $200,000 will be made available to municipalities in Ulster County to expand other recreational facilities for residents.  
Ulster County anticipates reconstructing approximately 30 miles of roads using New York State CHIPS funding, including Springtown in New Paltz, Ulster Heights in Warwarsing, Hurley Mountain Road in Marbletown, Samsonville Road in Rochester, Union Center Road in Esopus, Blue Mountain Road in Saugerties, and Wittenburg Road in Shandaken. Additionally, pavement preservation methods, including chip seal and crack seal, will extend the service life of approximately 65 miles of roadway.
For more on the 2022 Executive Budget, visit https://ulstercountyny.gov/budget.
Photo: Ulster County Executive Pat Ryan (center) on the Wallkill Valley Rail Trail, a section of which is slated to undergo work with 2022 Executive Budget funding, with (left to right) Patricia Goodwin, Karl Beard, John Grossbohlin, Christy DeBoer, Bob Anderberg, Mary McNamara, Nick Mercurio, Mary Beth Majestic, Kevin Smith, Cara Gentry, Carl Pezzino, Mike Baden.
###