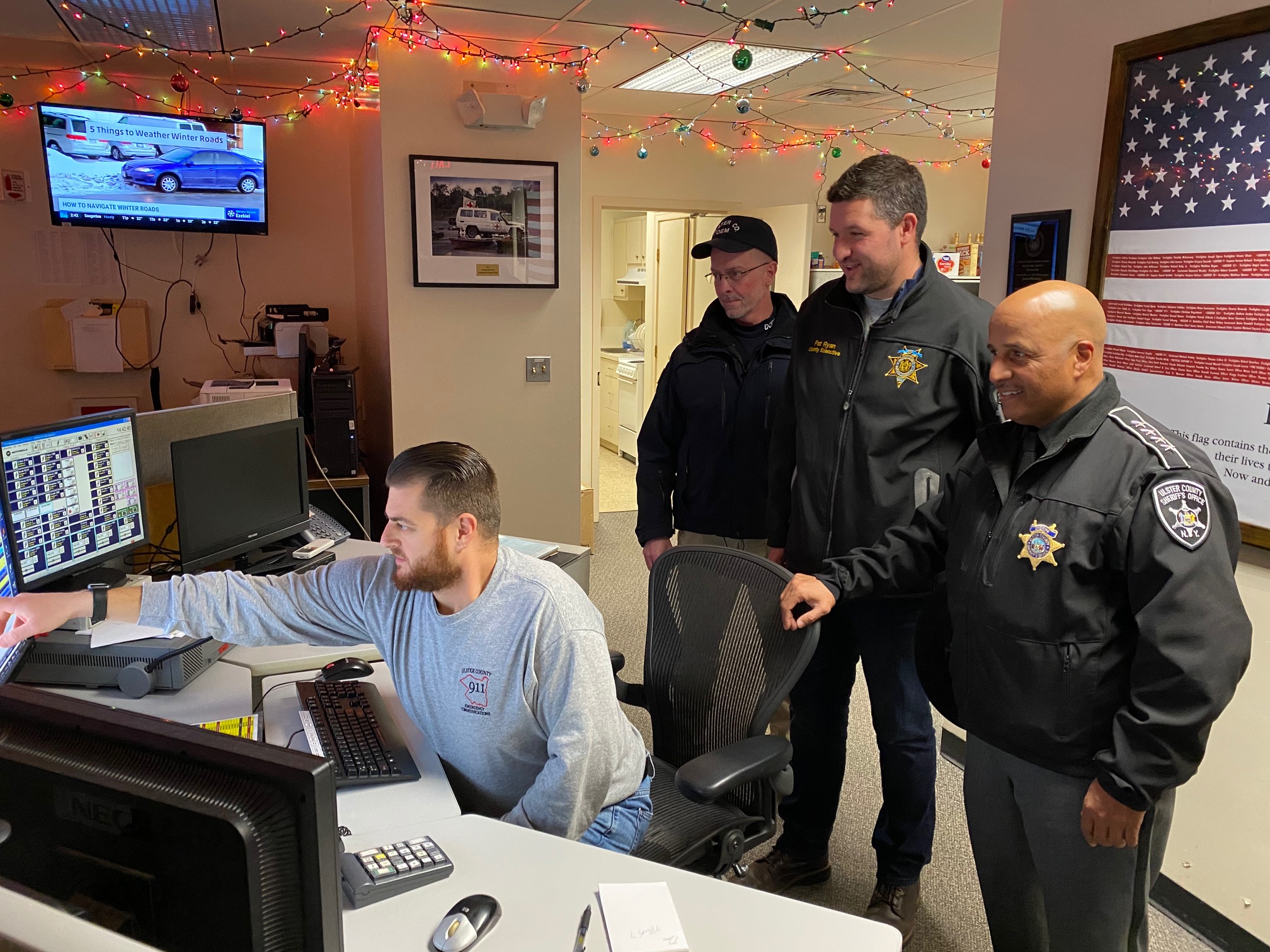 Posted December 1, 2019
Kingston, NY – Ulster County Executive Pat Ryan today met with Ulster County dispatch and highway workers and management and has maintained close coordination with utility companies and State officials in preparation for two days of potentially extreme winter weather. He also urged all County residents to exercise extreme caution if they need to go outside and avoid any travel to the extent possible.
Due to the inclement weather, Ulster County Area Transit (UCAT) is suspending rides for the remainder of Sunday. Riders should check the Ulster County website and social media for information regarding potential delays or cancellations for Monday. Additionally, County Executive Ryan reminded residents that the Ulster County Warming Center, located at 2nda Iglesia La Mision Church at 80 Elmendorf Street in the City of Kingston will remain open 24 hours through 9:00 a.m. on Wednesday, December 4. 
"With the expected snowfall and duration of the storm, I am committed to ensuring that all County resources available are out working to clear roadways and provide necessary services for Ulster County," Pat Ryan, Ulster County Executive said. "I encourage all residents to take extra precautions and stay off of the roads."
Ulster County Department of Public Works has 46 trucks, 20 pickup trucks, and nearly 80 personnel on staff to clear the roads. Additionally, Ulster County's Emergency Services Department has extra staff on hand at the County's 911 Dispatch Center throughout the storm. 
County Executive Ryan reminds residents to be prepared in their own homes and encourages everyone to:
Avoid any travel unless absolutely necessary

Keep extra distance from and be aware of large snowplows and other heavy equipment operating on roads to clear snow and ice accumulations;

Have food and water on hand;

Use caution on bridges as ice can form quicker than on roadways;

If you must travel, make sure your car is stocked with survival gear like blankets, a shovel, flashlight and extra batteries, extra warm clothing, set of tire chains, battery booster cables, quick energy foods and brightly colored cloth to use as a distress flag;
Have a battery-powered radio to keep informed of the status of the storm;

Check fuel levels and operation of snow blowers and backup generators you may have;

Have flashlights and fresh batteries handy.
The leading cause of death and injuries during winter storms is transportation-related accidents. If you must travel make sure that your vehicle is clear of ice and snow. Keep more distance between cars, be extra alert, and always match your speed to the road and weather conditions.
Report any emergencies by dialing 911.
The Ulster County Warming Center is operated by Catholic Charities and is located at the 2nda Iglesia La Mision Church, 80 Elmendorf St, Kingston NY 12401. The Warming Center can be contacted directly by phone at 845-481-4665. 
Law Enforcement agencies or any other organization that come in contact with or becomes aware of any individuals that are in need of sheltering can bring them to the warming center.
Attached photos: County Executive Ryan joins Director of Emergency Services Steve Peterson, Sheriff Juan Figueroa, and Undersheriff Eric Benjamin to visit the County's 911 Dispatch Center.