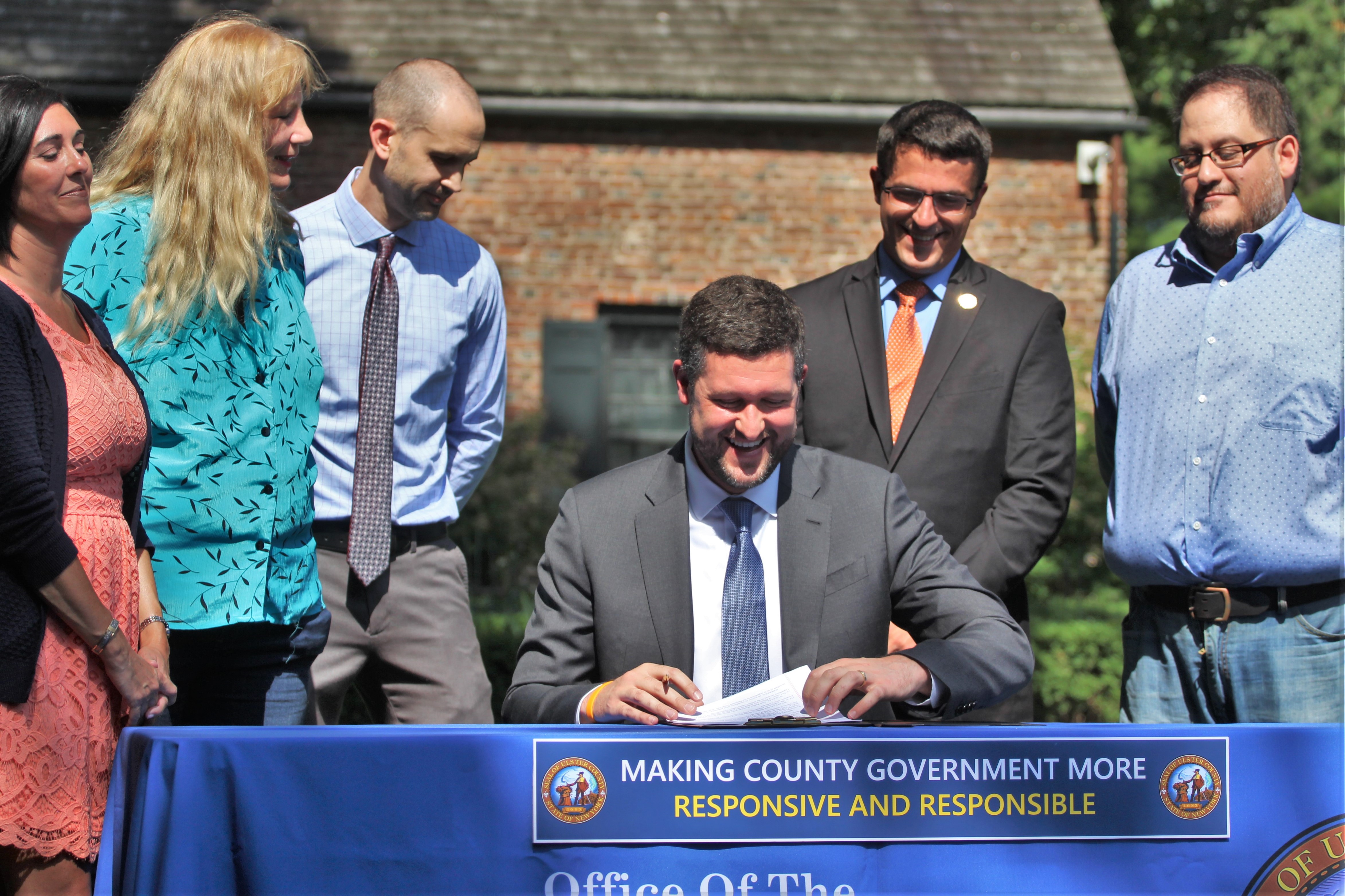 Posted August 14, 2019
KINGSTON, N.Y. – Ulster County Executive Pat Ryan signed into law a historic bill creating term limits for Ulster County elected officials. Under the new law, County Legislators' can serve for no more than six full terms and no person shall serve as County Executive or Comptroller for more than three full terms. 
Ryan signed the law at the original New York State Senate House, as part of his focus to make government more responsive and responsible. Ulster County is now one of the only counties in New York that have implemented term limits for countywide elected officials and members of the Legislature. 
"In passing and signing this law we are recognizing that we have to constantly reinvigorate our democracy," said County Executive Ryan. "No elected office should ever belong to an individual, it must always remain in the hands of the people."
"It's a great day for the people of Ulster County," said Minority Leader Ken Ronk (R, Wallkill). "These positions should not be lifetime jobs, and this law encourages turnover in these important elected positions to ensure new and innovative ideas are brought to Ulster County Government. I've been fighting for term limits for many years, and I'm grateful that this law has finally passed, and that County Executive Ryan signed it today."
"Term limits protect the people from career politicians who concern themselves only with their next election," said Legislator Joseph Maloney (D, Saugerties). "It also limits the influence of party establishments, political organizations and large donors. Quite frankly, term limits puts the people back on the priority list. Ulster County and it's residents wanted and needed term limits, and I'm proud to be part of delivering them."
The term limits proposal was adopted at the July session of the Ulster County Legislature. The law will take effect in 2020, meaning office-holders elected in November 2019 will be subject to the term limits. Under state law, term limits cannot be set for county clerk, sheriff, district attorney or judges. 
###