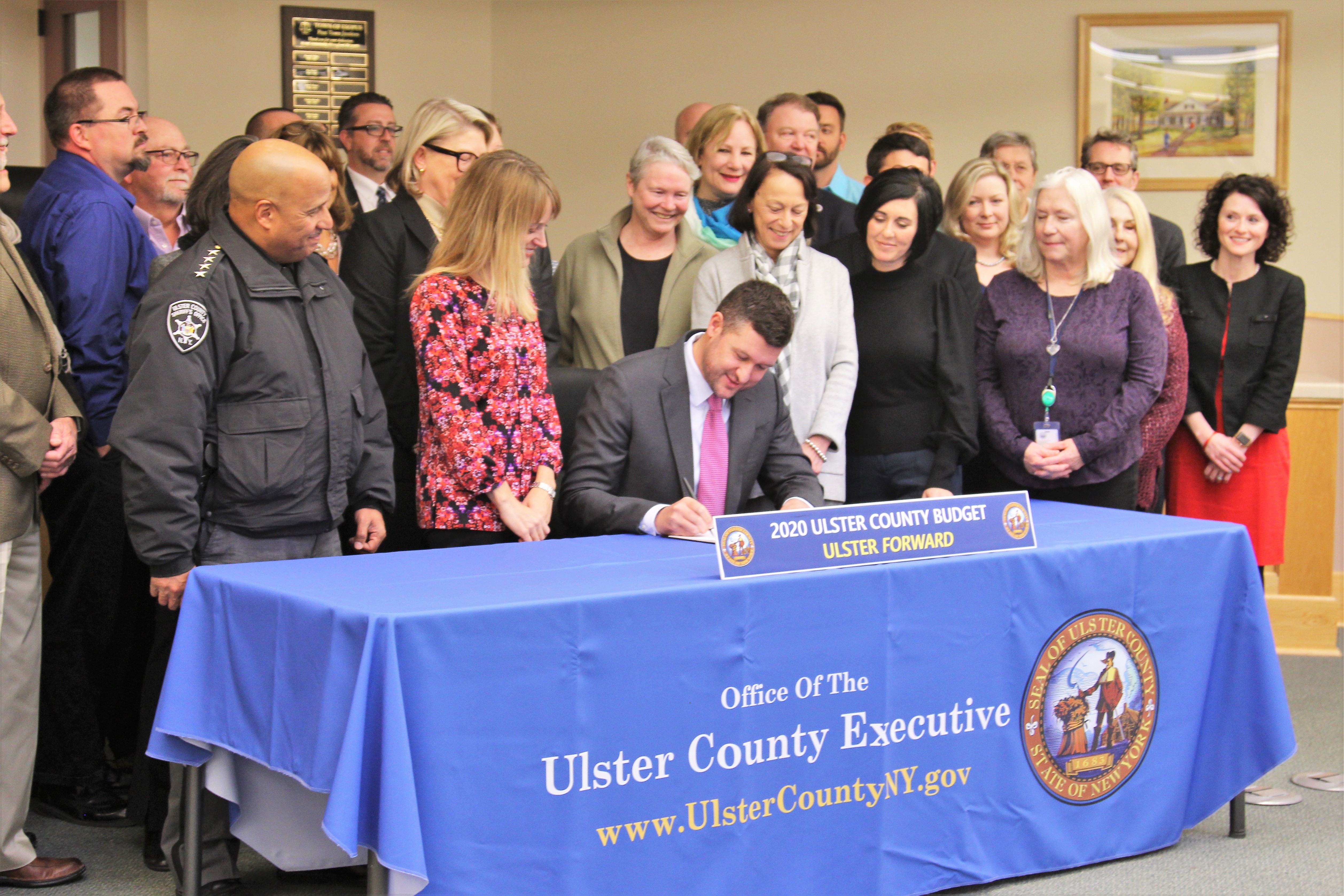 Posted December 12, 2019
2020 Budget includes programs and initiatives aligned with Ryan's top five priorities
ESOPUS, N.Y. – County Executive Ryan signed the adopted 2020 Budget today which provides funding for his "Big Five" initiatives. The budget also includes a .25% decrease in the tax levy, bringing it to the lowest level in a decade. The budget appropriates $342.28 million for the fiscal year, and it delivers on Ryan's promises for the 180,000 residents of Ulster County - from tackling the opioid epidemic, to investing in renewable energy infrastructure, and prioritizing smart economic growth, while reducing the burden on taxpayers. Additionally, the budget draws on one of the lowest percentages of fund balance in a decade. 
The reduction in the County's 2020 property tax levy is driven by the County's strong fiscal management and increased revenues from sales and occupancy taxes. In late 2019, Ulster County was designated as financially sound by the Office of the New York State Comptroller and continues to exhibit economic growth and has maintained its strength in the eyes of bond rating agencies with an 'AA' overall credit rating in the latest S&P Global Ratings report. Sales tax and occupancy tax revenues - which represent 38.2% of the County's total revenues - are expected to increase by 5% and 28.5% respectively, driven largely by a continuation of growth in local tourism spending.
"Our government is about priorities, this budget delivers on my 'Big Five' while keeping Ulster County affordable with the lowest tax levy in a decade," County Executive Pat Ryan said. "This budget moves Ulster County forward by standing-up the first ever Green Careers Academy, expanding opportunities and helping grow our economy, and by putting real money behind our efforts to combat the opioid epidemic."
"I am proud to join County Executive Ryan in signing a County Budget that will provide essential services for residents while also keeping Ulster County affordable," Ulster County Legislative Chair Tracey Bartels said. "I look forward to a continued partnership between the Legislature and the County Executive to deliver on these new initiatives that will serve all of Ulster County's residents."
"We are very grateful to County Executive Ryan and the Ulster County Legislature for providing additional funding to support the mission of The Hudson River Maritime Museum in the 2020 Budget," Executive Director of the Hudson River Maritime Museum, Lisa Cline said. "The Hudson River Maritime Museum is committed to being a green museum, improving the visitor experience, becoming more energy efficient with the use of solar panels, and linking with the Kingston Green line. These improvements will be good for the environment, good for Ulster County tourism, and will propel the HRMM into our next 40 years of advocating preservation, education and access and we are thankful to the County for recognizing and allocating funds to bolster this vision."
"Family appreciates the recognition on the part of the County Executive of the important role played by the not for profit community in providing critical services to Ulster County residents," Executive Director of Family of Woodstock, Inc., Michael Berg said. "His proposal will allow the Supervised Visitation program, authorized by the Family Court, to provide an increased number of supervised visits so that non-custodial parents can spend more time with their children in a safe and secure environment. The agency has expanded the number of facilitators for this program to ensure that a bilingual facilitator is available whenever required."
"The County Executive's 2020 budget sets out a bold vision to drive the County's economic success for today and for the future," President of the Ulster County Chamber of Commerce, Ward Todd said. "The County Executive's new initiatives will help support and reinvigorate local business and expand smart economic growth and opportunity for all residents, while reducing the burden on taxpayers and keeping Ulster County affordable for all."
2020 Budget Initiatives
Upon taking office County Executive Ryan outlined his top five priorities for Ulster County which include: A Green New Deal for Ulster County; Tackling the Opioid Epidemic; Growing and Diversifying our Economy for All; Ensuring Justice for All Residents; and Making County Government More Responsive and Responsible. 
The budget proposal includes funding for key initiatives to accomplish these goals, such as a Green Careers Academy, the creation of new positions in the Sheriff's Office who will be assigned to combat the opioid epidemic, additional public defenders to help ensure equal access to justice, a new Department of Economic Development focused on the future success of the entire County, the County's first-ever Chief Diversity Officer, and bringing County government on the road through launching a Mobile County Government program. 
A Green New Deal for Ulster County
County Executive Ryan is committed to implementing a Green New Deal for Ulster County because we can no longer wait when it comes to our climate. Next year's budget includes the following initiatives to help Ulster County become the epicenter of an emerging green economy. 
Green Careers Academy
This brand-new initiative in partnership with SUNY Ulster will deliver the skills and expertise needed to land a job in the expanding clean technology industry. Green careers can be found at all levels of building design, maintenance and construction. This unique program, created through a public-private partnership, will offer free or reduced tuition to train Ulster County's youth, active volunteer firefighters, veterans, low-income and long-term unemployed people in entry-level Clean Tech courses enabling them to apply for work in one of the many clean technology companies in Ulster County.  
Additional funding for the Department of the Environment
As a part of the 2020 Budget, the Ulster County Department of the Environment received a 15% increase from last year's Executive budget. This increase will provide for more dedicated resources to help implement the County's Climate Action Plan and remain on the cutting edge in developing and implementing climate and sustainability initiatives.
100% renewable energy by 2030
County Executive Ryan's first Executive Order upon taking office was to establish an aggressive goal to supply 100% of the electricity consumed by the County's buildings and fleet from locally-generated, renewable sources by 2030. To continue progress toward this goal, the County will continue to pursue a new solar project in 2020 that will double the amount of renewable energy generated by Ulster County, increasing renewable generation from 20% of the County's use to 40%. The 2020 Executive Budget also includes funding to transition the UCAT bus fleet toward renewable goals by purchasing three new electric buses and a high voltage charging station at the UCAT Transportation Center.
Tackling the Opioid Epidemic
With nearly $3 million in grant funding specific to tackling the opioid epidemic in Ulster County, County Executive Ryan is announcing several initiatives that will assist in his goal of reducing opioid fatalities by 50% in two years.
Additional funding for the Sheriff's Office
The Sheriff's Office will receive two new deputies who will be assigned to the Opioid Response As County Law Enforcement (ORACLE) program. These deputies will be included in an overdose response team that will include a plain-clothes officer, a mental health professional, a peer advocate, and a rehabilitation planner/specialist that will respond within 72 hours to meet with the individual who suffered an overdose as well as their family.
Implementation of multi-year CHASE grant 
The Department of Health has been awarded a $2.5 million dollar CHASE grant, which is a 3-year long grant designed to identify and close the gaps in our current prevention and treatment system.
Ulster County to reduce opioid fatalities by 50% in two years
Between 2015 and 2018, there was a 93% increase in opioid fatalities-the second highest rate of any county in New York State outside of New York City. County Executive Ryan has appointed a Director of Opioid Prevention Strategy within the Department of Health and Mental Health to focus on creating a strategic plan to combat the opioid crisis. The Department of Health and Mental Health has established a Strategic Action Team to identify and work to remove barriers, continue to research best and promising practices, measure progress, and recommend needed adjustments to improve outcomes.
Grow and Diversify our Economy for All
County Executive Ryan is committed to growing and diversifying our economy for all. While Ulster County has experienced economic gains, over 40% of Ulster County residents continue to live paycheck-to-paycheck. These initiatives aim to address how we can reinvigorate Ulster County's economy to provide for economic opportunities for all residents. 
Ulster 2040 Working Group
The Ulster 2040 Working Group will chart the course for future growth that benefits all Ulster County residents. The primary goal of Ulster 2040 is to align and focus the County's economic, workforce and community development investments toward a set of targeted focus sectors, and to identify the necessary steps to ensure that all County residents will benefit from a growing and changing economy. The working group is made up of a diverse group of community leaders from throughout Ulster County, representing a range of industries, occupations, and interests. 
Funds to Provide Homeownership Opportunities
The most recent housing efforts in Ulster County are being funded through a $590,000 CDBG grant that will be administered by RUPCO. This grant will help to provide increased homeownership opportunities for low and moderate income families in the County.  The funding will be used to provide gap financing above what a bank is willing to lend to close the deal. 
Establishing the first ever Department of Economic Development
The 2020 Budget Proposal includes the creation of the first ever separate Department of Economic Development. This new department structure allows for robust leadership, transparent approaches to delivering economic development for all, and will allow the County to put funds behind a new approach to economic development in Ulster County by increasing spending by nearly 25%. 
Ensure Justice for All Residents
An effective County government must do its best to reflect the public that it serves. While Ulster County has made great strides in recent years, our residents often express frustration at the slow pace of change. To accelerate our progress, next year's budget includes the following initiatives to further the mission of ensuring justice for all Ulster County residents. 
Seven new positions in the Public Defender's office
Starting in 2020, the Ulster County Public Defender's office will have an additional seven position added to better serve Ulster County residents in need of an attorney. The 2020 Budget Proposal will include additional Assistant Public Defenders, investigators, and support staff.  This will reduce caseloads and dramatically improve the quality of services provided to the indigent members of our community. All newly-hired Assistant Public Defenders will also receive special training in advocating for veterans who, in many instances, find themselves facing criminal charges stemming from the after-effects of their devoted service to our country.
Full-time Youth Bureau Director and Human Rights Commissioner 
The Ulster County 2020 Budget will include a full-time Youth Bureau Director and Human Rights Commissioner. Previously, both positions were part-time. This will allow for the Human Rights Commission and the Youth Bureau to have devoted staff to address and advocate for residents because protecting our young people and ensuring justice for our residents are not part time jobs.
Ulster County's first ever Chief Diversity Officer
For the first time ever, the Ulster County 2020 Budget will include a Chief Diversity Officer which will focus on ensuring our Ulster County workforce will be representative of the population it serves. This position will help inform and equip constituents about civil service exams, with a focus on reaching out to communities that have not been previously engaged to discuss county employment opportunities and provide employment training. This position will be a part of the Ulster County Personnel Office. 
A More Responsive and Responsible County Government
Ulster County has a responsibility to deliver the absolute best services to residents and ensure that the County is responsive to their needs. As part of County Executive Ryan's final "Big Five" priority to ensure a more responsive and responsible government, the 2020 Executive Budget includes initiatives to make County government as accessible, efficient, and effective as possible.
Innovation Team
Ulster County Executive Ryan announced the creation of a new Innovation Team which focuses on strengthening the culture of accessibility, responsiveness, and accountability within County government and on developing new partnerships to help ensure that the County's 180,000 residents receive the best possible services at the greatest value. The new team will utilize data, research and best practices to help drive improved outcomes related to County services. The 2020 Executive Budget includes funding for three staff positions within the Innovation Team.
Additional Funding for the Office for the Aging  
In the 2020 Executive Budget, the Ulster County Office for the Aging will see an increase in funding to expand services to assist seniors to be as independent as possible, for as long as possible. The office has been awarded an additiona 
###