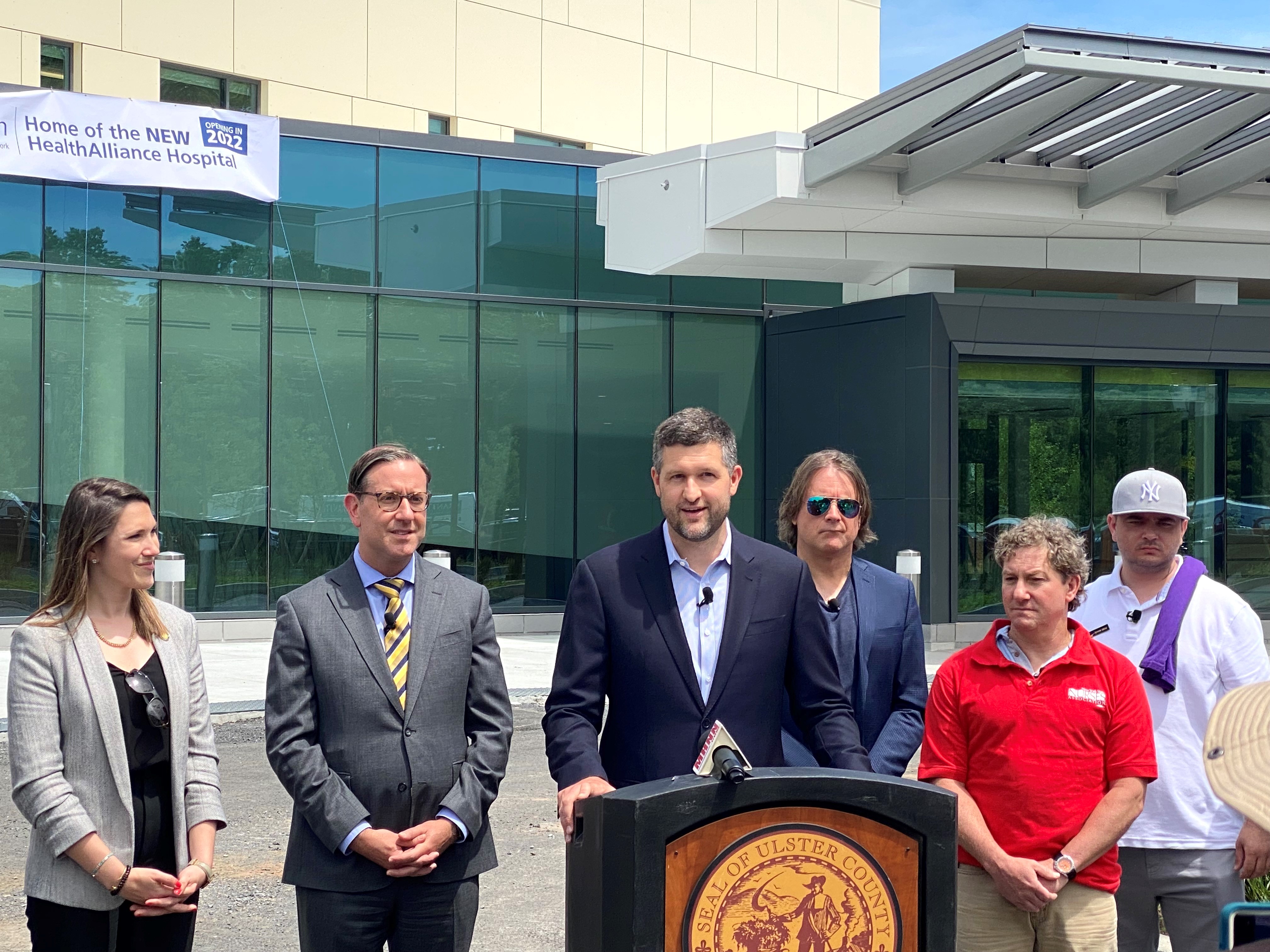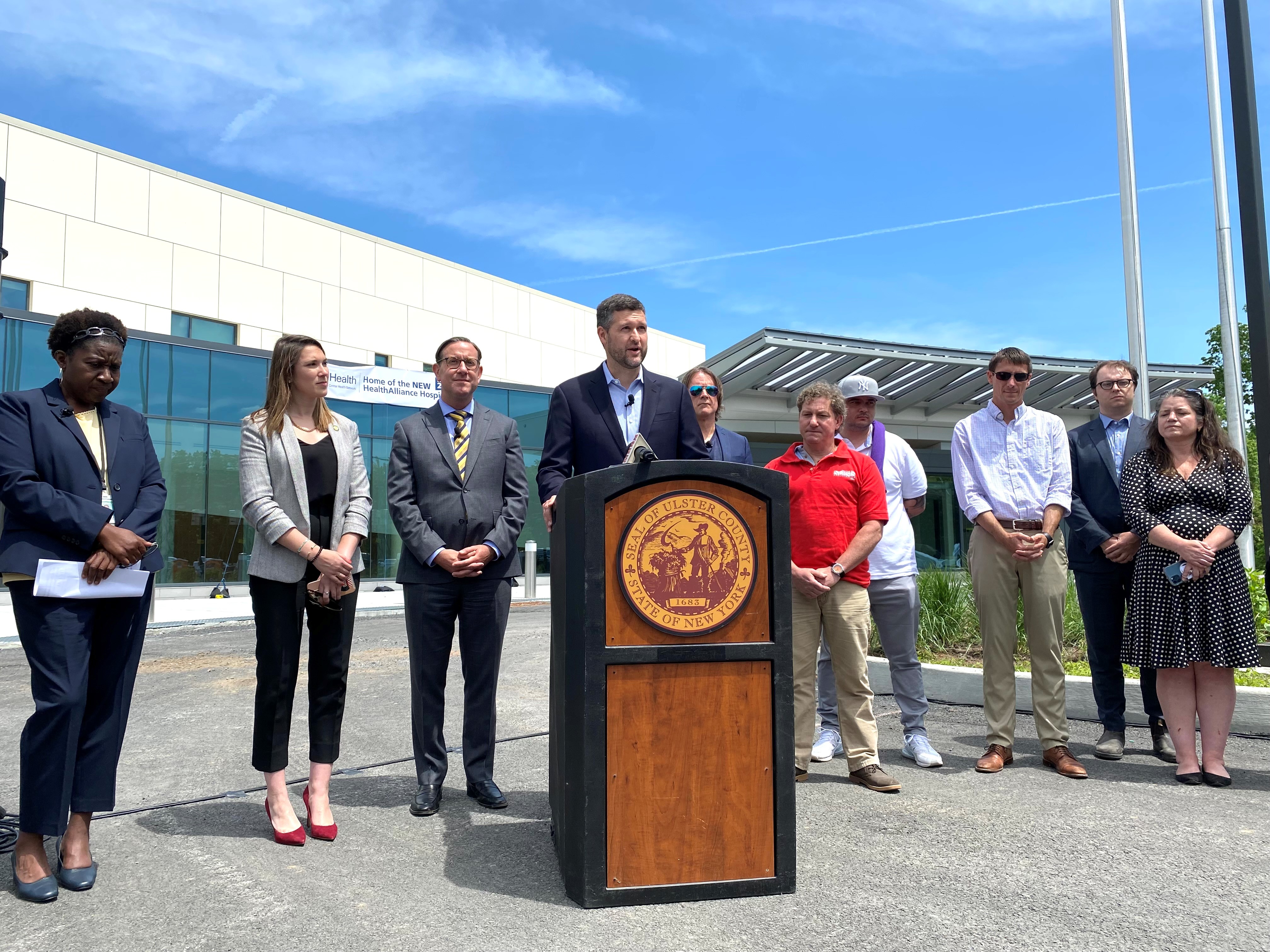 Posted May 25, 2022
New Mary's Avenue HealthAlliance Hospital Will Have 20 Newly Renovated Inpatient Beds for Inpatient Psychiatric Care, Ensuring Local Access to Services 
Additional 20 Inpatient Beds to Complement the Forthcoming Crisis Stabilization Center and Mental Health Hub
Detoxification services will continue to be available in the medical unit 
HealthAlliance Hospital on Schedule for 2022 Opening 
KINGSTON, N.Y. (May 25, 2022) – Today, Ulster County Executive Pat Ryan and the Westchester Medical Center Health Network (WMCHealth) announced an agreement to maintain 20 inpatient mental health beds, which will be located in the soon-to-open expanded HealthAlliance Hospital on Mary's Avenue in Kingston, NY. The agreement, if approved by New York State, will be the latest action by WMCHealth to advance its comprehensive plan to enhance behavioral and mental health services available in Ulster and Dutchess Counties – while preserving local access for patients and their families.
In addition, WMCHealth will maintain all emergency access and outpatient mental health services in Kingston and expand inpatient behavioral health beds at WMCHealth's MidHudson Regional Hospital in Poughkeepsie from 40 to 60, giving Ulster and Dutchess Counties a comprehensive array of services that includes a total of 80 inpatient beds available for mental health services. 
The agreement for the inpatient mental health beds at the new HealthAlliance Hospital came after WMCHealth evaluated available services as well as feedback from the New York State Department of Health (DOH), County Executive Ryan, frontline healthcare workers, mental health professionals, elected officials, patients, families, and more. At the height of the pandemic, WMCHealth transitioned HealthAlliance Hospital inpatient mental health services temporarily to MidHudson Regional Hospital to bolster resources and capacity for COVID-19-related care, under an announced New York State plan.
"During the pandemic, we saw suicides in Ulster County double and fatal opioid overdoses up 93%; now more than ever, we must guarantee that all residents have ample access to vital local mental health and addiction recovery services and come together to ensure our community is receiving the support it desperately needs and deserves," Ulster County Executive Pat Ryan said. "I am so proud that our community came together and advocated tirelessly to ensure these services are available; and appreciative that WMCHealth truly listened, worked collaboratively with us, and stepped up to make it happen."
"This agreement is an investment in the Kingston community that will benefit the entire region and reflects our continued commitment to delivering the best behavioral health care," said WMCHealth Executive Vice President & Chief Strategy Officer Josh Ratner. "This announcement is a testament to the collaboration with County Executive Ryan who was instrumental in both meeting the behavioral health needs of Ulster County and helping WMCHealth execute on its larger strategy that will enhance and expand treatment in the entire region."
"When the inpatient psychiatric beds were removed in the height of the pandemic, we made it clear how important these beds were to the community, and what the impact would be of losing them," said Greg Speller, 1199SEIU Executive Vice President.  "I want to thank County Executive Pat Ryan, WMCHealth, Senator Michelle Hinchey, Assemblymember Kevin Cahill and Kingston Common Council member Barbara Hill for not only listening, but also taking action on such a critical issue. This victory is an outstanding example of what happens when nurses and healthcare workers (1199 and NYSNA) join together with advocates and elected officials to do what's right for the health and well-being of our communities."
"We are proud that our voices were heard and that we were able to work together with our elected officials and community members to get these beds back. The fact that residents will be able to access these services in their own community is a huge win," Ezra Maurer, a Representative of the New York State Nurses Association, said. "This agreement is definitely a step in the right direction, and we thank the County Executive and the leadership of WMCHealth for doing the right thing by maintaining these services."
A Comprehensive Approach to Behavioral Health Care
WMCHealth's and County Executive Ryan's work to ensure 20 inpatient behavioral health beds are included in Ulster County will complement the plans for a new crisis stabilization center to also be located in Ulster County, announced by the County Executive in November of 2021. 
The addition of 20 newly-renovated inpatient beds for psychiatric care at Mary's Avenue is intended to complement the services that will become available at the crisis stabilization center and represents a holistic approach to meeting the behavioral and mental health needs of the region. Today's announcement follows months of close collaboration with New York State officials and feedback from local stakeholders and community representatives. The move will ensure that access to inpatient behavioral health care remains a priority as part of Kingston's reimagined hospital system.
WMCHealth is one of New York State's largest behavioral health service providers, with a mix of inpatient and outpatient care tailored to the needs of each patient. As outpatient care continues to evolve into a national best practice for substance-use treatment, WMCHealth continues to invest in outpatient programs at Network hospitals as well as community-based outpatient programs.
Current programs available through HealthAlliance Hospital include adult and adolescent partial-hospitalization programs, addiction treatment programs, rehabilitation services and a methadone clinic. Inpatient substance abuse treatment and important additional outpatient programs will continue to be available through the new HealthAlliance Hospital, along with outpatient services offered at MidHudson Regional Hospital, such as the Kyle Goldberg Turning Point and Military Wellness Programs. 
First Phase-Completion of Healthcare Advancement Plan on Horizon
The expansion and enhancement of HealthAlliance Hospital on Mary's Avenue is a key component of a $134.9 million Ulster County healthcare advancement plan initiated by WMCHealth, in cooperation with New York State, to consolidate the operations of the two HealthAlliance Hospitals in Kingston. The new HealthAlliance Hospital is expected to open for care later in 2022, with hospital construction continuing with DOH-approval for inpatient behavioral health care expected to follow soon thereafter.
The two story building will adjoin the current facility and offer an expanded, modernized behavioral health diagnostic and treatment area among other newly-renovated treatment units and centers, along with advanced medical technologies acquired through WMCHealth's technology partnership with Philips. In the next phase of this project, WMCHealth will convert the HealthAlliance Hospital on Broadway in Kingston into a walkable health village, in which it will work with community partners to deliver preventative and primary healthcare services and lifestyle counseling.
About Ulster County
Ulster County is geographically about the size of the state of Rhode Island. It's 90 miles north of Manhattan, between the Hudson River and the Catskill Mountains. We have 180,000 full-time residents plus an influx of visitors on the weekends. Ulster County Executive Pat Ryan, who is serving his third year in office, is a fifth-generation Ulster County resident. After graduating from Kingston High School, Pat attended West Point and served two combat tours in Iraq as an Army intelligence officer. After leaving the military, he founded a small technology company, which he grew to over 150 employees. Pat lives in Gardiner with his wife, Rebecca, and their two sons, Theo and Cameron.  
About Westchester Medical Center Health Network
The Westchester Medical Center Health Network (WMCHealth) is a 1,700-bed healthcare system headquartered in Valhalla, New York, with nine hospitals on eight campuses spanning 6,200 square miles of the Hudson Valley. WMCHealth employs more than 13,000 people and has nearly 3,000 attending physicians. The Network has Level I (adult and pediatric), Level II and Level III trauma centers, the region's only acute care children's hospital, an academic medical center, several community hospitals, dozens of specialized institutes and centers, Comprehensive and Primary Stroke Centers, skilled nursing, assisted living facilities, home-care services and one of the largest mental health systems in New York State. Today, WMCHealth is the pre-eminent provider of integrated health care in the Hudson Valley. For more information about WMCHealth, visit WMCHealth.org or follow WMCHealth on Facebook.com/WMCHealth or Instagram.com/WMCHealth.