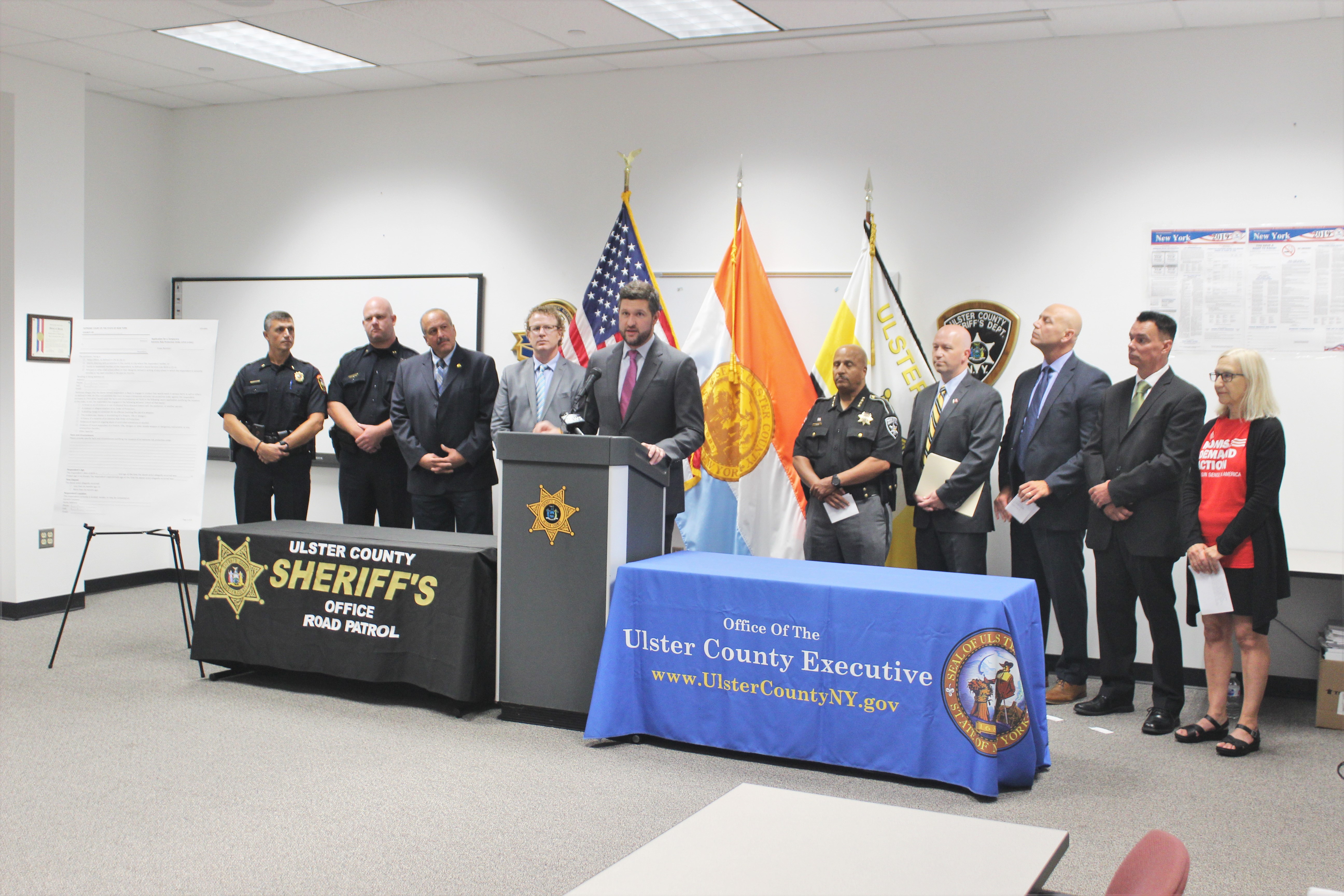 Posted August 23, 2019
Ulster Among First to Launch Countywide Partnership Between Government, Law Enforcement and Educators to Enact the New Extreme Risk Protection Law 
KINGSTON, N.Y. –  Ulster County Executive Pat Ryan today announced a new countywide coordinated effort between law enforcement, government, and educators to implement New York State's new extreme risk protection law, also known as the Red Flag Law, which can prevent individuals who show signs of being an "extreme risk" to themselves or others from purchasing or possessing firearms. The first-in-the nation law, passed earlier this year, empowers law enforcement, educators and others to potentially prevent tragic events by restricting gun possession among individuals deemed by a court to be an "extreme risk" to themselves or others. Today's announcement includes commitments from County government, law enforcement and educators to work together and fully implement the new law, which goes into effect Saturday, August 24.
The coordinated efforts include providing and sharing resources and knowledge to fully implement the new law, including the distribution of required court forms with law enforcement agencies and schools in the county. The forms are also now electronically available on the Ulster County Sheriff's Office website and will be distributed in digital and hard copy formats countywide in the coming days.
Most perpetrators of mass shootings exhibit warning signs before the shooting. In these cases, an extreme risk protection order has the potential such shootings when appropriately used. The Red Flag Bill provides necessary procedural safeguards to ensure that no firearm is removed without due process protecting the rights of responsible gun ownership, while also working to ensure that tragic acts of gun violence do not occur.
With the action announced today, Ulster County is now among the first counties in New York State to fully implement a comprehensive coordination and awareness effort to maximize the life-saving potential of this new law.
"There is a universal call …'Enough is enough.' We are now taking common sense actions that will save lives," said County Executive Ryan. "When it comes to the scourge of gun violence and its warning signs, nobody in our community should ever feel powerless again. This law will provide law enforcement and school officials the tools they need to protect Ulster County residents, and I am proud of our efforts and partnership to put these life-saving measures to work."
"The scourge of gun violence in our country is one of the most pressing issues of our time and protecting our citizens is the foremost responsibility of government," said Ulster County Sheriff Juan Figueroa. "As Sheriff, I am proud to partner with the County Executive and our local schools to ensure that they have the necessary tool to keep our community safe."
"In my judgment, this bill is not a second amendment statute.  It is a law that offers all citizens a constitutional procedure to determine if an individual presents a risk to himself or others," said Holley Carnright, Ulster County District Attorney. "I opine that the so called 'red flag law' offers a sensible process that weds the concerns of every police officer, District Attorney, school personnel, and an individual's own family members, to avoid a potentially horrific tragedy. I thank County Executive Ryan for standing with a coalition of law enforcement and the school community in an effort to keep our citizens safe."
"Any tool that will assist law enforcement or school districts to potentially preempt a tragedy is something we can all get behind," said Town of Lloyd Police Chief Daniel Waage, the president of the Ulster County Police Chief's Association.
 "As the Superintendent of Ulster BOCES, preserving the welfare and safety of our students is of utmost importance to me and the entire education community," said Dr. Charles Khoury, Superintendent of BOCES. "This law and the efforts of County Executive Ryan, will ensure that we are providing an opportunity to coordinate and contact proper officials should we learn that one of our students may find themselves in a dangerous situation."
"I thank County Executive Ryan for coordinating this effort and making sure that we have the tools to act fast if we sense one of our students may be in danger," said Dr. Paul J. Padalino, Superintendent of Kingston City Schools. "This law and the coordinated effort in Ulster County, will make us safer and save lives."
"Today, Ulster County is protecting and giving strength to this community by enacting the Extreme Risk Protection Order Law. This law saves lives. Thank you, County Executive Ryan, for your devotion to this issue," said Rima Liscum, Co-Chair of Moms Demand Action for Gun Sense in America, Hudson Valley chapter. "Moms Demand Action is thrilled to see this Red Flag law being implemented here and all over the state of New York. It is an incredible victory for gun violence prevention."
Under the new law, the New York State Office of Court Administration has created new "Application for a Temporary Extreme Risk Protection Order" forms that must be filed in New York State Supreme Court. Such applications may only be filed by a police officer, a district attorney in the county, a school administrator or school administrator designee (including a teacher, guidance counselor, school social worker, school psychologist, school nurse or other school professional with a teaching or coaching license or certificate), or a relative or household member of whom the order is sought against. If probable cause is found that the individual against whom the order is sought is a danger to himself or herself, or others, A Supreme Court Justice may issue a temporary order to remove firearms from the individual's possession. Local law enforcement would then notify the individual against whom the order was sought and seize their firearms.
A hearing must then be held within three to six days of the issuance of the temporary order to determine whether a full "Extreme Risk Protection Order" should be issued, which would last up to a year and could be extended.
Copies of the required court forms to file for an extreme risk protection order may be found online at the following address https://ulstercountyny.gov/sheriff/erpo
###