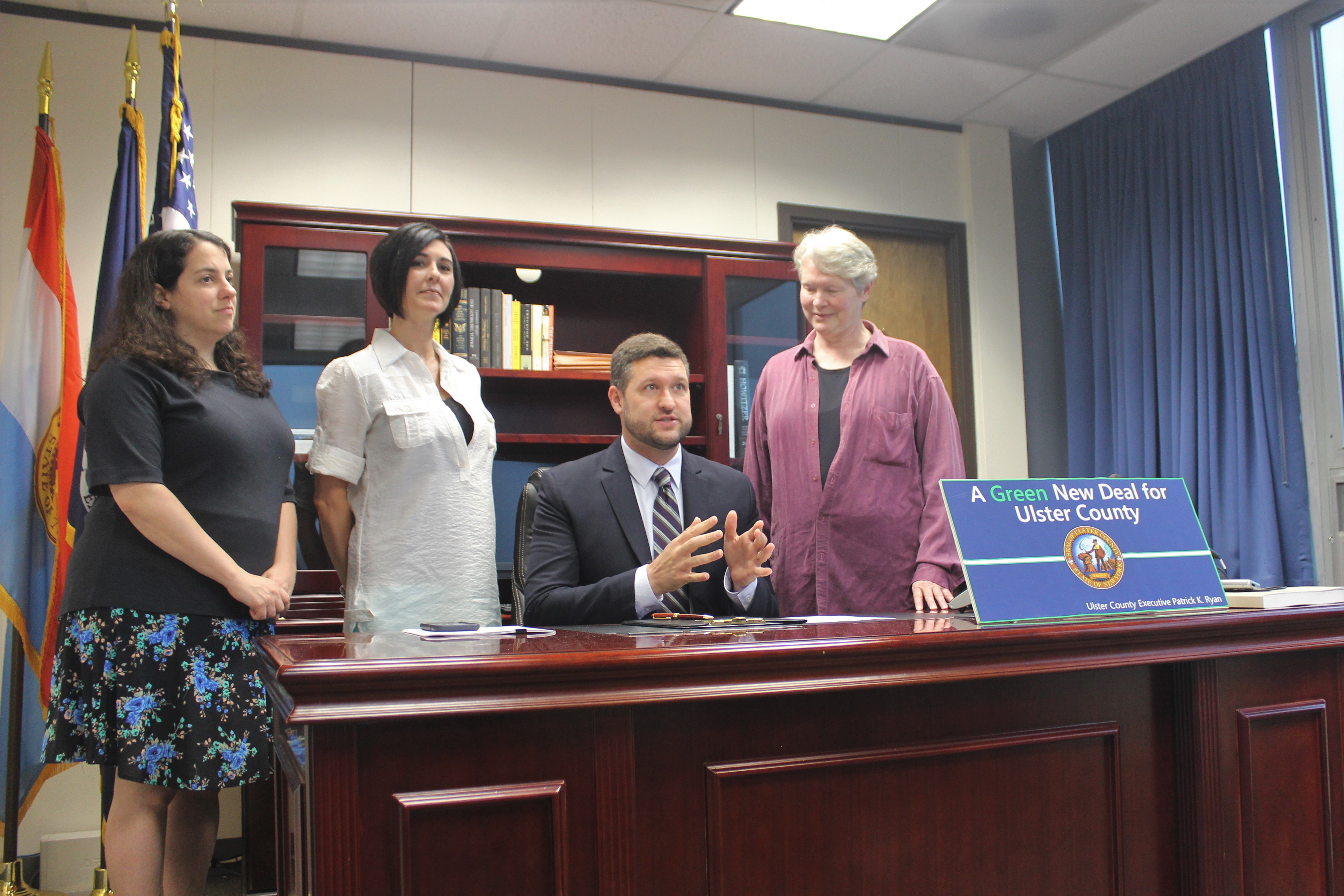 Posted June 20, 2019
First Bill Signed by County Executive Pat Ryan 
KINGSTON, N.Y. – Joined by members of the Ulster County Legislature, Ulster County Executive Pat Ryan signed his first bill into law. The "Skip the Straw" law, makes single-use plastic drinking straws an on-demand commodity at eateries across Ulster County. Under the new law, restaurants and fast-food establishments are prohibited from providing single-use plastic straws unless requested by a patron. 
Ulster County Executive Patrick K. Ryan
"We are facing a climate crisis and it is time to act. I am proud that the first law that I signed as County Executive takes concrete steps to protect our environment by limiting one of the major drivers of pollution here in Ulster County."
Ulster County Legislative Chairwoman Tracey Bartels
"The environmental cost of single use plastics is absolutely unsustainable. This common-sense legislation asks that people think before they consume. It's a small step that will make a substantial difference and will continues Ulster County's work as environmental stewards. I would like to thank Legislators Maloney and Donaldson for their leadership on the issue and the many Ulster County businesses that have already instituted the practice of skipping the straw."
Ulster County Legislator Joseph Maloney 
"We must use every tool available to move away from plastics and towards renewable, reusable and compostable. This a small but effective step and I'm proud to help Ulster County be the first in the state."
Earlier this week County Executive Ryan signed his first Executive Order setting an aggressive goal to supply 100% of the electricity consumed by the County's buildings and fleet from locally-generated, renewable sources. County Executive Ryan also announced this week a major new County solar project that will double the amount of renewable energy generated by Ulster County, increasing renewable generation from 20% of the County's use to 40%.
###
Photo from left to right: Amanda LaValle, Director of Ulster County Department of the Environment; Heidi Haynes, Ulster County Legislator; Pat Ryan, Ulster County Executive; Kathy Nolan, Ulster County Legislator