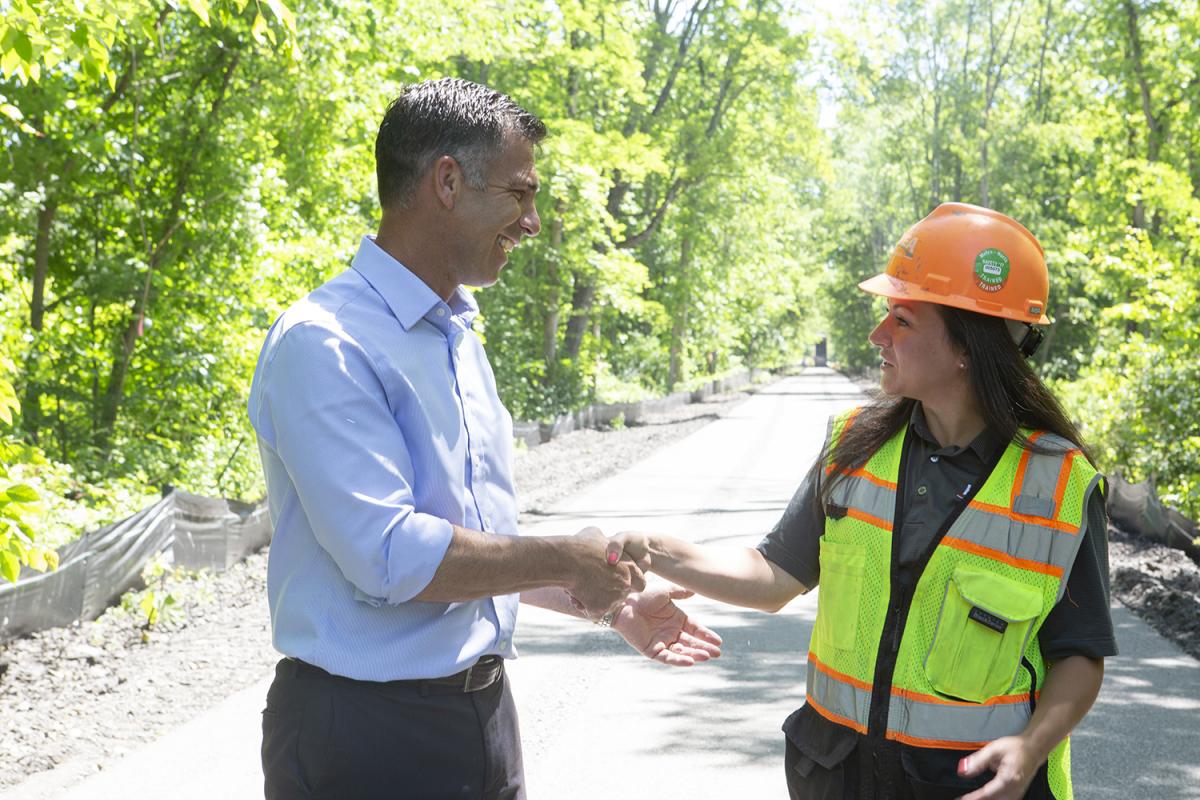 Posted June 21, 2018
New Paltz, N.Y.- Ulster County Executive Mike Hein today provided an update to area residents and businesses about a three-phase expansion of the Hudson Valley Rail Trail in the Towns of Lloyd and New Paltz. The expansion project is a part of the County Executive's efforts to build a County-wide, interconnected trail network that will eventually link from the Walkway Over the Hudson to the Ashokan Trail in the Catskills.
The trail expansion is taking place in three separate sections. The eastern-most section is a project of the Town of Lloyd that stretches 0.7 miles from Tony Williams Park to State Route 299 at New Paltz Road. The next section, which is a County-led project, continues from New Paltz Road 1.25 miles to South Street. The final section connects westward from South Street to the Village of New Paltz and is led by the New York State DOT.
Although paving has already begun on the County's section along Route 299, the trail will not be completed and opened to the public until early this fall.  By mid-2019, when all three sections are complete, the Hudson Valley Rail Trail will extend from the Walkway Over the Hudson to the Village of New Paltz, where it will connect with the Wallkill Valley Rail Trail and the recently-completed River To Ridge Trail. Via these connecting trails, the system will extend all the way to Gardiner, the Shawangunk Ridge, Rosendale and Kingston.
Michael P. Hein, Ulster County Executive
"I outlined a transformational vision of connecting the Walkway Over The Hudson with New Paltz and beyond that will allow Ulster County residents and visitors alike to safely walk, jog and bike along this incredibly beautiful area," said County Executive Mike Hein.  "And now I am focused on working with partners to complete this amazing set of projects. It will create a valuable link between the Metro North train station in Poughkeepsie and SUNY New Paltz, as well as become a critical part of the upcoming Empire State Trail connecting NYC with the Adirondacks."
Peter Belizzi, President of the Hudson Valley Rail Trail Association
"Taken as a whole, these three construction projects – which are all on an accelerated track for completion – will result in a major expansion of Ulster County's rail trail network," said Peter Belizzi, President of the Hudson Valley Rail Trail Association. "I look forward to the time in the near future when events like our annual Discover the Hudson Valley Ride, which draws up to 2,000 visitors from the New York City area to ride along our trails and rural roads, will have even more options to explore Ulster County."
Mike Watts, Highland Middle School Teacher
"As someone who often rides from New Paltz to Highland, I'm thrilled that these projects are so close to completion," said Mike Watts, a Highland teacher and bicycle commuter. "I hope that many more people will choose to ride their bikes between New Paltz and Highland, and even farther once there's a safe and convenient way for them to do so. I am grateful to County Executive Hein for prioritizing our non-motorized transportation options."
Video: https://youtu.be/1F4Tmx-p9Ow
Photos: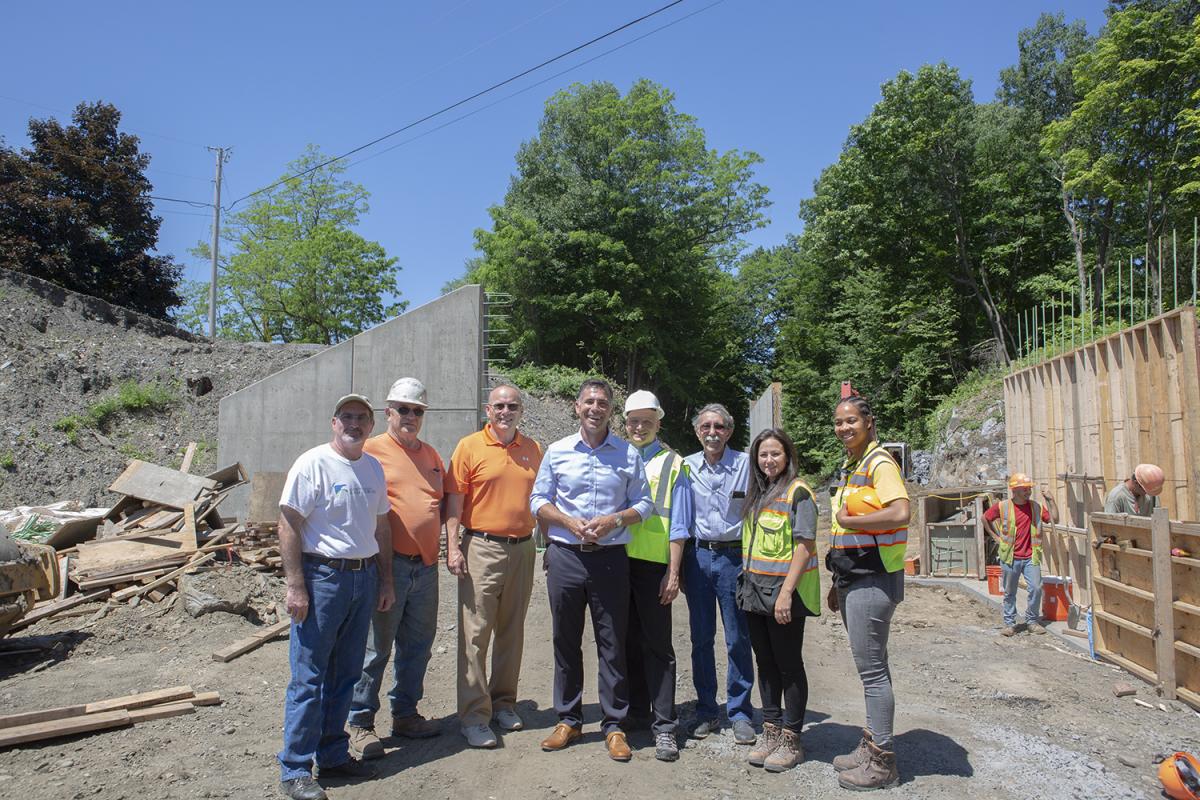 Pictured above (from left to right): Peter Bellizzi, President of the HVRT Association; Lou Pasquini, Superintendent for A. Colarusso & Son, Inc; Paul Hansut, Town of Lloyd Supervisor; Lenny Auchmoody, Town of Lloyd Council Member; Jessica Mariani, Project Engineer, HVEA; Gillian Walker, Resident Engineer, HVEA