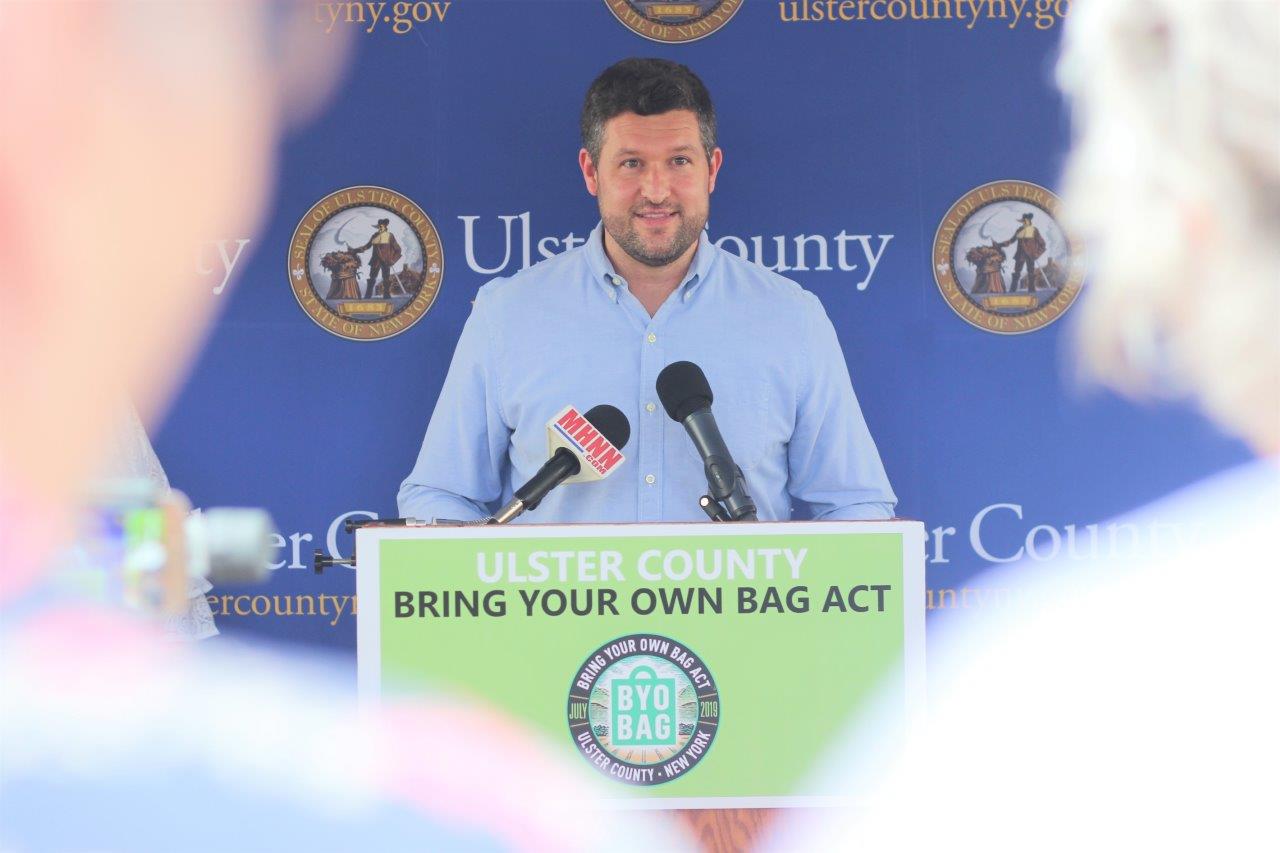 Posted July 12, 2019
New Law Banning Single-Use Carry-Out Plastic Bags at Most Retail Locations Goes Into Effect on Monday
KINGSTON, N.Y. - Ulster County Executive Pat Ryan, joined by members of the Ulster County Legislature and Judith Enck, former U.S. EPA Regional Administrator, gathered on Friday to kick-off of the Ulster County Bring Your Own Bag Act.  The event was held at the Kingston Plaza and highlighted the readiness of local businesses and consumers for the new law, which goes into effect on Monday.
The BYO Bag Act, which was passed early in 2019 by the County Legislature, regulates the distribution of single use plastic bags at most retail establishments.  Carry-out plastic bags are prohibited under the Act and retailers are required to collect a fee on any recyclable paper bags provided.  The Act covers single-use plastic bags from most non-restaurant commercial businesses, including grocery stores, convenience stores, retail stores, and drug stores. Consumers are instead encouraged to bring their own reusable bag to carry any purchases. If a paper bag is provided by a retailer, there will be a minimum five cent fee per bag at checkout. 
Each year, millions of pounds of plastic are introduced into the environment, causing significant damage to wildlife and fragile ecosystems and impairing municipal infrastructure, such as storm drains and sewage treatment plants. Recycling plastics is often problematic and not feasible in many situations. The most reliable way to reduce plastic pollution is to reduce the overall amount of plastic entering the environment. 
Ulster County has passed a series of laws in recent years that focus on curbing the use and distribution of various types of single use plastic. In 2015, polystyrene carryout containers were prohibited for use by food service establishments in Ulster County. And more recently in 2019, legislation was passed that requires food service establishments to only provide straws upon request. 
Ulster County Executive Patrick K. Ryan 
"When you walk out the door you make sure you have your keys, your phone, and a reusable bag. Given what is happening around our globe, this needs to be our new reality. I am proud that Ulster County is leading the way and taking real action at the local level to be good stewards of our environment."
Ulster County Legislative Chairwoman Tracey Bartels
"As a sponsor of this legislation, I am thrilled that we are just days away from the BYO Bag Act going into effect. This legislation is significant from an environmental view because it will eliminate tens of thousands of plastic bags from being distributed in Ulster County on any given day. But perhaps the greater significance is that this legislation was followed by a New York State plastic bag ban which will stop the distribution of millions of single-use plastic bags a day. This Act is a clear example of how our leadership in Ulster County can drive policy-making at the State level. I am proud to not only have helped Ulster County address the issue of plastic pollution but New York State as well."
Judith Enck, Former Region 2 EPA Administrator and founder of Beyond Plastics
"Plastic pollution affects every community, and when it comes to plastic, we can't recycle our way out of the problem – we need to make and use less plastic. I applaud Ulster County for taking this major step forward and helping tip the scales to encourage New York State in its adoption of a statewide plastic bag ban. The only effective way to fight the scourge of plastic pollution is to craft bottom-up solutions that engage our local leaders and the next generation of community members to transition us beyond plastics."
Ericka Dodge, Hannford Spokesperson
"Hannaford is proud to partner with Ulster County to get more reusable bags into the hands of Ulster County families. At Hannaford, we are committed to a greener environment through a number of our efforts, and reducing single-use plastic bags is just one of those ways."
Amanda LaValle, Director of the Ulster County Department of the Environment
"I am so excited to have environmental leaders as well as local businesses help us kick off the BYO Bag Act and continue the public outreach and education efforts that will help ensure this legislation is a success. We have been working hard to get the word out about this new law through traditional and social media, and have posted information for consumers and retailers on our Department of the Environment website. We all know that changing our habits takes conscious decisions at first, but over time, with practice, I'm confident that Ulster County residents will get used to bringing their own bags. And in the process, we'll be doing our part to reduce the enormous impact that plastics have had on our local and global environment."
For more information on the BYO Bag Act, social media links, the full text of the law, as well as answers to many Frequently Asked Question, please visit www.ulstercountyny.gov/BYOBagAct.
###
Photos: 
1) Above: Ulster County Executive Pat Ryan at the podium for the Bring Your Own Bag Kickoff event at the Kingston Plaza on Friday.
 2) Below: Ulster County Executive Pat Ryan shows off one of the Department of the Environment's reusable bags promoting the BYO Bag Act at the Hannaford Supermarket in the Kingston Plaza.