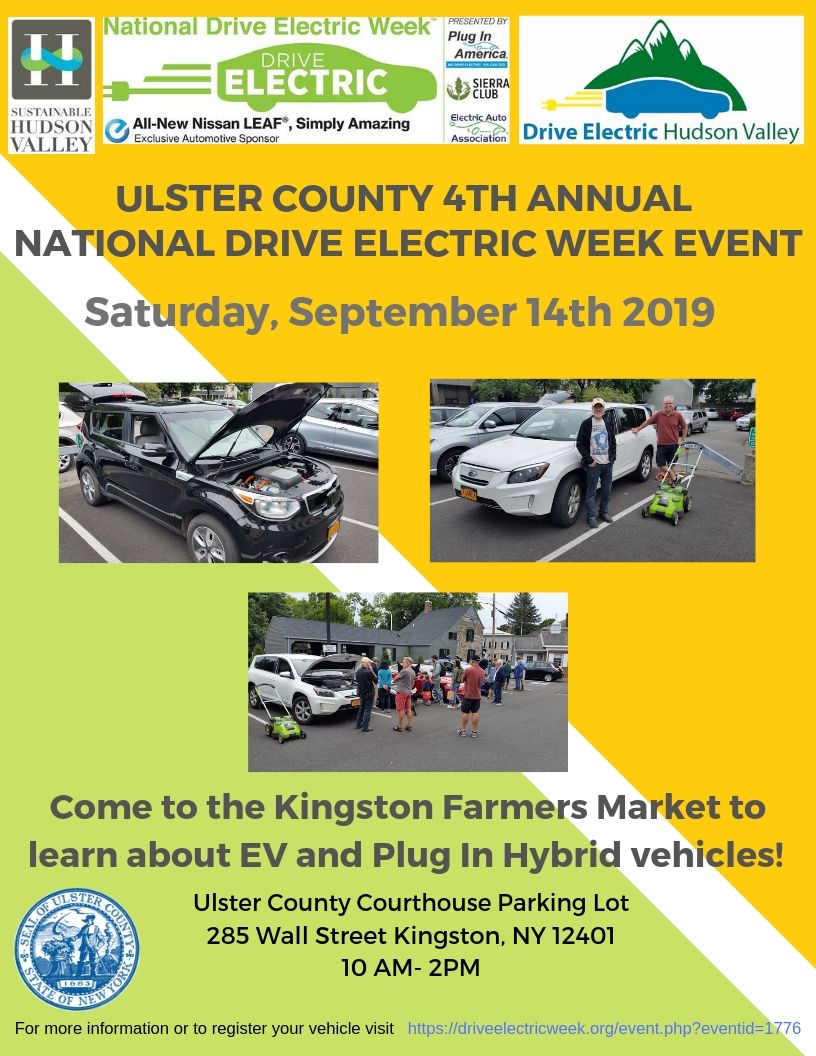 Posted September 12, 2019
The County has been awarded a rebate for clean vehicle purchases under the NYDEC's Municipal Zero-Emission Vehicle (ZEV) and ZEV Infrastructure Rebate Program and will participate in National Drive Electric Week     
Kingston, N.Y. – Ulster County Executive Pat Ryan announced today that Ulster County will be participating in the fourth annual National Drive Electric Week. National Drive Electric Week, which begins on September 14 and runs through September 22, is a nationwide celebration to highlight the benefits of all-electric and plug-in hybrid-electric cars, trucks, motorcycles, and to heighten awareness of the widespread availability of plug-in vehicles and more.
Additionally, it was announced that Ulster County has also been awarded a rebate for clean vehicle purchases under the New York State Department of Environmental Conservation's (NYDEC) Municipal Zero-Emission Vehicle (ZEV) and ZEV Infrastructure Rebate Program. The rebate, which totals $27,500, will go towards ten of Ulster County's clean vehicles. In the letter awarding the grant funding, NYDEC Commissioner Basil Seggos praised Ulster County's leadership in combating climate change and commended the County's initiative to participate in this program which is a part of the State's goal of reducing greenhouse gas emissions 40 percent by 2030.
"Climate change poses an existential threat to our community and I am proud that Ulster County continues to set an example for other counties and municipalities throughout New York by participating in events such as National Drive Electric Week as we push towards a greener, more sustainable future," said County Executive Ryan. "We must do all we can do to lead the transition away from fossil fuels. This begins right here with County government and in our communities." 
"Ulster County was recently awarded funding from the New York State Department of Environmental Conservation through a municipal rebate to help purchase Green Vehicles for our fleet," said Amanda LaValle, Coordinator of the Ulster County Department of the Environment. "The Drive Electric event on Saturday is a great way for the public to not only learn more about the technology and what Ulster County government is doing but also about the incentives and rebates available to the public that can help make Electric Vehicle ownership a reality."
The County will be hosting an event Saturday, September 14 from 10 a.m. - 2 p.m. at the Ulster County Courthouse Parking Lot on Wall Street in Kingston. The Ulster County Drive Electric Week event in Kingston will serve as a way for area residents to see and experience the technology first hand. Area car dealers will be there with electric vehicles which can be test driven and local electric vehicle owners, with their cars, will be there to share more about driving electric.
Ulster County government continues to lead in its deployment of electric vehicles and publicly available electric vehicle charging stations. Ulster County government currently counts 18 electric or plug-in hybrid fleet vehicles. These vehicles cost approximately half of what a traditional vehicle does to operate, and they produce little to no greenhouse gas emissions. Additionally, Ulster County hosts a network of seventeen electric vehicle charging stations at facilities across the County. Ulster County government stations are powered by 100 percent renewable energy and are primarily used to charge County fleet vehicles. They are also available to the public for no charge through a sponsorship by the Ulster County Regional Chamber of Commerce.
One of County Executive Pat Ryan's 'Big Five' priorities is to implement a Green New Deal for Ulster County. Earlier this year, County Executive Ryan committed to supplying 100 percent of Ulster County's electricity usage from locally generated renewable energy sources by 2030.
The September 14th Drive Electric Week Event in Kingston is co-sponsored by Sustainable Hudson Valley. If you already have an electric vehicle or plug-in hybrid (PHEV), Local electric vehicle owners are invited and encouraged to attend. You can reserve a spot to show share your electric vehicle at the auto show. Register your all-electric or plug-in hybrid-electric vehicle here.
###