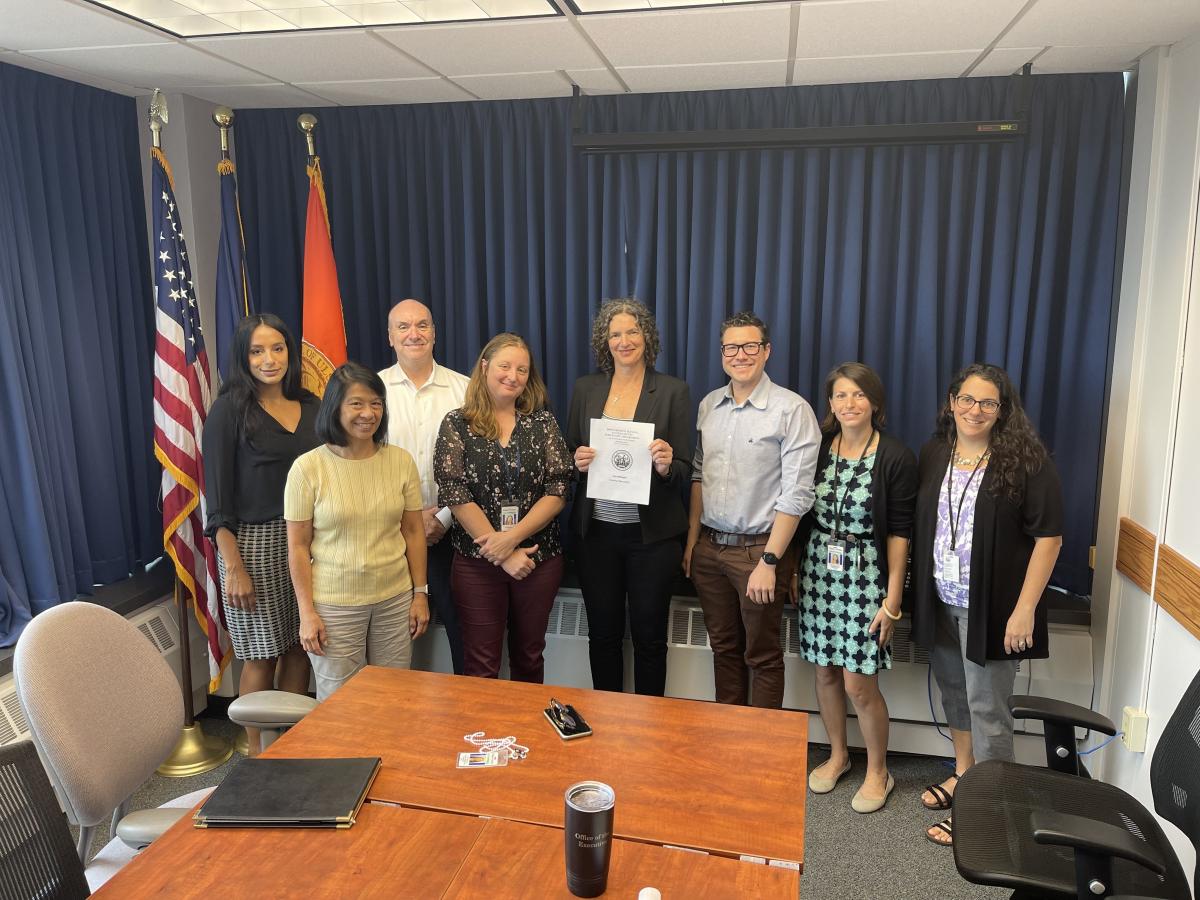 Posted November 16, 2023
KINGSTON, NY - Ulster County Executive Jen Metzger is proud to announce that Ulster County has joined the New York State (NYS) Green Purchasing Communities Program (GPC) as one of seven local governments in the state to join this initiative. The GPC program aligns with Executive Order 1 of 2023, County Executive Metzger's Climate Action Commitment which created a bold climate agenda for Ulster County Government to achieve the goals of the New York State Climate Leadership and Community Protection Act.
"Green Purchasing" entails making informed choices to purchase products that are sustainable and have a lower environmental impact, such as products with reduced packaging or products containing a higher percentage of recycled material content. To become a NYS Green Purchasing Community, a local government must adopt a Green or Sustainable Purchasing Policy. 
In accordance with Executive Metzger's Climate Action Commitment, the Ulster County Department of Purchasing, in collaboration with the Department of the Environment, took the lead in updating its Procurement Manual in May. The update incorporated a Sustainable Purchasing Policy that aligns with the requirements of the statewide GPC program, and in some instances went further by requiring that the County only purchase copy paper with 100% recycled content and refrain from purchasing single use plastics. 
To support the implementation of this policy and track sustainable purchases, the County developed an internal tracking and reporting mechanism and instituted a comprehensive training package for County employees, including a video tutorial and supplemental educational resources aimed at promoting awareness and understanding of sustainable purchasing practices.
"Governments purchase significant quantities of goods and supplies and can play an important role not only in modeling responsible purchasing but also in helping to expand the markets for sustainable products and the new green jobs that come with that," said Ulster County Executive Jen Metzger.  "We are thrilled to join the NYS Green Purchasing Communities Program, and to go even further in setting a high bar for government. We invite fellow communities to join us in creating a more sustainable, healthier environment for our residents and future generations."
Ulster County Director of Purchasing Edward Jordan stated, "We're excited to work with County Executive Metzger and the New York State Department of Environmental Conservation to achieve our goal of making New York a more environmentally sustainable place to live and work. It's been a rewarding experience creating a positive message about the benefits of sustainability to our colleagues in the Ulster County workforce. We look forward to partnering with suppliers and other communities to implement programs that expand the commodity and service procurement pipeline and integrate new standards focusing on sustainability." 
New York State Department of Environmental Conservation Commissioner Basil Seggos said, "Governor Kathy Hochul's ambitious green procurement initiatives are advancing a more sustainable future for New York by directly involving local governments through the State's new Green Purchasing Communities program. I commend Ulster County for serving as an exemplary community leader in their innovative green purchasing programs and look forward to our continued partnership towards reducing greenhouse gas emissions and helping meet many other New York environmental and climate goals."
The Green Purchasing Communities program makes it easy for local governments to adopt and implement purchasing specifications that prioritize products with lower environmental impacts. The GPC program identifies over 75 different GreenNY purchasing specifications covering office and building management supplies, electronic equipment and appliances, food service items, and transportation items. Additional specifications for a wide variety of items frequently purchased by local governments are also available as guidance, as well as ongoing updates for current green purchasing standards that promote public health and environmental sustainability.
Local governments in New York have substantial leverage in minimizing the environmental impact of their purchases and influencing the market's transition toward more sustainable choices due to their significant buying power and scale. For instance, Ulster County's total commodity spending exceeded $18 million in 2022, highlighting the positive influence of the new Sustainable Purchasing Policy.
Ulster County encourages its local municipal governments and fellow NYS counties to join the NYS Green Purchasing Communities Program to further elevate this impact. This achievement also contributes to Ulster County's progress in the NYS Climate Smart Communities (CSC) Certification Program. The CSC Certification program offers local governments a comprehensive framework for climate action and acknowledges high-performing communities for their leadership. Ulster County is currently a silver-level Climate Smart Community.
###
Ulstercountyny.gov
Ulster Essential Category: