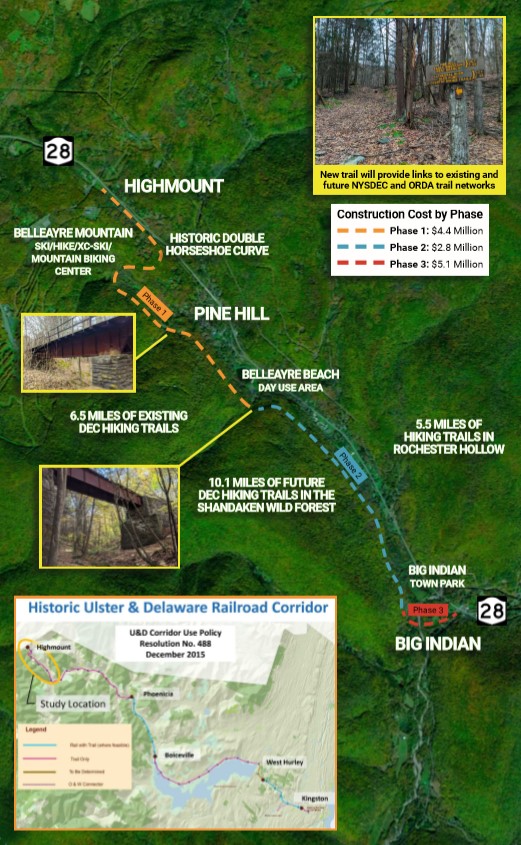 Posted July 1, 2022
Ulster County Executive Pat Ryan announces Ulster County received an award to improve environmentally-friendly modes of travel along the Highmount Trail on the former Ulster & Delaware Railroad corridor
The $3.96 million award will be used to convert 2.5-mile Ulster & Delaware Railroad to a multi-use trail with pedestrian bridges from Highmount to Belleayre Beach in the Town of Shandaken
SHANDAKEN, N.Y. - Ulster County Executive Pat Ryan announced today that Ulster County has received $3.96 million from New York State to convert 2.5 miles of the Ulster & Delaware (U&D) Railroad corridor to a multi-use trail with pedestrian bridges. The funding will be used to promote environmentally-friendly modes of travel on the corridor from Highmount to Belleayre Beach in the Town of Shandaken, reducing greenhouse gas emissions. Once completed, the project will improve connectivity, air quality and public access.
"Ulster County is a statewide leader in investing in our trails and protecting our environment. This award will bolster the economic growth and environmental initiatives that we've seen come through these infrastructure investments," Ulster County Executive Pat Ryan said. "I want to thank Governor Hochul for her recognition of our hands-on approach to reducing greenhouse gas emissions, and thank the Town of Shandaken for their partnership on this project."
"I was pleased to be involved in the feasibility study for the Shandaken Rail Trail as a representative of Catskill Mountainkeeper and now, as Ulster County Legislator for Olive, Shandaken, Denning and Hardenburgh, I enthusiastically applaud the award of funding for the project," Legislator Kathy Nolan said. "New York State's generous award to build the first phase of the Shandaken Rail Trail gives a fantastic boost to the Catskill Park in the rural, westernmost part of Ulster County. This project restores a county-owned corridor and opens it to the public for free year-round use, connecting cross-country skiing and mountain biking activities at the base of Belleayre Mountain to recreational opportunities at Pine Hill Lake and in the Big Indian Wilderness, and eventually to the adjacent Shandaken Wild Forest."
"This is an exciting time for our county, and I am grateful for these funds from New York State for improvements to the Ulster & Delaware Railroad corridor; it will not only increase the beauty and sustainability of our county but also increase the health of our residents," Legislator Gina Hansut, Deputy Chair of the Energy, Environment, and Sustainability Committee, said. "I appreciate everyone's hard work and diligence so we can continue to enjoy this railroad corridor and preserve part of our county's history."
"We are excited to see Ulster County's multi-use trail development continue to improve," said Mike Pratt, ORDA (Olympic Regional Development Authority) President & CEO. "Belleayre Mountain's beach, hiking, and year-round activities are all located within the region's trail network, which enhances the experience for everyone. ORDA looks forward to furthering the important community partnerships that will build upon the area's sustainable outdoor recreational opportunities for years to come."
"The Ulster County Trails Advisory Committee (UCTAC) is delighted by Ulster County's success in securing funding to preserve, restore and repurpose this historically unique and important section of the County's abandoned Ulster & Delaware rail corridor, including the iconic Giggle Hollow Trestle and famed double-horseshoe curve above Pine Hill," said Kevin Smith, Chair of UCTAC. "It's impossible to overstate the many active recreation/transportation connections and opportunities the Shandaken Rail Trail will make possible between Belleayre Beach, Pine Hill, Belleayre Ski Center and other New York State lands and trails. We're excited about the project and deeply grateful to Governor Hochul, County Executive Pat Ryan, the UCTC (Ulster County Transportation Council), DOT Commissioner Dominguez and state officials for their recognition of its importance for Ulster County, the Town of Shandaken, Belleayre Ski Center and the Catskill Region."
Funding was recently announced by Governor Kathy Hochul for projects that promote environmentally-friendly modes of travel. Ulster County's project was selected through a competitive solicitation process and received one of the largest awards for the region. The funding, which provides up to 80 percent of total project costs, is made available through the Federal Highway Administration and administered by the New York State Department of Transportation (DOT). TAP awards are typically a 3-year process, with preliminary and detailed design taking place in the first two years. It is anticipated that construction activities will be completed near the end of 2024.
Ulster County's project proposal was based on a Shandaken U&D Feasibility study, which was completed by the Ulster County Transportation Council in 2021 with support from the NYSDEC, ORDA, Town of Shandaken, Catskill Mountainkeeper and Woodstock Land Conservancy. The award will implement Phase 1 of the project - a 10-12 foot wide stone dust trail from Big Indian to Highmount along the former U&D right of way. The project offers an opportunity to access the Shandaken Wild Forest area with its expansive network of hiking, mountain biking and cross country trails, as well as provides access to the adjacent Belleayre Mountainside. The project will act as a regional economic driver adding a sustainable attraction for users of all abilities within the area, and provide economic opportunities through increased recreational tourism. The U&D corridor will also connect the local communities of Big Indian and Pine Hill to the established facilities and offer an alternative option to hike, bike or commute between these facilities and communities. The project increases the use of non-vehicular transportation alternatives, reducing vehicle emissions and mitigating traffic congestion. The total project cost is $4.95million: 80% federal share is $3.96m; county share is 20% or $990,000. 
Ulster County recently completed the conversion of 11.5 miles of the same U&D railroad corridor along the Ashokan Reservoir from West Hurley to Boiceville into a world class trail. The Shandaken Rail Trail looks to build upon the success of the Ashokan Rail Trail while also recognizing the identity, unique features, character and history of this Shandaken section of the U&D Corridor.  
The 2022 Ulster County Executive Budget builds on growing trails infrastructure investments across the county, dedicating $1.9 million dollars to substantially improve two of the major recreational rail trails in Ulster County and complete ongoing work that has spanned over a decade.
###