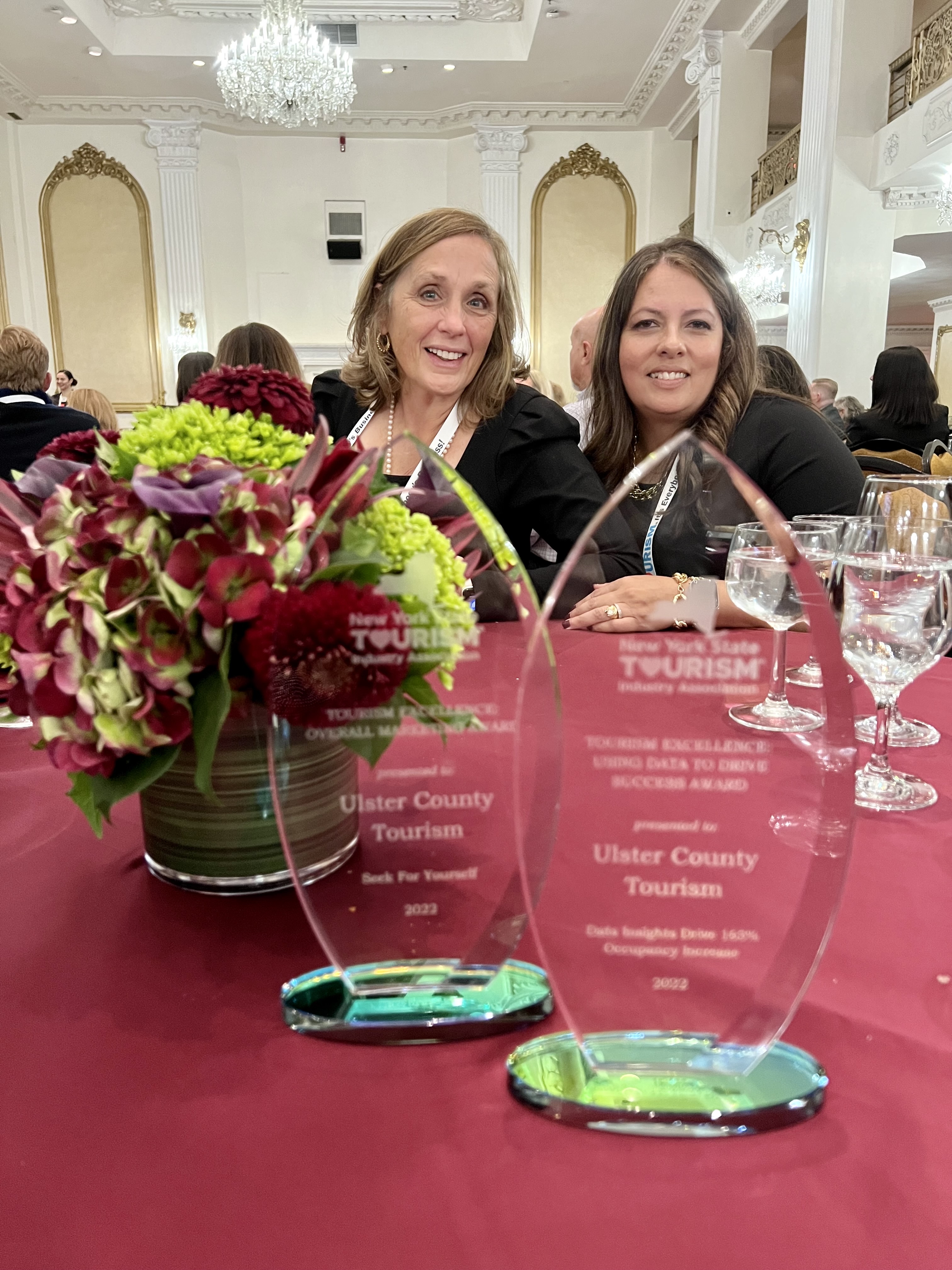 Posted November 3, 2022
Ulster County represents 44% of all visitation to the Catskills and visitor spending is up 126% from 2019
Ulster County Tourism Department wins two New York State Tourism Excellence Awards
Ulster County Tourism Department unveils a redesigned tourism website that's even more user-friendly and features trip planning tools 
Revenue from the tourism sector provides funding for other County initiatives like affordable housing, mental health and emergency services 
KINGSTON, N.Y. - The Office of the Ulster County Executive announced today that Ulster County represents 44% of all visitation to the Catskills and visitor spending is up 129% from 2019, according to the latest data from I Love NY Tourism. Hotel Occupancy Taxes collected by the County increased 65.2% from 2019, setting an all time high of over $3.3 million. As the Ulster County tourism industry continues to grow, the economic benefits have helped to generate additional sales tax collections, which grew by 27.1% in 2021 and 121.5% from 2019. Revenue from the tourism sector provides funding for a wide range of County initiatives including affordable housing projects, mental health services, emergency services, and more.  
Last week, the Ulster County Tourism Department accepted two 2022 New York State Tourism Excellence Awards - Excellence in Overall Tourism Marketing: "Seek for Yourself" Campaign; and Excellence in Tourism Marketing Campaigns, Projects & Programs: Creative Use of Data to Drive Success. The 2022 New York State Tourism Excellence Awards are juried from a pool of nominations for programs and projects whose implementation began during the calendar year of 2021. Nominated projects, programs, campaigns, organizations and individuals must be connected to the advancement of the tourism industry in New York State.
Additionally, the Ulster County Tourism Department unveiled a new Ulster County Tourism website with a data-driven design that's intuitive and easy to use. QR codes in the Ulster County Tourism Travel Guide and other Tourism publications will connect visitors more quickly with the information they need. The new website, visitulstercountyny.com, is user friendly, with features like trip planning tools, accommodation booking and links to parking reservations at popular area parks.
"People love to visit Ulster County to experience our natural areas, arts and cultural activities, acclaimed restaurants, and relaxing retreats." Acting Ulster County Executive Johanna Contreras said. "These offerings attract visitors from around the world and also drive our economy, providing thousands of jobs and generating revenue. We are excited to be launching a new website and to receive recognition for our tourism marketing efforts."
"Over the course of the pandemic, people sought refuge in our beautiful open spaces and warm hospitality, and that's evident in the latest data," Ulster County Legislator Brian Cahill said. "The website will be a critical tool to allow people from an ever-growing market area to connect with our great outdoors, our unique farm to table experiences and to engage in experiences that provide wellness, musical and artistic renewal while visiting here."
"The fall harvest season is fantastic here in Ulster County. People flock here to pick apples, enjoy cider donuts, and choose the perfect carving pumpkin. Making family memories is what our agritourism businesses are all about," said Ulster County Legislator Herb Litts. "The new Ulster County Tourism website really showcases our bounty, and I'd encourage folks to check out the Things To Do section, which has a specific page just for our farms and fresh produce, making it easy for people to find all that is grown in our fields." 
"We are delighted by this investment in our hospitality and tourism industry, which has seen fantastic growth in recent years," Tamara Murray, Marketing and Sales Director of the Emerson Resort & Spa and board member of the Ulster County Lodging Coalition, said. "The unique layout and design makes the new Ulster County Tourism site stand out from other destination websites. Its intuitive interface, easy to use online booking system and new calendar with mapping capabilities and event suggestions, will all help our guests enjoy their stay and find more things to do while here." 
"Our guests are looking to explore the great outdoors, but with every luxury of staying at your favorite hotel or bed and breakfast,'' says Taylor Davis, Vice President of Brand Marketing at AutoCamp. "AutoCamp provides an outdoor boutique hospitality experience in some of the most iconic destinations across America. We chose our Catskills property so guests have the opportunity to explore the region during all four seasons whether they enjoy the chill of the winter snow, or the warm glow during the summer months."
"It's not surprising that tourism is up in Ulster County; as a premier location nestled between the Catskill and Shawangunk Mountain ranges where every level of camper can spend time, we know all there is to enjoy here," said Patrick Welton, Area General Manager of Rondout Valley Campground. "We love the layout of the new Ulster County Tourism website! It's so easy to find fun things to do with families, and the calendar of events with photos really make people want to experience all that is going on here."
The Office of Tourism analyzed web traffic data and designed a website that has the look and feel of familiar social media platforms and is responsive to the behavior of mobile device users. The new website is easy to use, so visitors can easily find accommodations, food and drink, indoor and outdoor experiences and attractions, shopping and more, in and around Ulster County. 
Visit the new Ulster County Tourism website at https://visitulstercountyny.com/ 
In 2021, visitor spending and tourism-related jobs in the Catskill Region (Ulster, Sullivan, Delaware & Greene Counties) grew to $1.9 billion and 16,348 jobs respectively. Ulster County represents 44% of the region's tourism sales, with $862 million in direct tourism spending. Relative to 2019, Ulster County's Visitor Spending has increased 125%, with 2021 seeing an  unprecedented year-over-year growth of 76.2%. 
Tourism is also an important generator of jobs, as well as state and local taxes. In 2021, Ulster County produced the most tourism-related jobs in the Catskills region (7,726 jobs) representing 14% of all jobs in the county in 2021. The county also constitutes 43.4% of the Catskill region's tax base. Ulster County generated over $46 million (a 58% year-over-year increase) in state taxes and more than $54 million in local taxes. 
View the I Love NY Tourism report here.
Photo caption: Director of Tourism Lisa Berger and Deputy Director of Tourism Natalie Michael accepted on behalf of Ulster County two 2022 New York State Tourism Excellence Awards
###