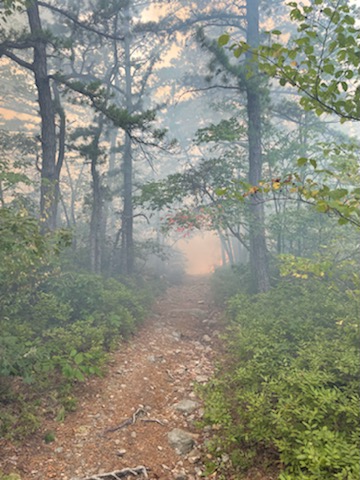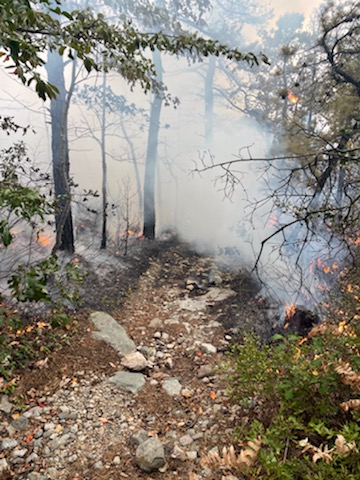 Posted August 31, 2022
A rain storm last night did not extinguish the Napanoch Point Fire, however it did slow the fire's spread and is buying firefighters more time to put in containment lines
Yesterday, two Blackhawk helicopters and two New York State Police helicopters conducted over 160 bucket drops
More than 200 firefighters led by DEC Forest Rangers are working on three fires on the Shawangunk Ridge
Ulster County, DEC and State Parks hosted a meeting to update the community on the Napanoch Point Fire at Minnewaska State Park Preserve
ELLENVILLE, N.Y. - A rain storm last night did not extinguish the Napanoch Point Fire, however it did slow the fire's spread and is buying firefighters more time to put in containment lines. The Napanoch Point fire has grown to an estimated 270 acres. Due to changing fire and weather conditions, containment of the Napanoch Point Fire is unknown at this time. Yesterday, two Blackhawk helicopters conducted 82 bucket drops, and two New York State Police helicopters conducted 87 bucket drops.
More than 200 firefighters, led by Department of Environmental Conservation (DEC) Forest Rangers, are working on three fires on the Shawangunk Ridge: the Napanoch Point Fire, the Stony Kill Fire and the Wurtsboro Fire in Sullivan County. The Stony Kill Fire in Minnewaska State Park Preserve is 1.5 acres and 95% contained. Minnewaska State Park Preserve remains closed to all visitors at least through Labor Day weekend.
Last night, over 100 people attended a community meeting in person at Ellenville Junior/Senior High School Auditorium and through Facebook live, which was organized by Ulster County Department of Emergency Services, New York State Department of Environmental Conservation (DEC) and Office of Parks, Recreation and Historic Preservation (OPRHP). The coordinated fire response team leadership presented up-to-date information and answered the public's questions. 
Regular updates on the status of the fire response will be posted on Facebook, Instagram and Twitter @UlsterNY.
Call 911 to report a wildfire. For general questions or concerns, call the Ulster County Service Center at (845) 443-8888, Monday-Friday, 9:30am-4:30pm.
Photos: New York State Parks Park Supervisor Zach Wesley-Krueger photographed the Napanoch Point Fire and firefighters on August 30th, 2022
###