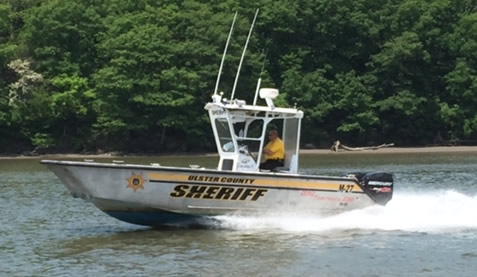 The Ulster County Sheriff's Office monitors Marine Ch. 16.
The Navigation Unit patrols 55 miles of the Hudson River from Catskill south to Newburgh. Members monitor transient and recreational boats sailing from the numerous Hudson River marinas, plus marinas from the two major navigable tributaries, the Rondout and the Esopus.   With an increased focus on educating the public in developing safe boating habits, unit members strive to maintain the safest Ulster County waterways possible.
The Navigation Unit operates one 27 foot custom built aluminum hulled patrol powered by two 200HP outboards, one 22 foot walkaround cuddy cabin Chris Craft powered by 200HP Mercury outboards, one 27 foot Justice Series Boston Whaler powered by two 150HP outboards on loan to the Sheriff's Office from NYS Parks & Recs, and two personal watercraft Jet Skis purchased with a grant from the NY/NJ Port Authority. These vessels are placed in the water at "ice-out."
In service from Memorial Day until Labor Day, marine law enforcement trained deputies monitor the boating traffic and marinas on the Hudson River and are available for water emergencies 24 hours a day. Duties such as BWI enforcement, performing vessel safety inspections, addressing navigation and environmental law violations, assisting boaters in distress and handling vessel accidents are routine.
As an active participant in the Hudson River Marine Task Force, the Navigation Unit shares with other similar units its mission to enhance police and emergency response services to the public on the Hudson River Estuary through improved communication, coordination, training, planning, deployment, and resource utilization for the long term protection of natural and human resources.
As a member of the New York State Office of Parks, Recreation and Historic Preservation Navigation Law Enforcement Program, the Sheriff's Office receives a percentage reimbursement for unit funding from that agency.
Links of Interest
NYS Parks – Marine Law Enforcement