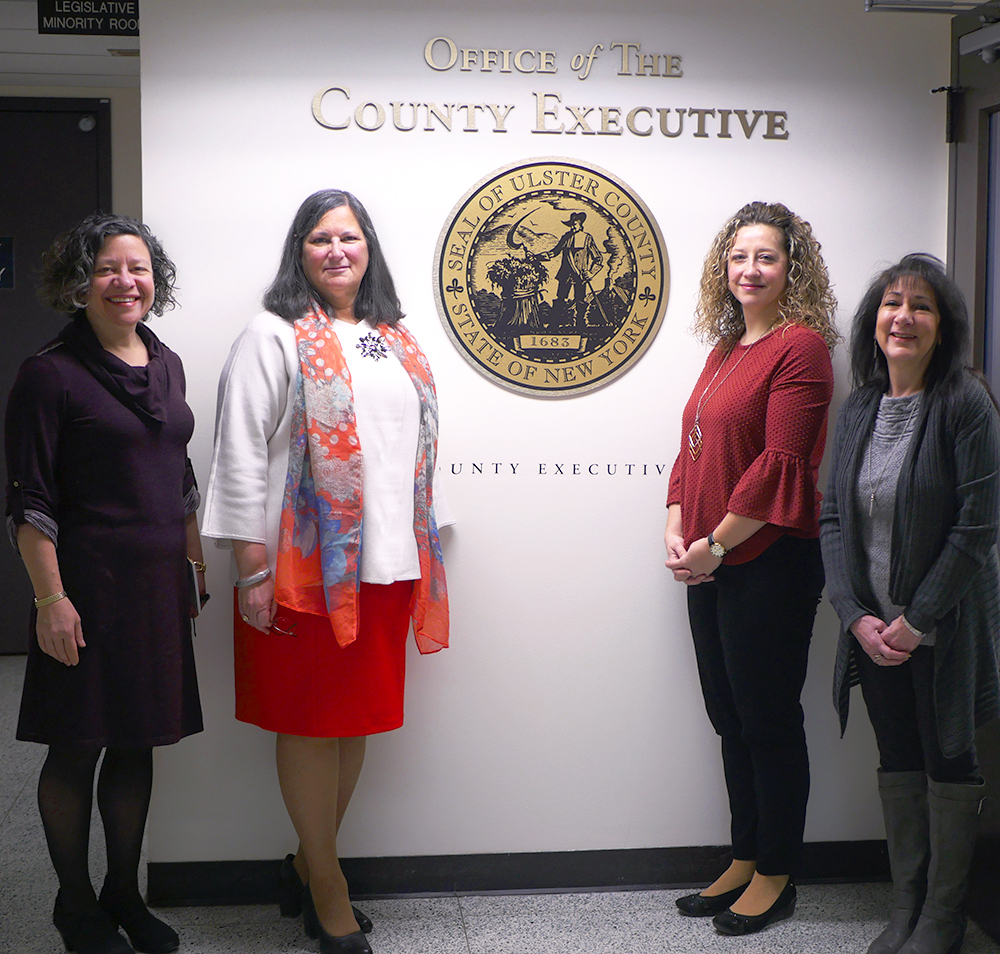 Posted March 4, 2019
Office Of Economic Development Is Second In Ongoing Series Aimed At Building Public Awareness Of Services Provided By Ulster County
DID YOU KNOW: The Ulster County Office Of Economic Development Assists Businesses, Not For Profits And Local Municipalities Working To Grow Our Economy
KINGSTON, N.Y. – Acting Ulster County Executive Adele B. Reiter announces the launch of a new e-newsletter targeting Ulster County businesses. This publication is intended to be another way the Office of Economic Development (UCOED) informs the business community—both here in Ulster County and beyond—about local successes, reminds everyone about the services of the Office and encourages potential and existing business owners to take advantage of these offerings. 
The UCOED assists businesses looking to start in, relocate to, or expand in Ulster County. UCOED staff are knowledgeable about funding sources, including available grants and tax incentives.  They also frequently help businesses with workforce needs, business planning and development, finding the perfect location and general business counseling.  
Acting Ulster County Executive Adele B. Reiter  
"The staff of the Ulster County Office of Economic Development provides an invaluable service to our business community," said Acting Ulster County Executive Director Adele B. Reiter. "The primary mission of this Office is to provide essential services to existing businesses that require assistance to expand or strengthen their offerings.  The Office is also charged with attracting new businesses to Ulster County. This e-newsletter serves both functions and is a welcome addition to the services provided to our primary growth industries of niche manufacturing, craft food and beverages, technology and filmmaking." 
The first issue of the UCOED newsletter highlights a business, Found My Animal, that was well established in Brooklyn prior to moving to Midtown Kingston to expand their capabilities. Found My Animal worked closely with the Ulster County Career Center to hire a new team of local employees and is now a tenant at The Fuller Shirt Building, which houses over a dozen Ulster County businesses including River Radiology and several creative and professional companies. Architect Scott Dutton is continuing to renovate the 67,000 SF building, of which roughly 15,000 SF remains available with full occupancy anticipated by year's end.  
The UCOED newsletter also features a range of businesses that have been assisted by the UCOED including a 75-acre, shovel-ready commercial brownfield site in Ellenville; Viking Industries in New Paltz; and Arrowood Farms in Accord. And it promotes a free March 21 event to inform businesses about how they can provide services to filmmakers shooting in Ulster County.  The February 2019 issue of the UCOED newsletter is available online at https://bit.ly/2TloHKV.
Suzanne Holt, Director of the Ulster County Office of Economic Development  
"Many businesses rely upon the expert services provided by our staff, including assistance finding a location, developing a business plan, applying for funding incentives, identifying qualified job applicants, and making introductions to professionals and colleagues who can help them grow their businesses," said Suzanne Holt, Director of the Ulster County Office of Economic Development. "I encourage business owners and not for profit leaders to reach out to me at (845) 340-3556 to discuss their needs. We are happy to assist." 
Since Holt became Director of the UCOED in July of 2013, she and her dedicated staff have worked with more than 1,500 new and existing businesses and not-for profit organizations in Ulster County.
Mike Patton, Founder and CEO, Yoga Vida Farms 
One local business owner, Mike Patton, Founder and CEO of Yoga Vida Farms, will open a new retreat center and B&B on a 62-acre estate in Wawarsing this spring. The retreat center will offer a three-acre farm, 3,000 SF greenhouse, farm-to-table dining, yoga classes and other amenities for up to 20 guests at a time, and he will hire at least nine employees to run the operations.  
Patton began working with UCOED staff two years ago, and purchased the former Lundy Estate in March 2018. "Suzanne and her staff have been extremely helpful as we've gone through the process of getting our feet under us," he said. "She introduced us to members of the local community, and identified state and county tax incentives. With her assistance, we received a $23,000 grant through the Ellenville Million Fund, and were able to secure a $150,000 loan from Ulster County's Revolving Loan Fund, both of which are administered by the Ulster County Economic Development Alliance. "I have a list on my laptop of things she told me to do from nine months ago," he added, "and I'm ticking things off in anticipation of our opening this spring." 
For more information about the business services provided by the UCOED, please visit https://ulstercountyny.gov/ulsterforbusiness/services. If you would like to receive the e-newsletter, please send an email to oed[at]co.ulster.ny[dot]us or call (845) 340-3556.  
Pictured above from left to right: Suzanne Holt, Director of the Office of Economic Development; Acting County Executive Adele B. Reiter; Kayleen Scali, Confidential Secretary; and Bernadette Andreassen, Senior Economic Developer. Not pictured: Evelyn Heinbach, Senior Economic Developer.