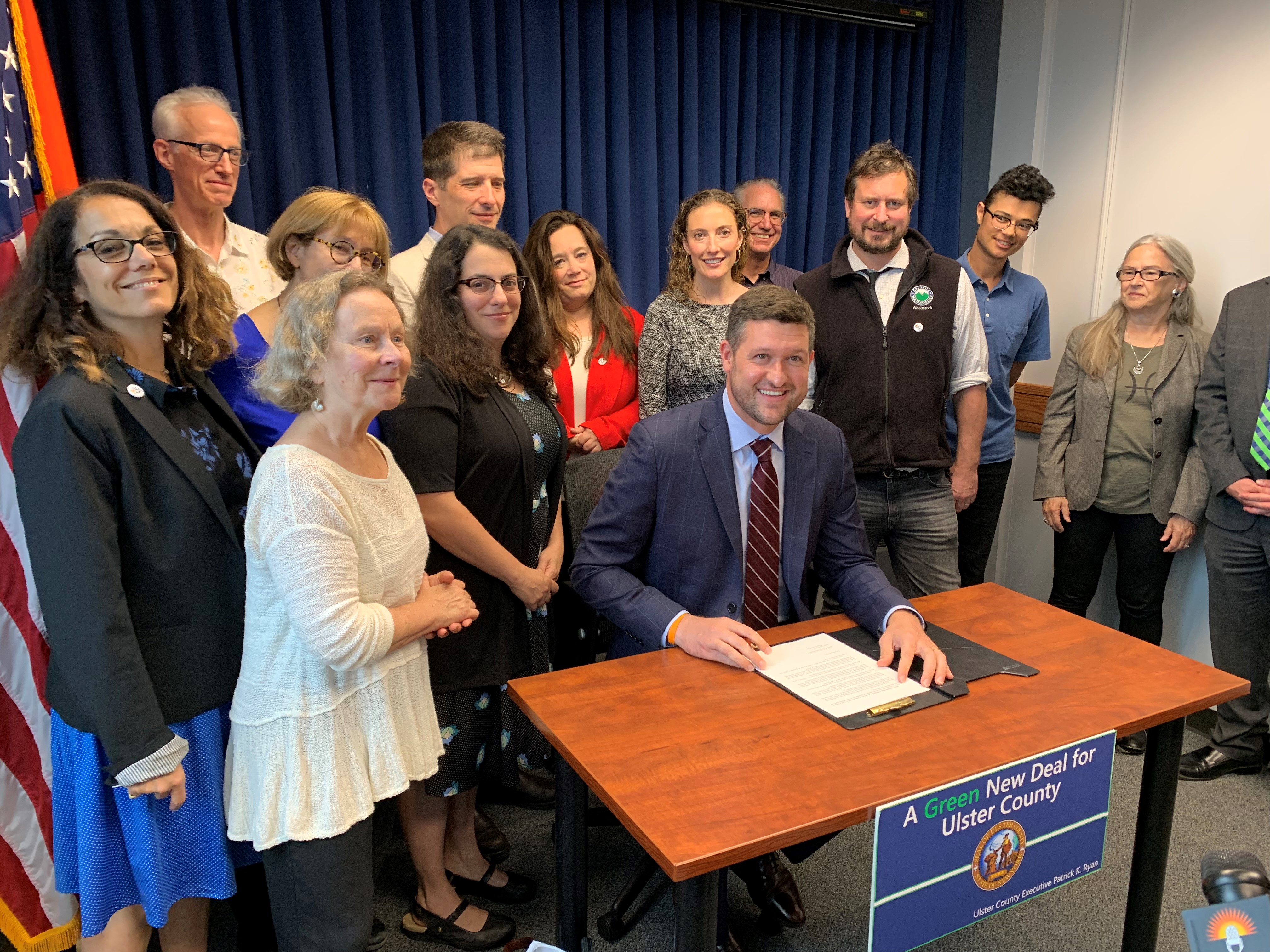 Posted June 18, 2019
First Executive Order from County Executive Pat Ryan Advances Campaign Promise of A New Green Deal for Ulster County
KINGSTON, N.Y. – With environmental leaders from throughout Ulster County in attendance, Ulster County Executive Pat Ryan signed his first Executive Order on Tuesday. Executive Order Number 1 of 2019 establishes ambitious new goals for the County's ongoing efforts to combat climate change, including community-wide greenhouse gas emissions targets and the adoption of the Ulster County Climate Action Plan. The order represents a significant first step by County Executive Ryan to follow through on a key component of his campaign platform and positions Ulster County to maintain its advantage as a leader in the emerging green economy.
Ulster County Executive Patrick K. Ryan
"Climate change poses an existential threat to the residents and communities of Ulster County, and it is essential that we join the fight, at all levels of government, to mitigate its devastating impacts," said County Executive Pat Ryan. "Our environment – from the Hudson River to the Catskill Mountains, from the Shawangunk Ridge to the Wallkill and Rondout Valleys – is central to our way of life in Ulster County, and we have an obligation to protect it for future generations. And in doing so, I'm confident we will continue to lead other counties throughout New York and the nation towards a greener, more sustainable and resilient future."
The Executive Order includes an aggressive goal to supply 100% of the electricity consumed by the County's buildings and fleet from locally-generated, renewable sources. In addition to establishing new goals that push Ulster County's environmental efforts to new levels, the Executive Order sets the stage for several concrete steps to accomplish these goals. 
At the signing, County Executive Ryan announced a major new County solar project that will double the amount of renewable energy generated by Ulster County, increasing renewable generation from 20% of the County's use to 40%. The project is planned for a brownfield site in the Town of Saugerties and planning and pre-construction assessments are already underway, with a request for proposals for site development planned for release this summer.
"We can and must do more to lead the transition away from fossil fuels," continued County Executive Ryan. "This project is another example of the best form of solar development – we are taking an abandoned tire dump that was foreclosed due to back taxes and turning it into a positive asset for our County, with no net cost to County property taxpayers. In doing so, we are proving to other municipalities throughout New York State that these projects are within reach. We can move to a more sustainable future while also being fiscally-responsible and enhancing quality of life for our communities."
Amanda LaValle, Director of the Ulster County Department of the Environment
"Ulster County has been recognized by the NYS DEC and the US EPA for its commitment to renewable electricity," said Amanda LaValle, Director of the Ulster County Department of the Environment. "This new Executive Order represents a major step toward a greener future for Ulster County by setting bold goals for greenhouse gas emissions reductions and renewable energy across all County operations, including the County's 45 buildings and more than 450 vehicles, including three dozen buses. Achieving these goals is absolutely necessary in order for Ulster County to continue to model for other communities how local governments can respond to the call for a Green New Deal to combat climate change."
Andy Bicking, Director of Public Policy, Scenic Hudson
"I am thrilled to see Ulster County Executive Pat Ryan keep good on his commitment for a Green New Deal for Ulster County. Today's announcement sets an aggressive agenda for the County to achieve 100% renewable energy by 2030, backed by real, decisive action to transform a neglected piece of land into a productive community asset."
Betta Broad, Director, New Yorkers for Clean Power
"I am incredibly excited that County Executive Pat Ryan is moving Ulster County towards a 100% renewable energy future. This project is a major step forward showing the power of local leadership in the transition to a cleaner, greener New York."
Key provisions included in Executive Order Number 1 of 2019 are summarized below:
Ulster County shall endeavor to supply 100% of its building and fleet electricity annual usage from locally generated renewable energy sources by the year 2030.  
The Department of Environment, in coordination with the Departments of Purchasing, Planning and Public Works, will begin implementation of the 2019 Climate Action Plan, which includes dozens of action steps to further reduce the County's carbon emissions from operations in order to meet the County's carbon emission reduction goals, drive deployment of clean technology and improve climate resilience.
A full copy of the order is available online at https://ulstercountyny.gov/environment.
###
Photo: County Executive Ryan signs Executive Order 1 of 2019, which sets a goal for the County to produce 100% of its electricity from renewable resources by 2030.