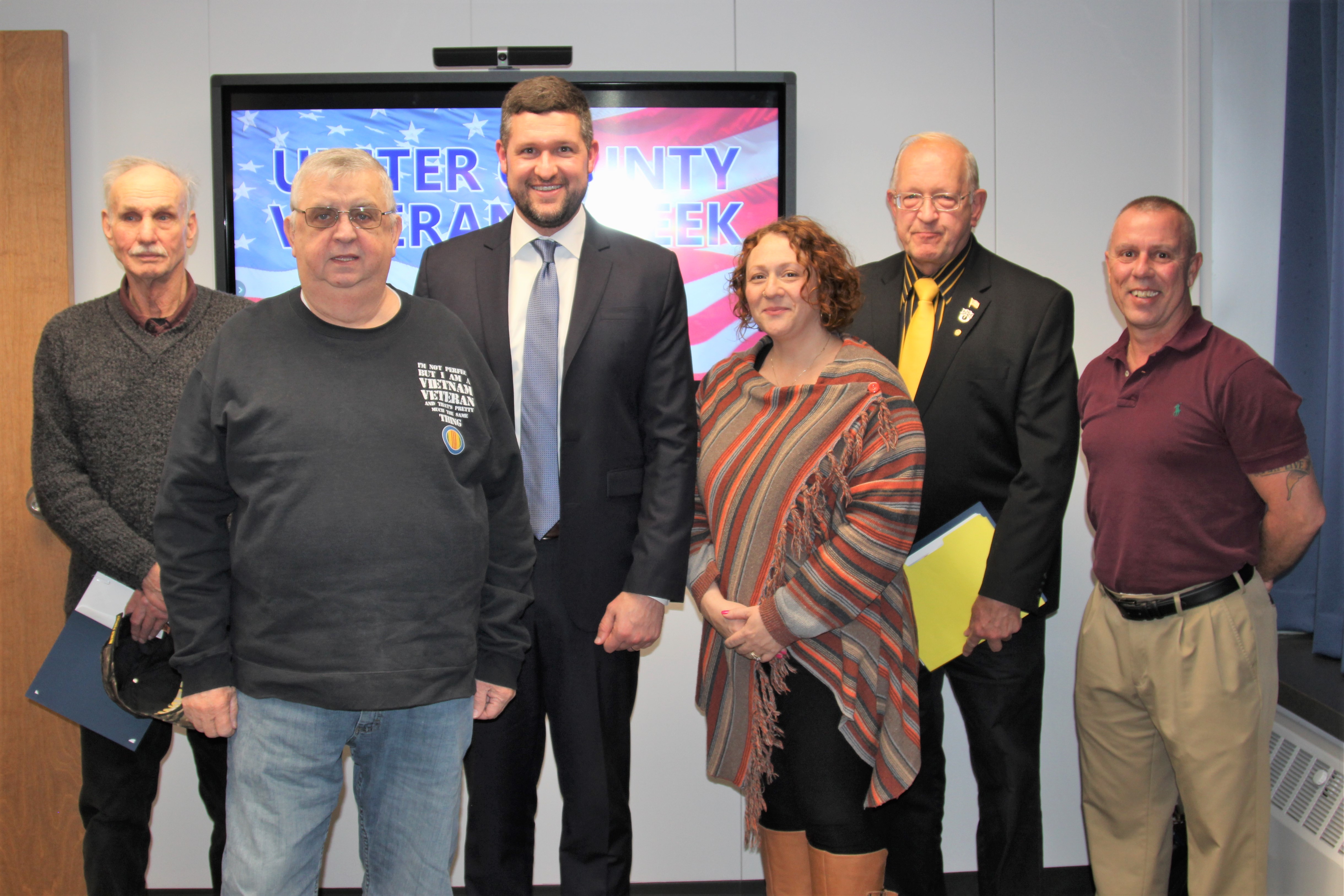 Posted November 15, 2019
County Executive Pat Ryan proclaimed on Veterans Day the first-ever Ulster County Veterans Week to acknowledge the extraordinary service of the 13,000 veterans and their families that call Ulster County home. As a part of Ulster County Veterans Week, County Executive Ryan honored five veterans for their outstanding service and contributions to the community. The veterans were selected by a county-wide call for submissions to highlight the work of individual veterans who were nominated by community members to be recognized for their selfless service to our country and our county.
"As the County Executive and as a combat veteran, it is a privilege to recognize the hard work of these veterans who have served our country and continue to serve Ulster County," County Executive Ryan said. "Their continued work is a humbling reminder of what it means to be a servant leader and the importance of working to enhance one's community."  
The nominees were featured across Ulster County Government social media and were honored by County Executive Ryan and newly appointed Ulster County Veterans Services Agency Director Mark Cozzupoli to discuss their service and how the County can continue to support our veterans. Honorees also received generous gift certificates to Frank Guido's Little Italy. 
As a part of Ulster County Veterans Week, County Executive Ryan toured the Patriot Project and attended the City of Kingson's Veterans Day Ceremony, Ulster County Veterans Services Agency Veterans Luncheon at Golden Hill, and the NYSERDA Clean Energy Veterans' Mini Job Fair. Ryan also announced the appointment of retired Command Chief Mark Cozzupoli to be the new Director of the Ulster County Veterans Services Agency. After over two decades of service, Cozzupoli recently retired as the highest-ranking enlisted person in the 105th Airlift Wing, Stewart Air National Guard Base in Newburgh, N.Y. County Executive Ryan also recently announced plans for the creation of a Memorial Pavilion at the Ulster County Veterans Cemetery located at the New Paltz Rural Cemetery. Ryan is a graduate of West Point and served two combat tours in Iraq. 
The honorees include:
Rich served in the Army from 1983-1985 as an Army 91 Bravo Combat Medic. He now lives with his wife in Saugerties. He is a Senior Crisis Intervention Specialist at the Rondout Valley High School. He is the President of the American Cruisers Motorcycle Club Worldwide, Chapter 123, and has worked with the Rondout Valley Food Pantry to create events and programs that help feed children in the community. As noted by his nominator, "He is an incredible role model, mentor, and support to the students he works with."
Nicole, a resident of Lloyd, served in the Navy for six years where she was awarded medals in Overseas Service. Nicole owns a business, One EPIC Place, that aims to foster a community where local entrepreneurs can work, play and thrive. She is a Wellness Warrior and helps support and empower others to foster a sustainable healthy and healing way to live their lives. Nicole currently serves as the President of Board of Directors of the Arts Community and Chair of the WOW Committee of the New Paltz Chamber of Commerce. As noted by her nominator, "She is fueled by a desire to help others, to create awareness about so many things that are not in populous mainstream cultural consciousness, to create community, and to inspire others to take control of their own lives."
John proudly served our Country in the United States Army from 1965 – 1967 during the Vietnam War. While deployed in Vietnam from 1966-1967, John earned a Bronze Star Medal, multiple service medals, and a Combat Infantry Badge for his meritorious service in a combat zone. John resides in Port Ewen and is the first generation in his family to serve in the military. He leads by example in his unwavering dedication to his Country and County. 
Tom, a Phoenicia resident, served in the United States Army for over 37 years. Tom is a Green Beret and Vietnam Veteran. After serving his Country in Vietnam he went on to continue his service as a judge, lawyer, scoutmaster, mentor, volunteer with Shandaken ambulance, and has hosted foreign exchange students. As noted by his nominator, "He has dedicated his life to our country and its citizens. He has never asked for anything in return, he is humble and generous. A true representation of Service to country."
Ray is a Phoenicia resident who served 18 months over two combat tours during the War in Vietnam. Ray has been actively attending retreats and seminars for veterans since and now spends much of his time assisting other veterans. He recently attended a retreat in Philadelphia  where he attended a training to become a Warrior Writers facilitator. He plans to bring this program back to Ulster County through the Hudson Valley Center for Veteran Reintegration to help veterans express themselves through writing.
###
Photo with honorees from right to left: (Ray Cocks, John Rylewicz, County Executive Ryan, Nicole Langlois, Tom Crucet, Rich Gohl)