Journey of the Forgotten Children
The rules and regulations establishing poorhouses provided that children were to be educated and redeemed. Sadly, this practice proved to be more in theory than in fact. According to the 1874 Annual Report of the NYS Commission of Public Charities, County poorhouses were totally unsuitable places to rear and educate children.
Degrading and vicious influences surround them in these institutions, corrupting to both body and soul. They quickly fall into ineradicable habits of idleness, which prepares them for a life of pauperism and crime. Their moral and religious training is in most cases, entirely neglected, and their secular education is of the scantiest and most superficial kind. Self-respect is, in time, almost extinguished, and a prolonged residence in a poorhouse leaves upon them a stigma, which clings to them in after years, and carries its unhappy influences through life.
In 1875, the New Paltz Independent, a local New Paltz newspaper, published an excerpt of the annual report of the State Board of Charities reviewing the plight of the county's children.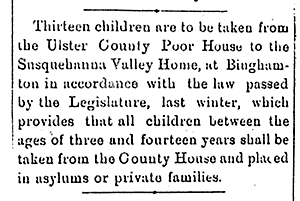 In response to the Commission's Report, the New York State Legislature passed the 1875 Children's Act which ordered the removal of all children between the ages of three and sixteen from poorhouses. The children residing at the Ulster County Poorhousewere subsequently removed to the Susquehanna Children's Home in Binghamton, NY, more than 150 miles away. According to the March 2, 1876 New Paltz Independent (right), thirteen children were to be taken to Susquehanna. Once there, the children would most likely never see their parents again. Little four-year-old George Davis was sent to the Susquehanna Valley Home on April 23, 1877 and was indentured out a year later. George's indenture would last for 17 more years, when George would have been 21 years old.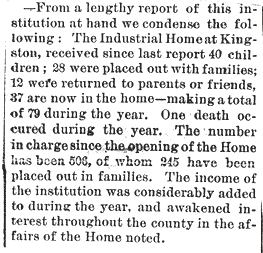 By 1880, the children of Ulster County would be sent directly to the Industrial Home of Kingston (photo below). The Home had been established in Dec. 1876 "as a house of temporary relief to the Alms House, which is reported as being now burdened against the law of the state with a considerable number of children above three years of age." By 1886, there were only seven children from Ulster County remaining at the Susquehanna Home in Binghamton. These children were brought back to Ulster County during the winter of the same year and admitted to the Industrial Home in Kingston (left, New Paltz Independent Feb 11, 1891). Many of the children placed in the Industrial Home eventually became riders on the Orphan Trains and moved to the Midwest. For more information on the Orphan Trains, log onto http://www.orphantrainriders.com/Menu.html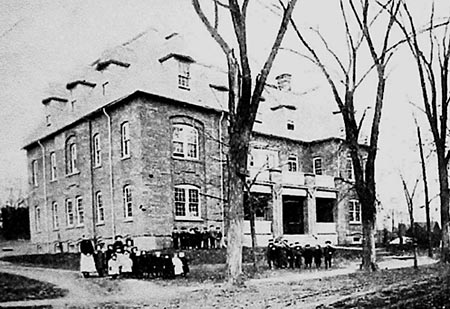 Industrial Home in Kingston