Ulster County Sheriff's Office was established in 1661 and services an area of 1161 square miles. This includes a total 55 different locals with a population of approximately 180,000 residents. Each County Sheriff is responsible for the operation of the county jail. The Sheriff is responsible to assure that all incarcerated individuals are kept secure and properly cared for. The Sheriff must continually conform to numerous rules and regulations set forth by NYS Corrections Law and the New York State Commission of Correction, such as providing contact visitation, education and rehabilitation.
In order to provide a safe and secure correctional institution for inmates, the Sheriff's Office employs full and part-time correctional personnel. These positions consist of correction officers, corporals, sergeants, lieutenants, wardens and a superintendent.
Corrections Officer Pay
Starting Pay $24.10 Hourly – (Over $50,000 Annually)
5 Years Pay $30.12 Hourly -- (Over $62,000 Annually)
Top Pay $36.13 Hourly -- (Over $75,000 Annually)
Ulster County Correction Officer Benefits
25 year NYS Retirement Plan
Deferred Compensation Plan (457b plan) available
Tuition reimbursement available
Union membership available (UCSEA)
Medical, Dental, and Vision insurance
Shift compensation of 2% for 1600-0000 (C-line shift) and 5% for 0000-0800 A-line shift
Overtime pay rate earned at time and a half.
Opportunities for promotional exams
15 Paid Holidays

5 Annual Personal Leave Days 
Vacation Accrual

1 year = 10 days
5 years = 15 days
8 years = 17 days
12 years = 20 days
16 years = 22 days
20 years = 25 days

Opportunities for advancement through civil service exams
Health insurance for retired officers
Pay periods - pay checks are issued on a bi-weekly schedule and available through direct deposit.
Qualifications
Candidates must be at least twenty-one (21) years of age at time of appointment
United Stated Citizenship
Possess a Valid NYS Driver's license
No felony convictions (certain misdemeanor convictions may prevent employment)
Complete a Background Interview to include fingerprinting
Pass the Physical Agility Examination
Complete a Psychological Exam
Complete Medical Examination
Pass Drug Testing Examination
(Note: applicants may be disqualified at any point during this process for failing to meet the standards)
Physical Agility Examination
| | | | |
| --- | --- | --- | --- |
| MALE | SIT-UP | PUSH-UP | 1 MILE RUN |
| 20-29 | 33 | 22 | 10:00 |
| 30-39 | 30 | 17 | 11:00 |
| 40-49 | 24 | 11 | 12:00 |
| 50-59 | 19 | 9 | 13:00 |
| | | | |
| --- | --- | --- | --- |
| FEMALE | SIT-UP | PUSH-UP | 1 MILE RUN |
| 20-29 | 24 | 10 | 13:00 |
| 30-39 | 20 | 8 | 14:00 |
| 40-49 | 14 | 6 | 15:00 |
| 50-59 | 10 | 4 | 16:00 |
How to Apply for Full Time Positions
If a Correction Officer Examination is currently scheduled it can be found at the following link along with all Ulster County Examinations    https://ulstercountyny.gov/personnel/civil-service-exam-announcements
General Exam Information https://ulstercountyny.gov/personnel/taking-civil-service-examinations
To download an application, please go to this link: https://ulstercountyny.gov/personnel/application-examination-or-employment
Study guides for several civil service exams, including Correction Officer and Deputy Sheriff, can be located at this link: https://www.cs.ny.gov/testing/testguides.cfm
How to Apply for Part Time or Provisional Positions
Download an application, please go to this link: https://ulstercountyny.gov/personnel/application-examination-or-employment
Bring the completed Application to the Ulster County Jail located at 380 Boulevard Kingston NY 12401 or email it to Sheriff[at]co.ulster.ny[dot]us *You will be given a background packet at this time to continue the hiring process*
Any Questions please contact kmul[at]co.ulster.ny[dot]us
The services of provisional employee(s) in this title must be terminated within 60 days of establishment of the eligible list. (PURSUANT TO SECTION 65(3) OF THE NEW YORK STATE CIVIL SERVICE LAW) https://codes.findlaw.com/ny/civil-service-law/cvs-sect-65.html
Ulster County Jail's Mission Statement
It is the mission of the Ulster County Sheriff's Office to serve the public by enhancing out partnership with the community, and in so doing, protect life and property, prevent crime, solve problems and foster good will through courtesy and professionalism
The Ulster County Sheriff's Officer shall maintain a correctional facility with the highest degree of security to ensure the safety of the citizens, staff, and incarcerated individuals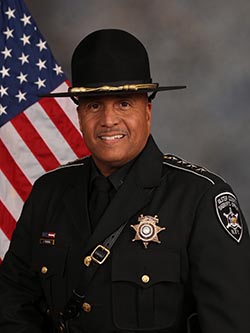 Sheriff of Ulster County
Juan Figueroa