The Government Operations GHG Inventory is a component of the 2019 Government Operations Climate Action Plan.
For Ulster County, the annual GHG Inventory is a necessary tool for determining the quantity of offsets required each year to achieve net carbon neutral operations. These offsets are not counted as actual reductions in emissions or as progress toward GHG reduction goals. The GHG accounting in the inventory report assumes the absence of all offsets.
It is important to note that GHG inventories can differ substantially in scope and methods. They vary because of differences in the type of organization that is undergoing an inventory (e.g. a small municipality versus a state), they can vary due to the type of data that is available for conducting the inventory, and they can vary due to the goals of the inventory. However, in order for the inventory to be used for long term comparison and evaluation, the analysis methods must be consistent across time.
Data collection processes play an important role in achieving this consistency. The Ulster County Department of the Environment has improved its data collection methods through the preparation of two annual reports: the Green Fleet Policy Report and the Building Benchmarking Report. Both of these reports are mandated by legislative policy and provide the energy use information for annual updates to the County's GHG Inventory.
Annual Reports
Building Energy Benchmarking: The annual Building Benchmarking Report is due for submittal by September 1st for the prior year of data.
Green Fleet Initiative: The annual Green Fleet Report is due for submittal by March 1st for the prior year of data.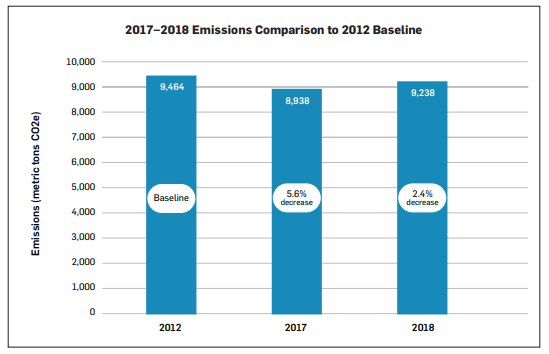 GHG Reduction Targets
Executive Order No. 1-2019: Regarding the County's Use of Renewable Energy for the Years 2019 and 2020 includes the County's government operations and community-wide goals:

"Ulster County shall endeavor to continue to operate a net carbon neutral governmental and furthermore decrease greenhouse gas emission associated with its operations (through conservation, efficiency, on-site/local renewable generation) by 25% by 2025 and 80% by 2050"
and via supporting "ways to decrease energy use, decrease greenhouse gas emissions and increase the use of green power across our community and sets a goal of decreasing community wide greenhouse gas emissions by 80% by 2050 (below 1990 levels) using the regional GHG emissions inventory as a baseline"

Resolution No. 315.1, September 17, 2019: Establishing A Policy Regarding Ulster County's Use Of Renewable Energy includes the County's government operations and community-wide goals:

 "Ulster County shall continue to operate a net carbon neutral government and shall decrease greenhouse gas emissions associated with its operations by 25 by the year 2025 and 80 by the year 2050 using the County's 2012 greenhouse gas emission inventory as a baseline…
shall supply 100% of its annual building and fleet electricity usage from locally generated renewable energy sources by the year 2030…
shall endeavor to achieve the Department of Environmental Conservation's Gold Climate Smart Community designation by the year 2025…
shall assist and support our towns and communities in increasing the use of green power and decreasing community wide greenhouse gas emissions by 80 % by the year 2050"