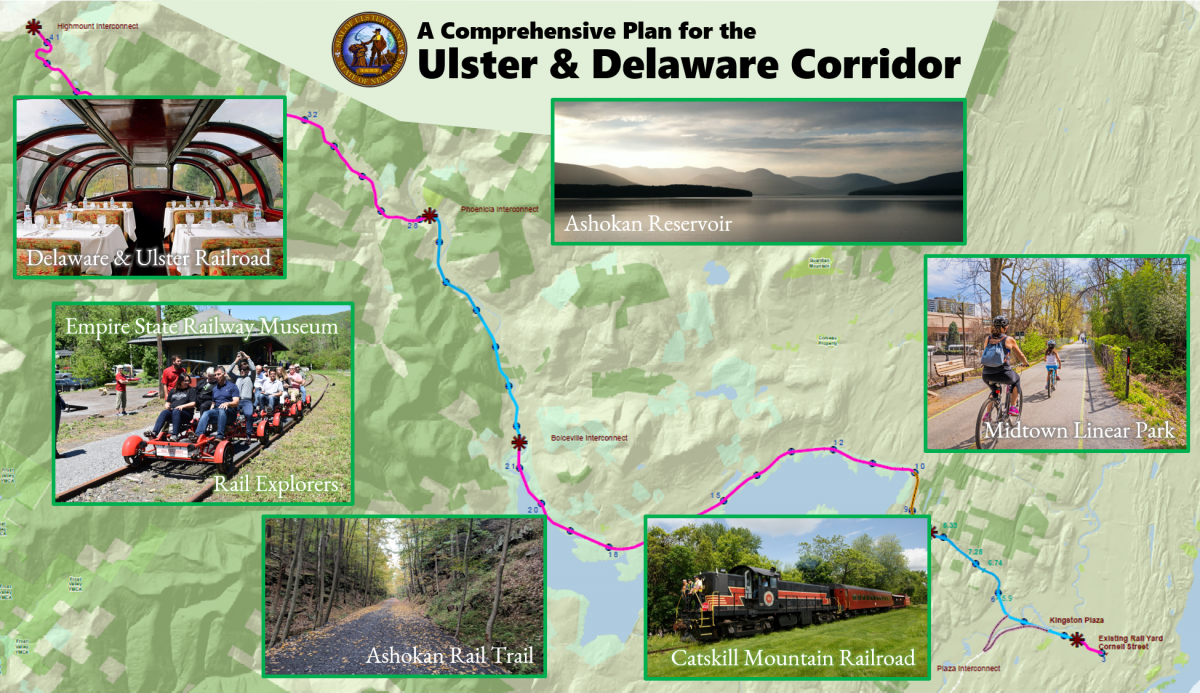 The Ulster & Delaware ("U&D") Corridor has been the subject of rigorous debate over the past several years as Ulster County worked to determine the future use of this publicly-owned 38.6-mile corridor following the May 31, 2016 expiration of the current Catskill Mountain Railroad operating lease.  The consideration of future uses included a comprehensive study and detailed assessment by the Ulster County Legislature in 2015, which hired an independent railroad consultant, Stone Consulting, to research and develop a "Highest and Best Use Recommendations" report at the end of study.
After many months of research, site visits, stakeholder meetings, document reviews, and economic benefits analysis by Stone Consultant and the special bipartisan Legislative committee, the full Legislature unanimously adopted (23-0) Resolution No. 488 on December 15, 2015, which was signed by the County Executive the following week. Resolution No. 488 created a "segmented rail and trail" compromise policy that ensures tourism railroad operations can continue in the City of Kingston and in Mount Tremper/ Phoenicia while also allowing previously unused segments of the U&D to be converted into a public recreational trail for walking, running, cycling, cross-country skiing and other outdoor activities.
Since then, Ulster County has worked to implement the Legislature's policy, issuing Requests for Proposals ("RFP") for engineering design of an 11.5-mile segment of future trail along the Ashokan Reservoir and for a 0.8-mile linear park in Kingston from Cornell Street to Kingston Plaza.  The County also issued RFPs for the Kingston and/or Phoenicia track segments, which resulted in operating permits in Kingston for the Catskill Mountain Railroad and in Phoenicia for Rail Explorers. More recently, the County announced a new partnership with the Delaware & Ulster Railroad to re-establish tourism train operations on the western end of the corridor.
The County's segmented rail and trail policy, when fully implemented, will ensure that tourism railroad operations will continue-- and be extended by several miles-- in the two areas railroad currently operates and in a small section near Belleayre Mountain.  In addition, the future trail segments will open the corridor for recreational use by the public, including the northern shore of the Ashokan Reservoir, which has been restricted to public use (only by special NYC DEP permit) for more than 100 years.  These segments are a critical component to the County's plan to have a world-class interconnected rail trail system running from the Ashokan Reservoir to the Walkway Over the Hudson.
In December of 2015, the Ulster County Legislature voted unanimously to adopt a comprehensive plan that allows for tourist train operations to remain in the City of Kingston and Phoenicia areas. This plan also supports the County's efforts to create a world class rail trail system from the Ashokan Reservoir to the Walkway Over the Hudson. This provides for the best of both worlds with respect to rail and trail initiatives.
Planning Documents and Reports:
Ulster & Delaware (U&D) Corridor Fact Sheet
Ulster & Delaware Corridor Adopted Policy Map
Ulster County Legislature Resolution 488 of 2015