Judy Riley, Interim Director
1003 Development Court
Kingston, NY 12401
Phone: 845-340-3456 or Toll Free at 1-877-914-3456
Fax: 845-340-3583
It is the mission of the Ulster County Office for the Aging to assist Ulster County seniors to be as  independent as possible, for as long as possible.  This is accomplished through advocacy, development and delivery of person-centered, consumer-oriented, and cost-effective policies, programs and services which support and empower the elderly and their families.  We accomplish this in partnership with the network of public and private organizations that serve them.
2019 Ulster County Senior Survey
Please assist OFA in derermining what kinds of services are important and necessary in our community to support Ulster Couny residents as they age.  We encourage Seniors to take the 2019 Ulster County Senior Survey.  The Survey is available online at https://forms.gle/BN4KP16K69Cj7xhU7.  Please contact our office if you would like a copy of the survey mailed to you or if you need assistance completing it we will work over the phone with you.  Thank you in advance for your participation.

A Message from Interim Director Judy Riley
I hope you are having a nice summer.  I was so happy to meet many of you at our Senior of the Year picnic.  I want to remind you about the new Bring Your Own Bag Act with takes effect on July 15, 2019 in Ulster County.  Under the Act, the distribution of most types of plastic bags will be prohibited and retailers will be required to collect a 5¢ fee on any recyclable paper bags provided. So please be prepared to bring your own bags.   For frequently asked questions please visit ulstercountyny.gov/BYOBagFAQ or submit your questions to BYOBagAct[at]co.ulster.ny[dot]us  or call our Department of the Environment at 845-338-7287.
I also want to let you know that Ulster County Area Transit (UCAT) has expanded their services within the City of Kingston as of July 1st.   This will provide riders with more frequent service, smoother connections at the Kingston Plaza, and dispatch availability during operating hours of service. In addition, UCAT has a smartphone app that provides real-time bus location and arrival information as well as free Wi-Fi service on all buses. All individuals riding on the red/blue/yellow routes in the City of Kingston will ride for free from July 1-December 31, 2019. For more information regarding the new bus routes please contact UCAT Director Carol Hargrove via email at char[at]co.ulster.ny[dot]us or call 845-340-3335.
Please note that we have now begun distributing Farmer Market Coupons!  If you would like to obtain a booklet please stop in the Office for the Aging.  You must come in person/cannot pick up for others and, if you have not done so already – please complete the Senior Survey which will help us determine the types of services our Ulster County residents need as they age.  The 2019 Senior Survey is available online: https://ulstercountyny.gov/aging or  call our office at 845-340-3456 and we can mail you a copy.
Also, I hope to see you at some of the exciting events highlighted in our newsletter. 
Please do not hesitate to call us if you are in need of services.
With Best Regards,
Judy L. Riley
A Message Patrick K. Ryan, Ulster County Executive
Dear Ulster Seniors,
As your new County Executive, I want to take this opportunity to introduce myself. My family has been here in Ulster County for five generations, soon to be six as my wife Rebecca and I are expecting our first child in August! I graduated from Kingston High School and West Point and went on to serve two combat tours in Iraq as an Army intelligence officer. After leaving the military, I founded a small technology company, which grew to over 150 employees. Rebecca and I now live in Gardiner with our two rescue cats Frankie and Weetzie.
Serving our seniors through our top-notch Office of the Aging is one of my top priorities. On my second day in office, I attended the Ulster County Older Adults Empowerment Council Conference to make it clear the importance of serving you. It was a pleasure to hear from so many of you directly and see first hand the types of programs that we offer.
At its core government is about service. It is about making sure that we can provide for residents in the most efficient ways. It's about ensuring that we follow the number one rule I learned as an Army officer: we NEVER leave anyone behind. This especially applies to our seniors, many of whom count on Ulster County government to help them access critical health services, get legal advice, or get a healthy meal delivered to their home. As County Executive, I promise that will be the ethos guiding every single member of our team.
Please do not hesitate to contact my office if you have any questions, concerns, or ideas. You can email me at exec[at]co.ulster.ny[dot]us or you can call my office at 845-340-3800. I am looking forward to meeting you, hearing from you, and ultimately finding ways in which we can best serve our senior community.
Sincerely, 
Patrick K. Ryan
Ulster County Executive
For many seniors seeking a way to get low-impact exercise that improves health and requires no special equipment, Tai Chi is an excellent solution. Many seniors throughout Ulster County are enjoying the benefits of Tai Chi. Research is showing that an extremely effective way for older adults to improve balance, fitness, and flexibility, and to reduce the risk of falls. Attending group Tai Chi classes is a great way to socialize with others. Watch local Tai Chi instructor Celeste Graves lead a class.
CLICK HERE for the July 2019 newsletter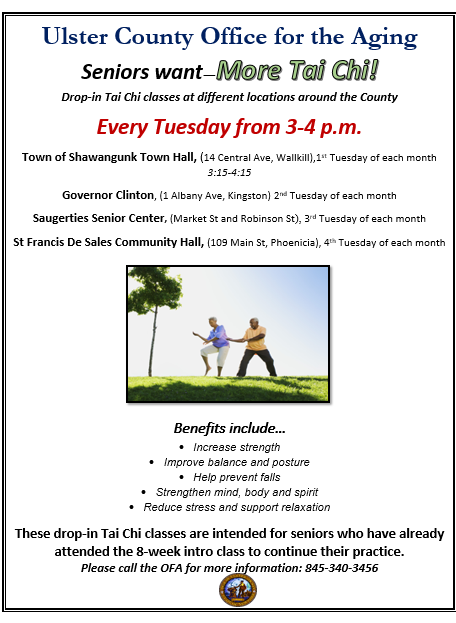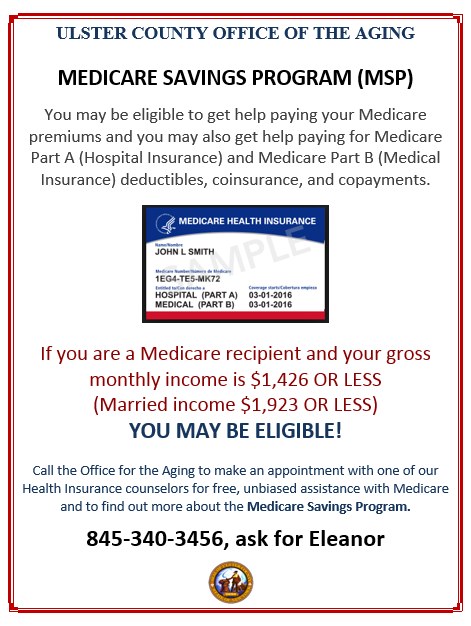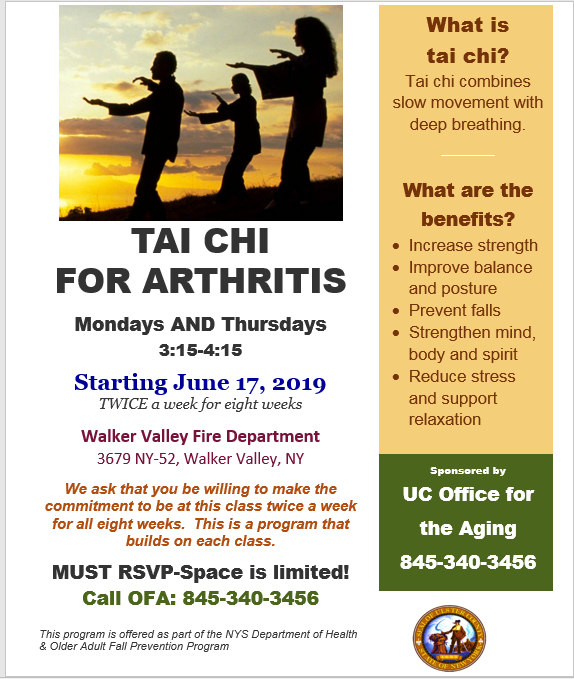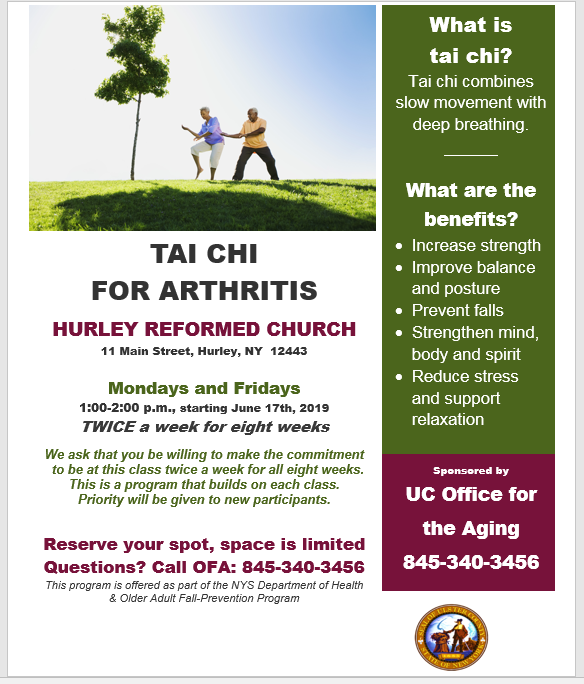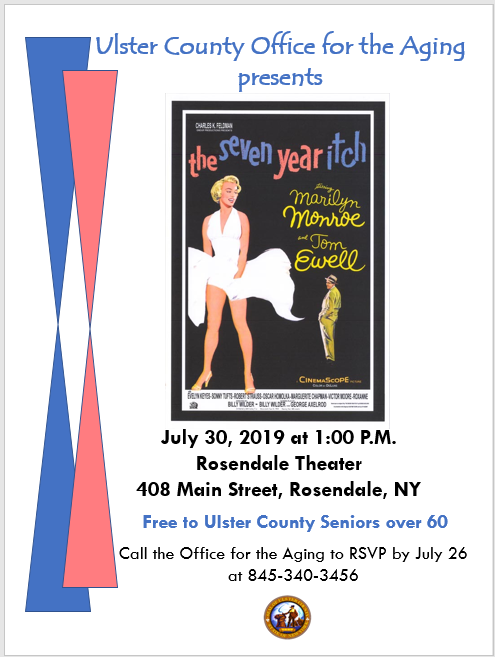 Click HERE for Live, Laugh & Learn program booklet