Susan Koppenhaver, Director
1003 Development Court
Kingston, NY 12401
Phone: 845-340-3456 or Toll Free at 1-877-914-3456
Fax: 845-340-3583
It is the mission of the Ulster County Office for the Aging to assist Ulster County seniors to be as  independent as possible, for as long as possible.  This is accomplished through advocacy, development and delivery of person-centered, consumer-oriented, and cost-effective policies, programs and services which support and empower the elderly and their families.  We accomplish this in partnership with the network of public and private organizations that serve them.
To view the Ulster County Senior-Friendly Community Action Plan please click here.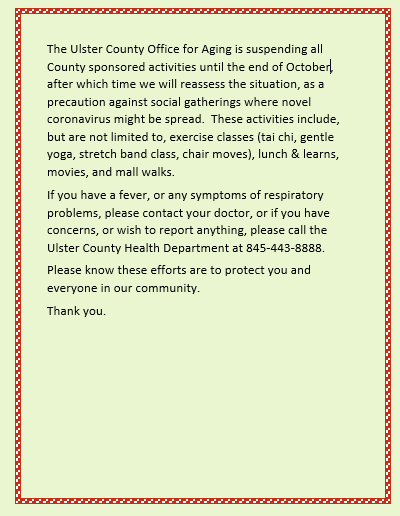 COVID-19 Archived webinar -  Why COVID-19 is especially dangerous to older adults: https://www.giaging.org/news-events/tester/archived-webinar/why-covid-19-preys-on-older-adults-what-the-science-says-and-doesnt-say/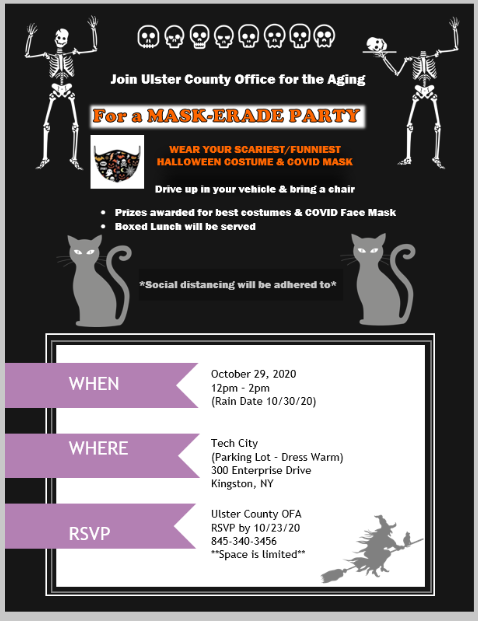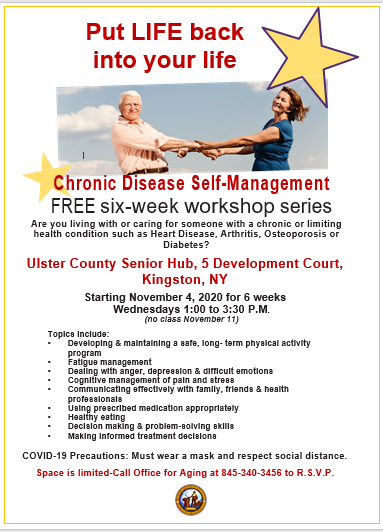 COVID-19 SCAM: Be aware of a Facebook or phone text scam from "Agent Greg Olsen" from the Federal Empowerment Program, the Federal Empowerment Grant, or the Aging Empowerment Program offering awards or government grant money to "qualified" Seniors and asking for personal information. Please remember to never share your personal information by phone, email or text. COVID-19 scam text message: "Someone who came in contact with you tested positive or has shown symptoms for COVID-19 & recommends you self-isolate/get tested" with a link. Do not click on the link, it is not a message from any official agency.
 SCAM Alert: There is a company advertising on TV that is telling folks they can save them money on their Medicare premium – they ask for personally identifying information INCLUDING YOUR DATE OF BIRTH, AND THEY WILL NOT CONTINUE THE CALLWITHOUT IT. The Medicare Savings Plan program is a structured plan offered by Offices for Aging to help you save this.  Please do NOT give out your personal identifying information to people who advertise on TV and want that information over the phone.  THIS IS A SCAM.
A Message from Director Susan Koppenhaver
We appreciate your understanding and patience during this very difficult time for our County.  We understand that many citizens are frustrated by cancellations and inconveniences, but we are trying to limit the exposure to all staff, seniors, and their families. The sooner the virus is contained, and people are properly tested, the sooner people can recover, and we can get back to our lives. Due to this situation Octobers' activities will probably be subject to postponement or cancellation. Please stay well, everyone. Susan Koppenhaver, Director, Ulster County OFA.
To all the Ulster Seniors:
As October is Domestic Violence month, we thought we would extend that a little to include violence of one sort against seniors.  Financial exploitation is a very real threat to many.  People pretending to be someone you love, asking for money, is not something you should ever trust.  Code words between family members would work well.  Banks are starting to recognize when a senior comes and takes out large sums of cash as something to be wary and suspicious of, but it isn't happening fast enough. People calling to lure you to sign up for a credit card because your computer isn't working (and it IS), or people calling saying they are representing someone in your family in distress are SCAMS to get your money.  People who are much younger asking elders on dates, and then asking about their money and bank accounts are SCAMMERS. 
Someone claiming to be from the IRS or a governmental agency and saying someone is coming to arrest you for non-payment, unless you send them your credit card information, is a SCAM.  The IRS never calls people.  Even mail scams are being used now that look official.  Never click on any email address with an embedded link that you don't know where it came from.  Never answer "yes" to any question from someone you do not know, because they are recording you and that gets you to agree to pay for something you know nothing about.
There are many very slick ways these folks are using to get at your money.  If you have any doubt, hang up.  Get a phone number.  Call the police.  It's very sad that the elderly and senior populations are becoming targets of these people.  Don't let them.  Trust none of these attempts.  These thieves are very crafty and have many ways of trying to get you to trust them, and eventually get all your money.  We can only point these scams out.  You must be the ones to be vigilant.  Even family members, sadly, are doing this in the forms of cashing checks that belong to the elder, using their joint accounts for their own gain, stealing from an elder who is confused, and there are many other examples. 
Speaking to trust and scams, please let us know if there is a handyman, electrician, plumber etc. that you TRUST, and we can start keeping a list of trusted sources. 
Susan Koppenhaver
Director
The Ulster County Office for the Aging offices remain open 9:00 A.M. to 5:00 P.M. Monday through Friday (July 3rd).  We are able to accept visitors only under strict limitations. Call before visiting 845-340-3456 – many issues can be resolved without having to leave the safety of your home. We are NOT OPEN for REGULAR BUSINESS YET.  PLEASE DO NOT STOP BY AND EXPECT TO SEE STAFF,  YOU MUST CALL FIRST. When we reopen, staff and visitors will be required to use masks and barriers and meet in a more open space (Senior Hub).  Thank you.
Please know that the Office for the Aging is taking every precaution to keep the public safe as well as our own staff.  When we do reopen, all staff and visitors will be screened before entering the building and will have their temperature taken. All staff and visitors will be required to wear masks and use appropriate social distancing measures.  In addition, OFA public meeting areas will be outfitted with shield barriers.  We strongly encourage anyone wanting to come to our office to call and make an appointment as it is important to limit walk-ins for safety concerns.  We will also be meeting with people in the Senior Hub where we will strategically space out areas.  If you have any questions or concerns, please feel free to call our office at 845-340-3456.  Thank you. 
Recovery Service Center 845-443-8888  RSC[at]co.ulster.ny[dot]us
Ulster County Executive Pat Ryan has established the Recovery Service Center in the wake of COVID-19.  The Recovery Service Center will assist the public on a wide range of topics including: helping direct callers to county and community resources and will allow callers to submit general inquiries and complaints.  The hotline will be able to assist callers with programs and services related to: food, housing, mental health support, employment, business, as well as continuing COVID-19 assistance. The RSC hotline will be available Monday - Saturday 9:00 A.M. to 5:00 P.M.
For those of you who have not been out, or feel like you do not want to vote in person, please find an absentee ballot application below.  This application needs to be completed and sent to the Board of Elections in Ulster County, so they can send you an absentee ballot so you can vote safely this year.  Please note there are time restrictions on these, so the sooner you do this, the better. Thanks for voting this year!
CLICK here for absentee ballott application
CLICK here for vote by mail information
CLICK here for early voting information
The Gen to Gen program matches Ulster County seniors and high school students for a mutual learning experience, where the senior gets to learn (from HS mentors) interviewing skills, some tech skills, while they ask a comprehensive set of questions of the seniors who agree to be interviewed, and perhaps create a montage of video and audio information about that senior and the richness of their lives.  It has been a project wish of Pat Ryan since he started.  We are currently working on the project now in conjunction with Ulster Corps and local HS guidance counselors and students in different areas.  If you wish to be interviewed, and want to take part, please call the office at 845-340-3456.
 For many seniors seeking a way to get low-impact exercise that improves health and requires no special equipment, Tai Chi is an excellent solution. Many seniors throughout Ulster County are enjoying the benefits of Tai Chi. Research is showing that an extremely effective way for older adults to improve balance, fitness, and flexibility, and to reduce the risk of falls. Attending group Tai Chi classes is a great way to socialize with others. Watch local Tai Chi instructor Celeste Graves lead a class.
   CLICK HERE for the October 2020 newsletter