Susan Koppenhaver, Director
1003 Development Court
Kingston, NY 12401
Phone: 845-340-3456 or Toll Free at 1-877-914-3456
Fax: 845-340-3583
It is the mission of the Ulster County Office for the Aging to assist and empower older adults and their families to live as independently as possible, with dignity and purpose.
Ulster County will strive to reach more older adults and expand upon its current services by bringing them to remote and  underserved areas of the County.  This includes new educational health promotion, service enrollment and senior advocacy program opportunities so they can stay in, and contribute to, their community.
To view the Ulster County Senior-Friendly Community Action Plan please click here.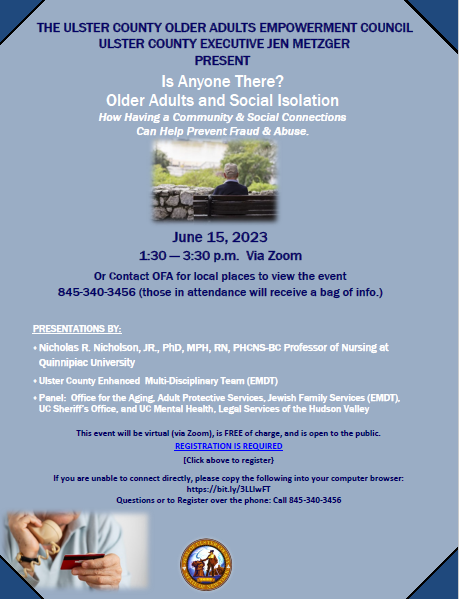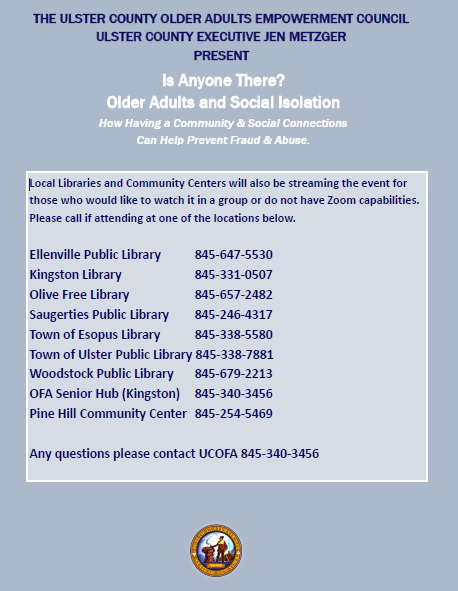 Happy Month of May to the Ulster County Seniors!
Oh. the merry month of May! – lots of songs written about May – the dance around the Maypole, when a young man's fancy turns to love and all that.  All I know is that it's time to garden, and grow things, and no more heating bills!
Please join us for a Community Forum presented by our Older Adults Empowerment Council, called "Is Anyone There?  Social Isolation in Older Adults."  We will have a speaker well-versed on this topic, a panel to discuss this, and solutions for our neighbors in the community to help them navigate solo living, how to stay safer at home, and things you can do to help yourself.  Please register with our office at 845-340-3456.
We have lots of community partners trying to help in general.  Currently, our health partner MVP is offering health awareness and Yoga classes for Ulster County seniors.  Call our office for details.
Don't forget, we always have a need for drivers for our wonderful Neighbor to Neighbor program, we still need Warm Callers, as there are always lonely souls in our community – they might live right next door to you! And unfortunately, there's a growing and perpetual need for all types of caregivers.  Luckily, some churches are trying to establish respite programs for caregivers, to give them a break while their loved one spends some time in a safe place. Our caregiver and respite program can train folks in some practical ways to safely offer caregiving as community members, and this is a crucial part of caregiving.
Be sure to note our classes at the Senior Hub continue (tech, crafts, yoga, aerobics, the congregate meals, Senior group meetings as needed, chess club and game day) and we will be opening a NEW Community Café in Woodstock at their Community Center on May 4! 
Please spread the word!
Enjoy the wonderful warm weather, and get some sunshine!  It creates Vitamin D!
In health and harmony,
Susan Koppenhaver
Director
New York State GetSetUp free online classes for Seniors at https://www.getsetup.io/partner/NYSTATE
CLICK HERE for May 2023 The BUZZ NEWSLETTER  
Click here for the 2023 Senior of the Year nomination letter and form