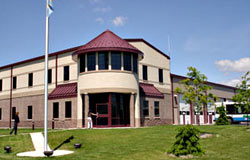 The Ulster County Transit Center at Golden Hill is designed as a complete operations center for Ulster County Area Transit (UCAT). This facility greatly enhances UCAT's efficiency by housing all administrative, dispatch, operations, training, fueling, maintenance and indoor storage needs under one roof.
Planning for this project began in 1998 with a congressional earmark for design and engineering from Congressman Maurice Hinchey. The Federal Transit Administration and the New York State Department of Transportation funded a total of 90% of the construction costs of the Transit Center, leaving only 10% for the Ulster County share. More about funding sources.
As Ulster County grows, its transit system must grow with it to meet the public transportation needs of our citizens. This transit center will ensure our capacity to provide enhanced services to the residents of Ulster County"as quoted by Cynthia Ruiz, Former Director of Public Transit.
Director of Public Transit: Carol Hargrove