Suicide is preventable.  Most individuals who are suicidal desperately want to live; they are just unable to see alternatives to their problems. Preventing suicide is a challenge that requires the entire community's active engagement and participation.  Anyone, at any time, can be at risk of suicide. As a member of our community and a caring human being, you have an important role to play. Ulster County SPEAK is a coalition of community partners working to educate others about the warning signs and inform you as to what you can do to help prevent suicide. You can contact us by email at SPEAK[at]UlsterCountyNY[dot]gov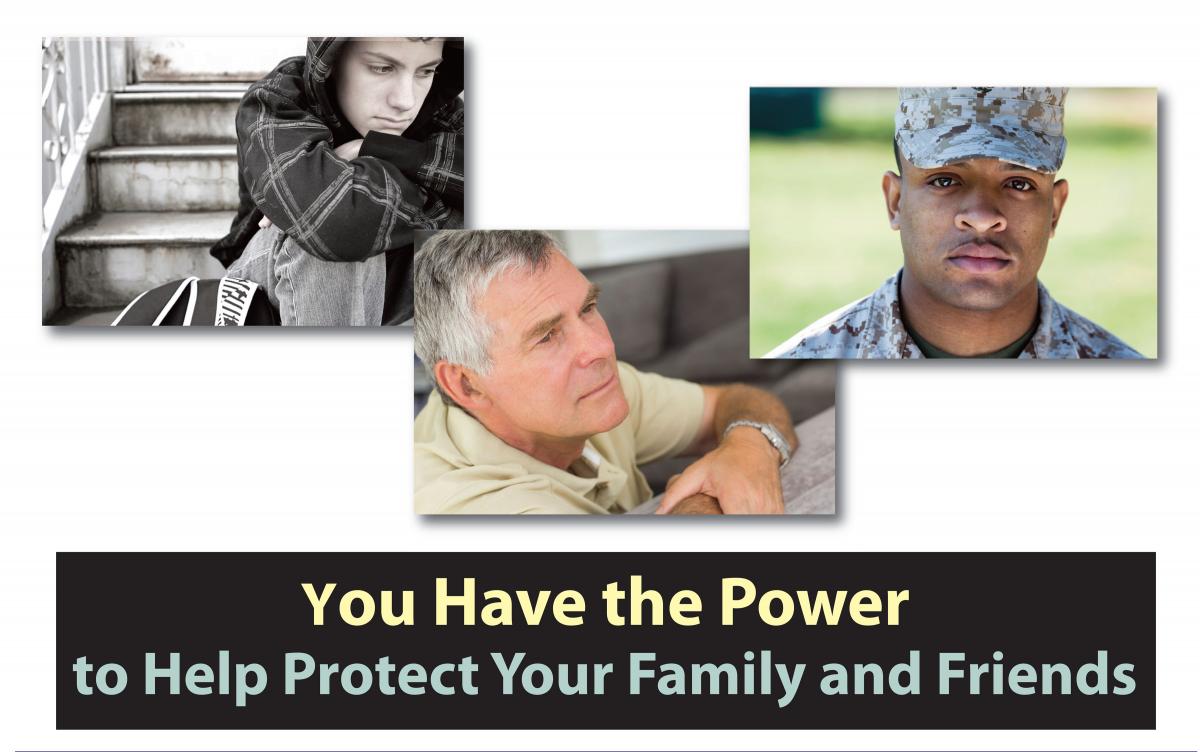 Watch the New SPEAK video on Suicide Prevention
 Protecting Youth Mental Health
Youth mental health challenges are reaching epidemic proportions. Read the new advisory report by the US Surgeon General 
GET HELP NOW:
• Ulster County Department of Mental Health: 845-679-2485
• Family of Woodstock24 Hour Crisis Hotline/Textline: 845-340-4110
• Ulster County Mobile Mental Health Team: 1-844-277-4820  
• National Suicide Prevention Hotline: 988

.  REACH: Suicide is Preventable
• Veteran's Crisis Line: 988 (press 1 when connected)
• Veteran's Crisis Text Messages: send a text to 838255
• The Trevor Lifeline (for LGBTQ youth):  1-866-488-7386
Local Ulster County Support Groups

Feeling stressed by the COVID-19 pandemic? You are not alone. Call the NYS Emotional Support Helpline 7 days a week, 8am-10pm at 1-844-863-9314.
WARNING SIGNS 
Recognizing the following signs and symptoms in someone you know and care about will give you a better understanding of what to say and do. While reviewing these signs and symptoms, please remember this: Take any expression of a suicidal thought or indication of suicidal behavior seriously. It's not just a warning sign that the person is thinking about suicide – it's a cry for help! 
Serious
• Expressing no hope for the future
• Expressing self-hatred
• Withdrawing from others
• Acting anxious or agitated
More Serious:
• Being preoccupied with death
• Talking about suicide
• Behaving in self-destructive ways
• Displaying sudden mood swings/personality changes
• Increasing use of alcohol/drugs
• Showing rage or seeking revenge
Very Serious:
• Having a suicide plan
• Having access to lethal means (firearms, weapons, poisons, pills, etc.)
• Unexpectedly getting affairs in order
• Saying goodbye to family and friends (in person, writing, recording, or on social media)
WAYS TO BE HELPFUL TO SOMEONE WHO IS THREATENING SUICIDE
• Be aware.  Know the warning signs. 
• Get involved. Become available. Listen, show interest and provide support.
• Be direct. Talk openly and freely about suicide.  Ask if he/she is thinking about suicide.
• Be non-judgmental. Don't debate whether suicide is right or wrong, or feelings are good or bad.  Don't lecture on the value of life.
• Don't ask 'why'.  This encourages defensiveness.
• Don't be sworn to secrecy.  Seek support.
• Offer hope that alternatives are available.  Offer realistic reassurances to show that you understand.
WHAT YOU CAN SAY  
Talking to a friend or family member about their suicidal thoughts and feelings can be extremely difficult.  If you're unsure whether someone is suicidal, the best way to find out is to ask. You can't make a person suicidal by talking about suicide. In fact, giving a person who may be suicidal the opportunity to express his or her feelings can provide relief from loneliness and pent-up negative feelings, and may prevent a suicide attempt.
Ways to start a conversation about suicide:
• I have been feeling concerned about you lately.
• Recently, I have noticed some differences in you and wondered how you are doing.
• I wanted to check in with you because you haven't seemed yourself lately.
Questions you can ask:
• When did you begin feeling like this?
• Did something happen that made you start feeling this way?
• How can I best support you right now?
• Have you thought about getting help?
What you can say that helps:
• You are not alone in this. I'm here for you.
• You may not believe it now, but the way you're feeling will change.
• I may not be able to understand exactly how you feel, but I care about you and want to help.
• When you want to give up, tell yourself you will hold off for just one more day, hour, minute—whatever you can manage.
A complete guide on what to say
WHAT YOU CAN DO
• Get professional help: do everything in your power to get your friend or loved one the expert help he or she needs. Call a crisis line (scroll to top or bottom) and help him/her make and get to an appointment with a mental health professional. 
• Be proactive: those who are contemplating suicide often don't believe they can be helped, so you need to be more proactive and assertive in offering assistance.
• Remove potential means of suicide: if it's safe to do so, remove or lock-up pills, knives, razors, and firearms, as soon as possible.
• Create a safety plan with your loved one or friend: a written safety plan is a roadmap that identifies specific things to do and available supports to get someone through a crisis. For more information on safety planning, visit the Suicide Prevention Resource Center (link is external). 
• Continue your support: when the immediate crisis is over, check-in and stop by to make sure your friend or loved one continues along the road to recovery, including following up on mental health counseling.
BE AWARE OF THE FACTS
• Suicide is preventable.  Most individuals who are suicidal desperately want to live; they are just unable to see alternatives to their problems.
• Although not everyone, most individuals who are suicidal give definite warnings of their suicidal intentions.  However, people around them may be either unaware of the significance of these warnings or they do not know how to respond to them.
• Talking about suicide does not cause someone to be suicidal.
• Suicide occurs within all age, gender, economic, social and ethnic groups.
• Approximately, 41,000 Americans kill themselves each year.
• In New York State in 2013, 1,687 individuals killed themselves.
• Suicide is the second leading cause of death among young people ages 15-24.
• The suicide rate is higher among the elderly (over 65) than any other age group.
• Firearms are currently the most utilized method of suicide by essentially all groups (male, female, young, old, white, non-white).
• Surviving family members not only suffer the trauma of losing a loved one to suicide, but may themselves be at higher risk for suicide and serious emotional challenges.  
SURVIVING A SUICIDE ATTEMPT:
 A PERSON WHO HAS HOPE HAS EVERYTHING.  LISTEN TO AN AMAZING STORY OF RESILIENCE AND SURVIVAL.
FEELING LUCKY TO BE ALIVE. ANOTHER GREAT STORY ABOUT SURVIVING SUICIDE
HOW CAN YOU GET INVOLVED IN THE ULSTER COUNTY SPEAK COALITION
SPEAK provides education and initiates prevention activities in Ulster County. Activities include direct intervention, awareness and response training, support to families and communities that have experienced a suicide, community engagement through traditional and social media, and education to reduce access to lethal means. If you're interested in suicide prevention training or other SPEAK activities, please contact us at 845-340-4110.  
Ulster County Suicide Response Coordinating Committee: 845-340-4110
As part of SPEAK, we provide assistance to individuals, organizations, schools, and the community in the aftermath of a suicide.
HELPFUL RESOURCE LINKS
US Department of Veteran's Affairs  
NY Suicide Prevention Resource Center  
American Foundation for Suicide Prevention  
Preventing Suicide in the Workplace 
DOWNLOADABLE RESOURCES:
• 11 Commandments of Gun Safety
• Suicide Prevention and the Outdoor Lifestyle/Backwoods Home Magazine
• How to Help in a Suicidal Crisis
• Firearms Retailer Guide to Suicide Prevention
Disclaimer: the content on this site is for informational purposes only and should NOT be substituted for professional diagnosis or treatment. If you, or someone you know, are experiencing symptoms of suicide or are contemplating suicide, seek immediate professional attention.