Children's day and overnight camps are regulated by the Ulster County Department of Health according to the State Sanitary Code Subpart 7-2.
The Ulster County Department of Health strives to help children have a rewarding, fun experience at camp while in a safe and healthy environment. Permits are required and camps are inspected at least twice a year.
There are about 30 day and 30 overnight camps in Ulster County serving thousands of children each year.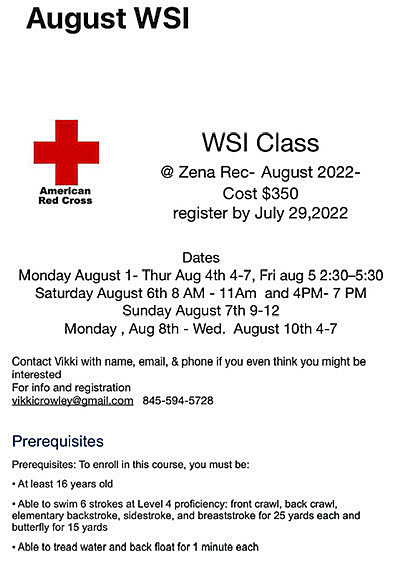 Upcoming Red Cross Training Classes (CPR, Lifeguard Certification, Babysitting Certification, and more)
Emergency Pesticide Notification at Children's Camps
Children's Camp COVID-19 2022 Guidance
Children's camps COVID-19 Testing Consent Form
For important information on the Coronavirus, click here..
Important 2020 Measles Information:
UCDOH Commissioner's Letter to Children's Camp Operators and Orders Requiring Attendees and Staff to be Vaccinated against Measles
NYSDOH Measles Response Playbook
American Red Cross courses offered at the Kingston YMCA
Ellis & Associates Lifeguarding/CPR Courses can be found at https://www.jellis.com/classes/local-lifeguard-training
FACT SHEETS 2022:
Aquatics Director Fact Sheet 2022
Camp Trip Swimming Fact Sheet 2022
CPR Fact Sheet 2022
CPR Level 3 & 4 Fact Sheet 2022
First Aid Fact Sheet 2022
Lifeguard Fact Sheet 2022
Progressive Swimming Instructor 2022
Swimming Pool Operator Fact Sheet 2022
Aquatic Director Requirement Effective 2012
Buddy Board System for Swimming Areas
DOH 61b - Illness outbreak Report
DOH 61e - Epinephrine Admin Report
DOH 61h - Multiple Victim Injury Report Form
Fact Sheet for Bat Habitat Inspection
Fight the Bite - Insect Repellants
General Guidelines for Management of Bats
General Safety Tips for PaintBall
How to Obtain a Permit to Operate a Children's Camp
CDC and NYSDOH Information on Preventing Concussions and Traumatic Brain Injury
Lyme Disease - How to Remove the Tick
NYS Camp Information for Facility Operators
Citywide Immunization Registry Access
NYS Immunization Information System Camp Access User Training
Sample Camp Operator Letter for NYSIIS and CIR Access
Information Required for Children's Camps to Access NYSIIS
NYS Fecal Incident Response In Pools Fact Sheet
NYS Vomit & Blood Contamination In Pools Fact Sheet
Prospective Camp Director Statement
Rabies - What to do Fact Sheet
Region 3 - Forest Ranger and USGS
Requirements for Children's Camps in New York
Sample Buddy Check Clip Board Sheets
Sex Offender/NYS Registration Procedures to Protect Children
Univeral Application Form - Application for Permit to Operate
Vaccine Preventable Disease Camp Operator Letter 2018
Vaccine Preventable Disease Camp Procedure 2012
Vaccine Preventable Disease Letter Attachment 2012
Swimming Pool Operation Sheets
Bathing Beach Operation Sheets
Drinking Water Operation Sheets
Camp Meeting Archive:
2019 Digital Camp Director's Meeting
2017 Digital Camp Director's Meeting
For other important public health information, including information on the Coronavirus, click here..
For further information about any of these programs and services, please call Environmental Health Services